2019 Swift Basecamp
A Fun, Sporty and Stylish Compact Caravan
Swift Basecamp Plus is a 2-berth, single axle Compact Caravan with a difference. Basecamp is adventurous for a couple of good reasons; firstly, it's quite unlike any Caravan Swift have built before and secondly, this all new sporty, fun and stylish Crossover Caravan will undoubtedly be greatly appreciated by active adventurers. It's the perfect caravan to base your outdoor pursuits from.
NOW IN STOCK: Swift Basecamp for sale and on display at our Essex showground, call 01255-830-229 for further information.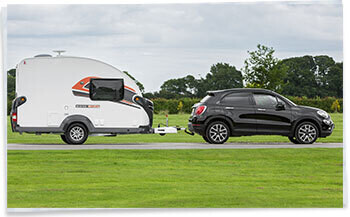 New for 2019 is a higher chassis rating, providing increased user payload but at weights still light enough to be towed by smaller cars and thanks to its compact dimensions, is easier to store when not in use. It's hardly surprising that Basecamp has proven very popular with couples looking for a Lightweight Caravan that's easy to tow and requires very little storage space.
Basecamp knows you love to make the most of your spare time; with a pre-packed kit bag and bikes safely loaded inside, you're ready to hit the road at a moments notice!
Whether you are into adrenaline fuelled, fast paced activities, or just enjoy getting off the beaten track to explore the wilderness, Basecamp is the perfect place to rest and refuel, ready for your next big adventure.
As the end of the day draws to a close, Basecamp Plus is the perfect place to rest in comfort, head refreshed from the days activities and ready for tomorrow's adventure.
Swift SMART Plus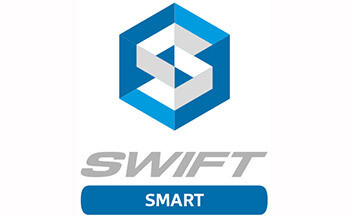 Basecamp utilises Swift Group's award-winning SMART Plus construction with balanced panel sidewalls, providing a strong, well-insulated moisture proof GRP bodyshell. More impact resistant than aluminium, GRP can be easily repaired ensuring good looks for longer, to better protect your investment into the future.
Enhanced in 2017, SMART Plus takes the proven technology which provides a Strong timber-less body frame with Modern desirable looks and a leading Aerodynamic shape that is highly resilient to moisture, all wrapped up in a caravan that has undergone the most comprehensive testing. It's what helps give Swift Basecamp its stylish good looks.
With the GRP outer to the sandwich floor and hail resistant GRP roof the full outer bodyshell of the BaseCamp caravan is now GRP making it even more resilient.
READ MORE: It Pays to Think Swift SMART when Buying a New Caravan
Swift Command
With a new easier to use than ever before interface, Swift Command lets you stay connected to Basecamp Plus from your mobile while out in the wilderness via the clever Swift Command APP. The APP links you to the onboard Swift Command control system, all you need is a mobile signal. You can locate your Basecamp or even turn on the lights and heating for a welcoming return to camp.
READ MORE: New Swift Command Intelligent Control System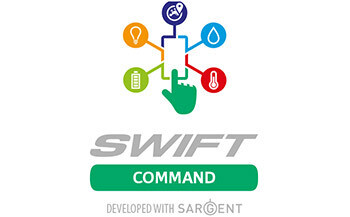 The perfect tool for touring, Swift Command technology includes a smart LCD control panel that has enhanced functions.
There is also an exciting, free downloadable app that links to the Swift Command unit, so you can be in control wherever you are with the convenience of your mobile device.
Access the clever onboard interface when nearby with Bluetooth or via your internet connection when remote. Track system levels like power, temperature, humidity and monitor the location of your vehicle.
Custom notification settings keep you informed of functions such as battery levels, frost alerts and alarm status.
Exterior Features
Basecamp Plus has a fuel saving aerodynamic front shape with a closed-mould GRP front and gas locker door and graphite mouldings. It doesn't just look good it performs brilliantly too.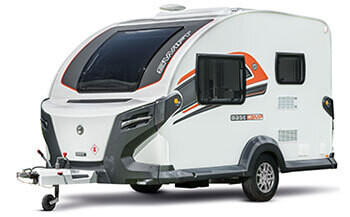 The SMART Plus bodyshell is strong, tough-wearing and well insulated to cope with life off the beaten track. It's a great alternative for camping enthusiasts, seeking a more luxurious alternative to a tent or trailer tent.
The design team at Swift has created a variety of stylish and funky optional graphic schemes to choose from, all of which complement the unique exterior profile.
Chunky graphite molding, along with chrome grab handles add distinct accents to create an exciting exterior appearance. Tinted double glazed windows and 14" Scorpion alloy wheels complete the sporty look. The Panoramic front opening window let's you take in the stunning views where ever you may be.
Download the brochure at the top of the page for the latest list of Exterior features.
Interior Features
The interior has been cleverly designed with funky styling to, optimise space and provide plenty of storage, even for bulky sporting equipment, with access through a wide central rear door. The front profile sweeps up to a large panoramic front window and ties through to the rear panel. Below the front window is the housing for a gas bottle and spare wheel.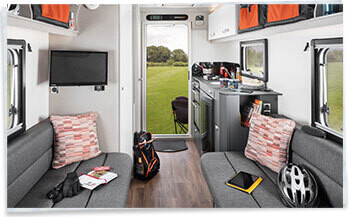 With just the right mix of comfort and convenience Basecamp Plus is full of compact charm. The comfortable light filled lounge is the perfect place to plan your next day's adventure or relax and unwind. The interior colour scheme continues the graphite and burnt orange theme with 'Pareto' soft furnishings in a warm dark grey with burnt orange patterned parquet design cushions and practical French Oak effect.
When you've been out all day working up an appetite, the Basecamp kitchen is a well-equipped refuelling station, allowing you to rustle up anything from a boiled egg to your favourite pasta dish. The kitchen includes a Thetford 3 burner hob and separate grill and a Dometic 85 litre electronic ignition fridge with removable freezer compartment and black gloss finish. A clever pop up docking station in the worktop houses 3 x 230V sockets.
Clever storage solutions and a well-equipped washroom mean you can keep you and your Basecamp clean and tidy no matter what the elements throw at you. Instead of standard lockers there are removable 'Canvas' zipped storage bags. These can be filled on board or taken out and used as mobile 'holdalls' allowing quick and easy packing for last minute getaways.
Download the brochure at the top of the page for the latest list of Interior features.
Equipment
Basecamp Plus may be compact but that doesn't mean you don't get to enjoy all the modern bells and whistles enjoyed by owners of other Swift caravans. From the Thetford Cassette Toilet, Ecocamel Orbit shower head with on/off button for a powerful shower to the Dometic 85 litre fridge, with removable freezer compartment and Whale dual fuel rapid water heater, every outdoor adventurer needs a little comfort now and then.
Just take a look at the impressive list of equipment below:
Swift Command control system with Thatcham Category 6 approved pro-active tracker
Swift Command App allows certain functions to be controlled/monitored remotely
Swift Command Intelligent power supply unit with LCD control panel; Functions include battery selection, battery state meter, lighting and water pump circuit controls, internal & external temperature, internal humidity levels, 230V load limiter (settable between 5 amps & 16 amps), solar panel charging levels, heating controls and Bluetooth connection
Inboard semi-rigid fresh water pipes
Large bore underslung rigid waste pipes
High flow rate in-board pump for reliable, high performance water supply
Ecocamel Orbit shower head with on/off button for a powerful shower that uses less water
Fully protected mains electric system
25 amp switch mode charger/transformer
Dometic 85 litre, electronic ignition fridge with removable freezer compartment, black effect finish and digital controls
Thetford C402 toilet with electric flush and 18 litre wheeled waste tank
Dual fuel space saving under-floor Whale heater with blown air central heating
Whale dual fuel rapid water heater
Thetford 3 burner hob and separate grill
Five 230V sockets, three mounted in to the sink pop up docking station
Gas regulator for Propane and Butane mounted on front bulkhead
Isolation taps for gas appliances
LED lighting for all interior lights including adjustable spotlights in lounge
TV point with 230V, 12V and aerial sockets. (linked to optional aerial)
25 metre mains hook-up cable
Safety and Security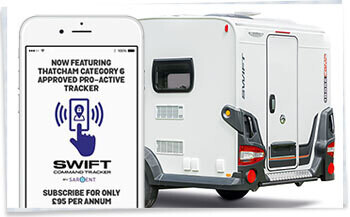 For anyone considering caravan ownership, security really ought to be a major factor when deciding which Caravan to buy. Caravan security has always been a priority at Swift, and an essential part of the development process. Swift Basecamp owners have a number of tools at their disposal including a high tech alarm system.
Incorporated into the Swift Command control system is a Thatcham Category 6 approved pro-active tracker system, which for an annual subscription fee allows the caravan to be tracked in real-time from any location.
All Swift caravans are fitted with high security locks, with an interior dead lock facility on the entrance door.
Thatcham Category 6 approved pro-active tracker (subject to annual subscription)
Convenient one-key high security locks
Smoke alarm
CRiS identity number to windows and caravan chassis
Concealed security data chip within caravan construction
Carbon monoxide detector
Basecamp Plus
Swift Basecamp is equipped with many outstanding practical, functional and convenient features as standard but that isn't to say, Basecamp cannot be enhanced further. 'Basecamp Plus' is an optional 'factory fitted' upgrade package that takes useability to a whole new level.
In addition to the standard exterior graphics scheme, there are 12 modern and colourful graphics packages to choose from. Basecamp Plus includes the following additional features:
Solar panel
TV aerial
TV bracket with travel lock
External 230v mains point
External BBQ point
External shower point
External door flyscreen
Oven with integral grill
2019 Basecamp price is £16,910, Plus Pack £715.00 and £300.00 delivery. Optional Vango Airbeam Awning with inner tent £925.00, ATC Trailer control (Factory fitted).
BROWSE: Our full range of NEW Swift Caravans
Swift Basecamp Gallery
Click on an image to enlarge