2019 Swift Challenger
The Swift Challenger Range is one of the most popular collections of Swift Caravans ever produced by the Swift Group. If you're looking for a caravan that offers great looks throughout that is light enough to be towed by most family cars and offers outstanding value, then look no further than the Challenger.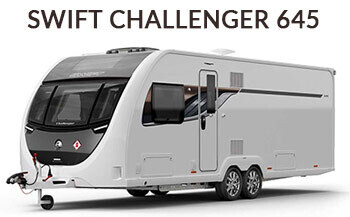 The Challenger has a New streamlined aerodynamic profile for 2019 and a New sweeping front panel incorporating triple opening windows and a New panoramic sunroof design. With nine layouts, including a New twin axle model with rear island bed, there's bound to be a model to match your touring requirements.
Challenger sports a stylish carbon fibre effect wide gas locker door, chrome effect grab handles, convenient one key exterior locks and bright LED road lighting are just some of the exterior refinements. Swift Challenger offers significant advancements in design and storage that optimise your living and sleeping space giving greater comfort. Swift Caravans also include a host of money saving developments including improved fuel efficiency and use of low energy lighting.
Challenger comes as standard with the New 'Glacier' upholstery scheme but there are a number of optional fabrics available to match your personal taste and style. SwiftShield is an exclusive fabric to the Swift Group. SwiftShield fabrics have a soft suede type feel that has been been treated during manufacturing to resist stains and make cleaning easy, using just a dampened soft cloth.
Thanks to the incredible durability of Swifts unique SMART construction the Swift Challenger come with a 10 Year Manufacturer Bodyshell Warranty.
Swift SMART Intelligent Construction System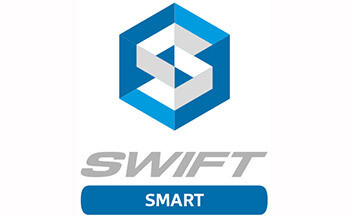 As the UK's leading leisure vehicle manufacturer, the Swift Group undertakes one of the most extensive research and testing programmes in the industry. SMART is the basis of an intelligent construction system that is used across the entire Touring Caravan Range including Challenger.
SMART is based on proven technology which provides a Strong timberless body frame,with Modern desirable looks and a leading Aerodynamic shape that is highly Resilient to moisture. Balanced panel side walls with GRP outer and inner skins, a hail resistant GRP roof and GRP outer skin to the sandwich floor; creates a full GRP outer bodyshell making it even more resilient.
READ MORE: It Pays to Think Swift SMART when Buying a New Caravan
SMART Plus has become the cornerstone of all Swift Caravan ranges and has raised standards in touring caravan construction. We recommend anyone considering buying a new caravan take a serious look at the advantages SMART technology offers over rival caravan brands, before parting with your hard earned money.
Great Style Packed with Features
The newly designed panoramic sunroof allows plenty of natural light into the stylish and modern designed interior where the New 'Glacier' soft furnishings with warm natural tones and purple hues are paired with 'Aralie Sen' woodgrain. Gloss high level lockers feature a chrome inlay and positive locker catches for safe and secure storage. Adding to the quality feel are pleated cassette blinds to the windows, with modern curtains complete with tie backs.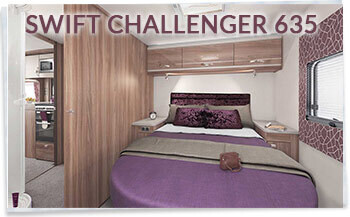 Flexible seating and sleeping arrangements feature Swift's exclusive AirWave cushioning with a unique construction that expertly blends comfort and support. Fixed beds are topped with the ultra-comfortable Duvalay Duvalite mattress, again exclusive as standard equipment to the Swift Group.
Download the 2019 Swift Challenger brochure using the 'Download PDF Brochure' button at the top of the page for a full list of features.
Well-equipped kitchens and washrooms house an array of clever storage solutions. Plentiful hot water is provided by the Truma Combi heating system and you have the option to upgrade to Alde wet central heating.
There is also a 'Lux' pack option which adds a stylish illuminated kitchen splashback, external BBQ point, external 230V socket, external service door and key fob operated alarm system, which creates an overall package that's hard to beat.
Give us a call on 01255-830-229, to discuss how we can help you become the proud owner of a brand new Swift Challenger Caravan.
Safety and Security
For anyone considering caravan ownership, security really ought to be a major factor when deciding which caravan to buy. Caravan security has always been a priority for the Swift Group and an important consideration when developing new caravans for production. Swift Challenger owners have a number of tools at their disposal including, a high tech alarm system and a concealed security data strip embedded in the caravan.
Incorporated into the Swift Command control system is a Thatcham Category 6 approved pro-active tracker system, which for an annual subscription fee offers sophisticated caravan monitoring. All Swift caravans are fitted with high security locks, with an interior dead lock facility on the entrance door.
Thatcham Category 6 approved pro-active tracker (subject to an annual subscription, part of Swift Command system)
Convenient one-key high security locks
AKS 3004 stabiliser
Receiver for optional AL-KO Secure wheel lock
Smoke alarm
Carbon monoxide detector
CRiS identity number labels on windows and caravan chassis
Concealed security data chip within caravan construction
Interior dead lock facility on entrance door for added security
2019 Swift Challenger Models
Swift Challenger 480 / 2 Berth
Swift Challenger 530 / 4 Berth
Swift Challenger 560 / 4 Berth
Swift Challenger 565 / 4 Berth
Swift Challenger 580 / 4 Berth
Swift Challenger 590 / 6 Berth
Swift Challenger 635 / 4 Berth
Swift Challenger 645 / 4 Berth
Swift Challenger 650 / 4 Berth
Swift Command
Boosting specification levels further is the enhanced Swift Command control system with NEW larger 7", easier to use, LCD colour touchscreen control panel with improved functionality and app interface, featuring new integrated DAB and FM radio tuning and sound setting control. Swift Command control system allows you to remotely manage many of the onboard functions using an intuitive touchscreen menu. Easily and conveniently track system levels like power, temperature, humidity and monitor the location of your Caravans. Custom notification settings keep you informed of functions such as battery levels, frost alerts and alarm status.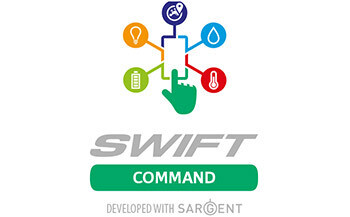 Incorporated into the Swift Command control system is a Thatcham Category 6 approved, pro-active tracker system that is monitored by Sargent. Tracking includes European coverage and direct police liaison. This system is ready for use, all you need to do is purchase a low-cost tracking subscription for real-time tracking from any location.
Stay connected to your Caravan from your mobile device using the clever Swift Command App, which links you to the onboard Swift Command control system. Access the clever onboard interface when nearby using Bluetooth or via your internet connection when remotely located.
READ MORE: New Swift Command Intelligent Control System
Swift Connect Direct
Connect Direct is an online system which personalises each customer's experience of owning their caravan. Once you have logged on and created your profile, you will be able to access a whole host of information, specific to your caravan. In addition you will be able to have a direct line into the retail team, with the launch of a live chat facility.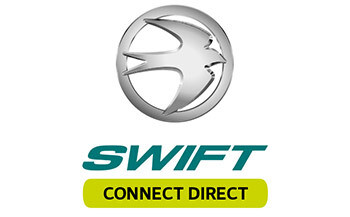 Should a problem occur, you will be able to report a fault to us directly, enabling us to react quickly and work together with your dealer to take the problem away from you the owner and resolve the issue as quickly as possible.
Product upgrades and notifications will be sent via Connect Direct keeping you up to date over the coming years. This online system provides a direct route for you into the Swift Group, and enables us to provide you with proactive Customer Service support, enhancing your experience.
READ MORE: Swift Connect Direct - the only caravan maker with an in-house customer service team
Buying your Next Caravan at Homestead Caravans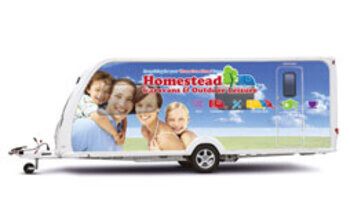 When you visit Homestead Caravans you can expect to find friendly and knowledgeable sales staff who, are dedicated to helping you find your dream Swift Caravan, in a relaxed and pressure free sales environment. We offer extensive dealership facilities including one of the largest Caravan Accessory Shops in the country. We even operate own Touring Park located on our premises that boasts a stunning 2-acre fishing lake.
We offer low rates of finance provided by Black Horse on most caravans (subject to status). Ask about our range of flexible finance plans from Black Horse including, Personal Contract Purchase (PCP) and Hire Purchase plans. Call 01255-830-229 for further information.
Optional equipment can be factory fitted by Swift or carried out in our state-of-the-art Caravan Workshop by our team of highly skilled and experienced technicians.
Browse our new Caravans for sale
3 Nights FREE at Homestead Lake Park Touring Park
All New and Used Caravans come with 3, free nights stay at Homestead Caravans very own Homestead Lake Touring Park, so you can give your new caravan a dry run without ever leaving the showground. All things considered.. Homestead Caravans really is the "Perfect Caravan Dealership' in Essex or the UK for that matter, to buy your next Touring Caravan.
Swift Challenger Gallery
Click on an image to enlarge