2020 Swift Challenger & Challenger X
With its competitive price tag and high spec the Swift Challenger Range is one of the most popular collections of Swift Caravans ever produced by the Swift Group. If you're looking for a caravan with contemporary good looks that's well equipped and light enough to be towed by most family cars, then look no further than the Swift Challenger.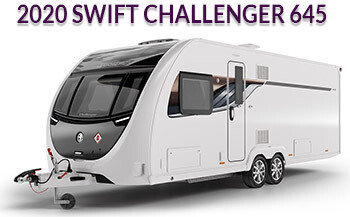 In 2019 the Challenger received a major update with the introduction of a new streamlined aerodynamic profile plus, a new sweeping front panel incorporating triple opening windows and a new panoramic sunroof design.
With the demand for wider caravans still growing Swift have increased their 8ft wide offering to include the Challenger, with the introduction of the all NEW Swift 'Challenger X' range. The Challenger X is designed with families firmly in mind, with wider beds and greater storage, and a fully equipped kitchen and washroom. High-performing Alde radiator central heating and water heating is now fitted as standard to all Challengers.
Download the 2020 Swift Challenger brochure using the 'Download PDF Brochure' button at the top of the page for a full list of features.
The extra space of the Challenger X allows for a wider opening central window and front chest, plus larger bed make-up in the front lounge, making it more relaxing than ever to be out on the open road. And thanks to low energy LED lighting throughout and a well equipped kitchen and washroom, this tourer is destined to extend the popularity of Challenger.
Challenger includes 6 models including 4 single axle and 2 twin axle layouts, while Challenger X includes 2 single axle and 2 twin axle layouts including, an all new 850 layout comprising L-shaped front lounge, mid kitchen and transverse washroom plus rear island bed, ensuring an option to suit most needs.
2020 Swift Challenger & Challenger X Models
Swift Challenger 480 / Single Axle / 2 Berth
Swift Challenger 530 / Single Axle / 4 Berth
Swift Challenger 560 / Single Axle / 4 Berth
Swift Challenger 580 / Single Axle / 4 Berth
Swift Challenger 645 / Twin Axle / 4 Berth
Swift Challenger 650 / Twin Axle / 4 Berth
Swift Challenger X 865 / Single Axle / 4 Berth
Swift Challenger X 880 / Single Axle / 4 Berth
Swift Challenger X 835 / Twin Axle / 4 Berth
Swift Challenger X 850 / Twin Axle / 4 Berth
As with all Swift tourer ranges, Challenger X is built on Swift's pioneering SMART construction platform with a timberless bodyshell and durable GRP outer skin, delivering outstanding build quality. Thanks to the incredible durability of Swifts unique SMART construction the Swift Challenger come with a 10 Year Manufacturer Bodyshell Warranty*.
There's also Swift Command, allowing you to monitor and control many onboard systems via a 7-inch touchscreen panel and smartphone app, with the option to subscribe to a pre-installed Thatcham Category S7 approved pro-active tracker** for added protection.
Challenger X Enhancements
Wide overall body at 2.46m/8'1"
Extra wide carbon effect gas locker door with single lever three point locking
Wide sweeping front panel in GRP with triple opening windows with wider central window
Spacious front lounge with extra 7 inches between seats - compared to standard Challenger models (model dependent)
Extra wide front chest featuring a soft close drawer with concealed drawer inside and convenient slide-out extending top (model dependent)
Brand new 850 layout featuring L-shaped lounge and rear island double bed
Easy Accuride bed makeup system on front beds with beech slat seat and bed bases with fully opening hinged tops for extra comfort and easy access
Front seating makes up into larger double bed (7'4 x 4' with chest in situ and 7'4 x 5'3 without chest), Larger front L-shaped lounge double bed 7'4 x 4'2 (850)
Wider fixed rear double bed in 850
Wider washroom and one additional wardrobe in 835
Wider freestanding table (suitable for full size place settings)
Luxury Comes as Standard
Challengers stylish carbon fibre-effect wide gas locker door, chrome-effect grab handles, convenient one-key exterior locks and exclusive bright LED road lighting are just some of the finishing exterior touches that make Challenger so distinctive on the road. Swift Caravans also include a host of money saving developments including improved fuel efficiency and use of low energy lighting.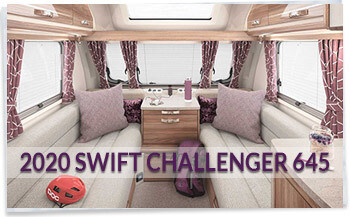 The panoramic sunroof with recessed lights and speakers allows plenty of natural light into the interior, where 'Glacier' soft furnishings with warm natural tones and purple hues are paired with 'Aralie Sen' woodgrain and gloss high-level lockers. Additionally there are a number of optional 'Swiftshield' fabrics available to match your personal taste and style. SwiftShield is an exclusive fabric to the Swift Group, which have a soft suede type feel that has been been treated during manufacturing to resist stains and make cleaning easy, using just a dampened soft cloth. Adding to the quality feel are pleated cassette blinds to the windows, with modern curtains complete with tie backs.
For the utmost comfort, the flexible seating and sleeping arrangements feature Swift's exclusive AirWave cushioning, with a unique construction that expertly blends comfort and support. Fixed beds are topped with the ultra-comfortable Duvalay Duvalite™ Apollo Luxe mattress, again exclusive as standard equipment to Swift.
Adding further refinement to the already fully equipped Challenger and Challenger X is the Lux Pack. With such high demand expected, for 2020 the Lux Pack will be fitted to our complete range of Challenger caravans as standard.
Lux Pack Features
Lux Pack includes the following value-added extras:
Stylish illuminated kitchen splashback
External BBQ point
External 230V socke
External service door
Key fob operated alarm system
Safety and Security
For anyone considering caravan ownership, security really ought to be a major factor when deciding which caravan to buy. Caravan security has always been a priority for the Swift Group and an important consideration when developing new caravans for production. Swift Challenger owners have a number of tools at their disposal including, a high tech alarm system and a concealed security data strip embedded in the caravan.
Incorporated into the Swift Command control system is a Thatcham Category 6 approved pro-active tracker system, which for an annual subscription fee offers sophisticated caravan monitoring. All Swift caravans are fitted with high security locks, with an interior dead lock facility on the entrance door.
Thatcham Category 6 approved pro-active tracker (subject to an annual subscription, part of Swift Command system)
Convenient one-key high security locks
AKS 3004 stabiliser
Receiver for optional AL-KO Secure wheel lock
Smoke alarm
Carbon monoxide detector
CRiS identity number labels on windows and caravan chassis
Concealed security data chip within caravan construction
Interior dead lock facility on entrance door for added security
Give us a call on 01255-830-229, to discuss how we can help you become the proud owner of a brand new Swift Challenger Caravan.
Browse our current range of Swift Caravans: https://www.homesteadcaravans.co.uk/touring-caravans/
Buying your Next Caravan at Homestead Caravans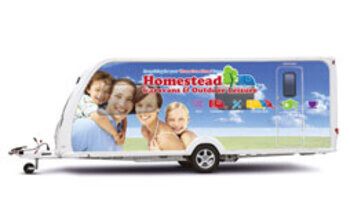 When you visit Homestead Caravans you can expect to find friendly and knowledgeable sales staff who, are dedicated to helping you find your dream Swift Caravan, in a relaxed and pressure free sales environment. We offer extensive dealership facilities including one of the largest Caravan Accessory Shops in the country. We even operate own Touring Park located on our premises that boasts a stunning 2-acre fishing lake.
We offer low rates of finance provided by Black Horse on most caravans (subject to status). Ask about our range of flexible finance plans from Black Horse including, Personal Contract Purchase (PCP) and Hire Purchase plans. Call 01255-830-229 for further information.
Optional equipment can be factory fitted by Swift or carried out in our state-of-the-art Caravan Workshop by our team of highly skilled and experienced technicians.
3 Nights FREE at Homestead Lake Park Touring Park
All New and Used Caravans come with 3, free nights stay at Homestead Caravans very own Homestead Lake Touring Park, so you can give your new caravan a dry run without ever leaving the showground. All things considered, Homestead Caravans really is the "Perfect Caravan Dealership' in Essex or the UK for that matter, to buy your next Touring Caravan.
Swift Challenger Gallery
Click on an image to enlarge