All Swift Caravans are now branded under the Swift, fully integrating both Sprite and Eccles ranges and complementing the existing family of Swift ranges. The Swift brand is renown for innovation, build quality, style and of course family value.
For the 2020 season we will be stocking Swift Basecamp, Sprite, Challenger and Challenger X caravan ranges, and we will be continuing with remaining stock of 2019 Swift Elegance models including, the Elegance Grande 655. Whether you're looking for practical, family living or high-end luxury, there's sure to be a choice to suit your needs, with a variety of stylish interior designs and optional upgrade packs.
Changes to Swift Caravan Ranges for 2020
Following on from the introduction of the 8ft wide Elegance Grande in 2019, Swift have introduced two new 8ft wide ranges including the Eccles X and Challenger X. While we have no plans to stock the Eccles X this year we will be stocking the Challenger X for the benefit of families looking for additional room and comfort.
In 2018 the Swift Sprite range was completely redesigned with a new streamline profile and a restyled interior giving the range a more upmarket feel. For the 2020 season Swift have gone a stage further with a new eye catching graphic scheme to compliment the already enhanced exterior. Inside new 'Langholme' soft furnishings and 'Aralie Sen' woodgrain, with contemporary matt white overhead lockers and push button chrome handles make for an extremely modern and stylish range.
For 2020 Basecamp is built using Swift SMART 3 construction making it completely timberless, with Swift's Lifetime Manufacturer Water Ingress Warranty. The SMART bodyshell is strong, tough-wearing and well insulated to cope with life off the beaten track.
For 2020 all Swift caravans come with the option of half price caravan insurance through Swifts Supersure Insurance.
Did you know that Homestead Caravans is actually the sole agent for Swift Caravans and soon to be Motorhomes in Essex. It's a responsibility we don't take likely, so you can expect personal, friendly and dedicated service whatever your needs - as always.
Stay SMART with Swift SMART
If it has been a while since you purchased a new caravan, you are sure to be surprised by the technological advances in caravan construction incorporated across all Swift ranges. All Swift Caravans are intelligently constructed using SMART technology.
One of the key features of SMART is its Strong TIMBERLESS body frame, with Modern desirable looks and a leading Aerodynamic shape that is highly Resilient to moisture. Balanced panel side walls with GRP outer and inner skins, a hail resistant GRP roof and GRP outer skin to the sandwich floor; creates a full GRP outer bodyshell further enhancing resilience.
SMART Plus has become the cornerstone of all Swift Caravan ranges and has raised standards in touring caravan construction. If you are considering buying a new caravan we strongly recommend you take a close look at the advantages of SMART technology before making your mind up, we wouldn't want for you to miss out.
Swift Command
Boosting specification levels further is Swift Command control system enabling you to remotely manage many of onboard caravan functions, using an intuitive touchscreen menu. Easily and conveniently track system levels like power, temperature, humidity and monitor the location of your Caravans. Custom notification settings keep you informed of functions such as battery levels, frost alerts and alarm status.
Incorporated into the Swift Command control system is a Thatcham Category 6 approved, pro-active tracker system that is monitored by Sargent. Tracking includes European coverage and direct police liaison. This system is ready for use, all you need to do is purchase a low-cost tracking subscription for real-time tracking from any location.
Stay connected to your Caravan from your mobile device using the clever Swift Command App, which links you to the onboard Swift Command control system. Access the clever onboard interface when nearby using Bluetooth or via your internet connection when remotely located.
Swift Command now comes with a new larger 7", easier to use, LCD colour touchscreen control panel with improved functionality and app interface. It now features integrated DAB and FM radio tuning and sound setting control. All new 2019 Swift Caravans sold by Homestead Caravans will feature the updated Swift Command Control panel including Sprite's fitted with the Diamond pack. All of our Sprite caravans are fitted with the Diamond Pack as standard.
Swift Connect Direct
Connect Direct is an online system which personalises each customer's experience of owning their caravan. Once you have logged on and created your profile, you will be able to access a wealth of information, specific to your caravan. In addition you will have a direct line into the retail team, with the launch of a live chat facility.
Should a problem occur, you will be able to report a fault to us directly, enabling us to react quickly and work together with your dealer to take the problem away from you and resolve the issue as quickly as possible.
Product upgrades and notifications will be sent via Connect Direct keeping you up to date over the coming years. This online system provides a direct route for you into the Swift Group, and enables us to provide you with proactive Customer Service support, enhancing your experience.
READ MORE: Swift Connect Direct - the only caravan maker with an in-house customer service team
Swift Caravans at Homestead Caravans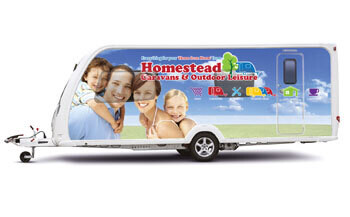 Homestead Caravans has been a Swift Group dealer for the past 20 years and is now sole agent for Swift Caravan and Motorhome brands in Essex and Suffolk. We hold new and used Swift caravans in stock and offer low rates of finance coutesy of Blackhorse, on most caravan purchases (subject to status).
The Sales Team at Homestead have a great deal of experience and can help experienced or first-time caravanner's find the caravan of their dreams, in a friendly and low pressure sales environment. At Homestead you can be sure to receive honest and informed advise every time!
Homestead Caravans operates a large, purpose built 8 bay Caravan Workshop, which is always on hand to fit any optional extras that are unable to be factory fitted such as, Caravan Movers. To ensure all work is carried out to the same high standards without affecting the manufacturers warranty, staff are Swift Factory trained and regularly assessed by the 'Approved Workshop Scheme'.