Swift Caravan Ranges
For 2018 all Swift Caravans can now be found solely under the Swift brand, fully integrating both Sprite and Eccles ranges and complementing the existing family of Swift ranges. The Swift brand is renown for innovation, build quality, style and of course outstanding value.
This year for the first time ever, we will be adding the Eccles range to our existing offering of Swift Caravans For Sale, providing our customers with access to 36 outstanding models across 5 ranges. In addition we will have on display Swift Basecamp, a sporty, fun and stylish crossover caravan designed with active adventurers in mind.
If it has been a while since you purchased a new caravan, you are sure to be surprised by the technological advances in caravan construction incorporated across all Swift ranges. All 2018 Swift Caravans are intelligently constructed using Swift's SMART technology.
One of the key features of SMART is its Strong TIMBERLESS body frame, with Modern desirable looks and a leading Aerodynamic shape that is highly Resilient to moisture. Balanced panel side walls with GRP outer and inner skins, a hail resistant GRP roof and GRP outer skin to the sandwich floor; creates a full GRP outer bodyshell further enhancing resilience.
SMART Plus has become the cornerstone of all Swift Caravan ranges and has raised standards in touring caravan construction. If you are considering buying a new caravan we strongly recommend you take a close look at the advantages of SMART technology before making your mind up.
Please watch the video below for further information. In reference to SMART HT being used on Swift's 'Premium Ranges', please note this includes the Elegance Caravan Range.
2018 Swift Ranges
Swift Sprite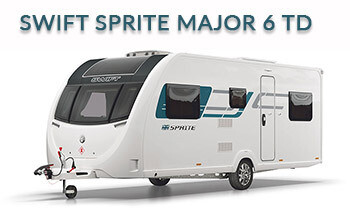 2018 marks the complete redesign of Sprite, the UK's best-selling caravan range and the results are stunning. Its new streamlined profile, fully re-styled interior and new model line-up, creates a more upmarket feel that is destined to revolutionise entry level caravanning.
Owner Satisfaction award winner* for two years running, the attractive pricing combined with great new features and a wide range of models and options, are sure to make Sprite even more desirable.
* Camping and Caravanning Club and Practical Caravan magazine Owner Satisfaction awards.
2 - 6 Berths
6 Single axle models
4 Twin axle models
MRO from: 1042kg
RRP Price: £15,530.00 - £19,390.00
Swift Challenger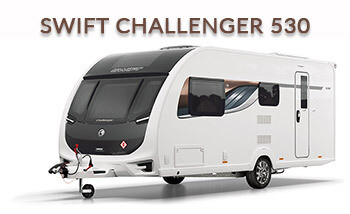 If you're looking for a caravan with great looks throughout, light enough to be towed by most family cars and outstanding value, then look no further than the Challenger.
With eight layouts, including two twin axle variants, there's a model to match your touring lifestyle. The panoramic sunroof allows plenty of natural light into the interior where 'Santa Monica' soft furnishings with warm grey, bronze and red hues are paired with 'Aralie Sen' woodgrain.
A stylish carbon fibre effect wide gas locker door, chrome effect grab handles, convenient one key exterior locks and bright LED road lighting are just some of the exterior refinements.
2 - 6 Berths
6 Single axle models
2 Twin axle models
MRO from: 1235kg
RRP Price: £18,685.00 - £22,385.00
Swift Eccles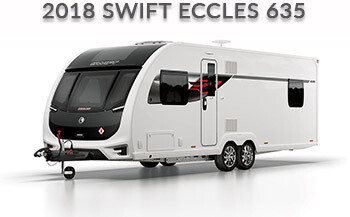 With a sweeping front profile housing a stylish wide carbon fibre effect gas locker door with chrome effect grab handles, the latest stylish interiors and weights towable by most family cars, the Eccles has a distinctive up-to-the-minute appearance and offers outstanding value.
With the look and feel of a well-designed modern home, the living space is light and airy with a large panoramic sunroof. Clean matt white locker doors with chrome coloured handles are inlaid with gloss 'Smoked Oak' and paired with soft hessian effect furniture and neutral 'Guetta' soft furnishings.
Boosted with Alde heating as standard and a choice of five layouts, including a twin axle variant, the Eccles may just be the tourer for you.
4 - 6 Berths
4 Single axle models
1 Twin axle models
MRO from: 1320kg
RRP Price: £20,735.00 - £23,135.00
Swift Conqueror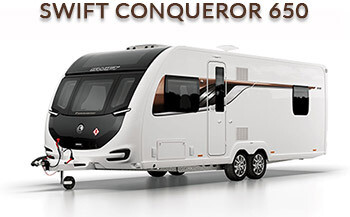 Renowned for its impressive styling, the Conqueror has been innovatively redesigned using the SMART construction platform and is now wider for a more spacious interior. Amazingly, is it also lighter, and takes this high end tourer's reputation for comfort, practicality and style to a new level.
Its aerodynamic exterior design combines a sweeping front aspect with new stylish graphics, chrome effect grab handles, sleek sunroof, and full height GRP rear panel that together creates a strikingly sleek silhouette.
There are seven different models available, across both single and twin axle layouts, making the Conqueror one of the best all season tourers money can buy.
2 - 6 Berths
4 Single axle models
3 Twin axle models
MRO from: 1304kg
RRP Price: £23,735.00 - £29,285.00
Swift Elegance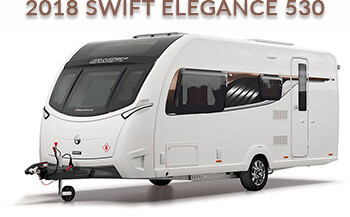 Representing decades of experience and countless innovations, including the ultimate SMART HT construction, the Swift Elegance offers an exquisitely refined touring experience that is second to none.
Lavishly appointed and perfectly proportioned with six layouts including two twin axle models, the Elegance range ensures your touring is as comfortable as it is memorable.
Fully equipped, the Elegance comes with a five star specification. Sporting chrome effect grab handles, an enhanced stylish graphics scheme and handy rear view camera, the Swift Elegance effortlessly stands out from the crowd.
2 - 4 Berths
4 Single axle models
2 Twin axle models
MRO from: 1444kg
RRP Price: £25,835.00 - £31,385.00
Swift Basecamp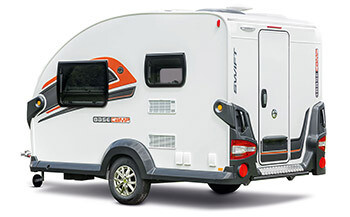 Basecamp is an exciting sporty, fun and stylish compact crossover camping vehicle created for life's adventurers, who are seeking to discover new experiences away from the crowd. It's the perfect vehicle to base your outdoor pursuits from.
You can stay connected to Basecamp from your mobile while out in the wilderness via the clever Swift Command app which links you to the onboard Swift Command control system. All you need is a mobile signal. You can locate your Basecamp or even turn on the lights and heating for a welcoming return to camp.
2 Berths
Single axle
MRO from: 883kg
RRP Price from: £15,780.00 (Plus Pack: £695.00)
Swift Command
Boosting specification levels further is the enhanced Swift Command control system to remotely manage many of the onboard functions using a touchscreen menu. Easily and conveniently track system levels like power, temperature, humidity and monitor the location of your Caravans. Custom notification settings keep you informed of functions such as battery levels, frost alerts and alarm status.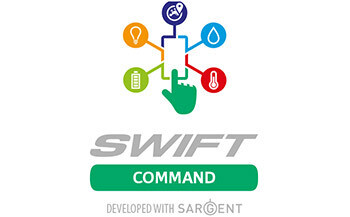 Incorporated into the Swift Command control system is a Thatcham Category 6 approved, pro-active tracker system that is monitored by Sargent. Tracking includes European coverage and direct police liaison. This system is ready for use, all you need to do is purchase a low-cost tracking subscription for real-time tracking from any location.
Stay connected to your Caravan from your mobile device using the clever Swift Command App, which links you to the onboard Swift Command control system. Access the clever onboard interface when nearby using Bluetooth or via your internet connection when remotely located.
READ MORE: New Swift Command Intelligent Control System
Swift Connect Direct
Connect Direct is an online system which personalises each customer's experience of owning their caravan. Once you have logged on and created your profile, you will be able to access a whole host of information, specific to your caravan. In addition you will be able to have a direct line into the retail team, with the launch of a live chat facility.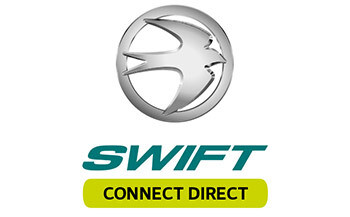 Should a problem occur, you will be able to report a fault to us directly, enabling us to react quickly and work together with your dealer to take the problem away from you the owner and resolve the issue as quickly as possible.
Product upgrades and notifications will be sent via Connect Direct keeping you up to date over the coming years. This online system provides a direct route for you into the Swift Group, and enables us to provide you with proactive Customer Service support, enhancing your experience.
READ MORE: Swift Connect Direct - the only caravan maker with an in-house customer service team
Swift Caravans at Homestead Caravans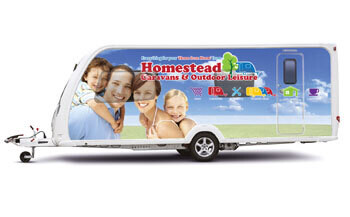 Homestead Caravans has been a successful Swift Group Dealer for almost 20-years and has new and used Swift Caravans for sale in Essex, with the option of low rate finance from Blackhorse on most caravan purchases (subject to status). The Sales Team at Homestead have a great deal of experience and can help experienced or first-time caravanner's find the caravan of their dreams, in a friendly and low pressure sales environment. At Homestead you can be sure to receive honest and informed advise every time!
Homestead Caravans operates a large, purpose built 8 bay Caravan Workshop, which is always on hand to fit any optional extras that are unable to be factory fitted such as, Caravan Movers. To ensure all work is carried out to the same high standards without affecting the manufacturers warranty, staff are Swift Factory trained and regularly assessed by the 'Approved Workshop Scheme'.