2019 Swift Sprite
If you think you know what Sprite Caravans are all about it's time to think again! The Swift Sprite Caravan Range was completely redesigned in 2018 with stunning results. The UK's best-selling Caravan range sports a new streamlined profile, fully re-styled interior and new model line-up, creating a more upmarket feel that has revolutionised entry level caravanning.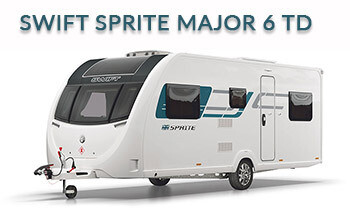 Once again for 2019 Sprite Caravans are sure to dominate the entry level market, despite being very attractively priced they combine cutting edge technology, with some great new features and a wide range of models and options to choose from. For two years on the run the Sprite Caravan Range has been voted 'Owner Satisfaction' award winner, in the Camping and Caravanning Club and Practical Caravan magazine, Owner Satisfaction awards.
Sprite Caravans are manufactured to the same high standards as Swift Group more expensive ranges. Compared with other Touring Caravan brands on a spec by spec basis, a Sprite will typically offer greater value with a reduced towing weight, making Sprite's enormously popular with first-time buyers and owners of smaller cars.
SMART Plus Intelligent Construction System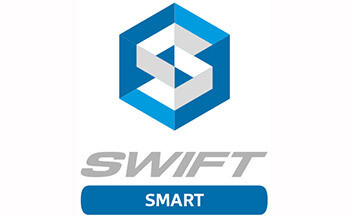 The Sprite Range very much has the feel of a more expensive Caravan and posses some of the most advanced technology available in the industry. Built with industry leading 'SMART' construction, the Sprite is more durable making it an even better investment. Swift SMART Intelligent Construction System is found in all Sprite models and represents a generational leap in Caravan construction using multiple new processes and materials.
Balanced panel side walls with GRP outer and inner skins, a hail resistant GRP roof and GRP outer skin to the sandwich floor, creates a full GRP outer bodyshell making it even more resilient.
READ MORE: It Pays to Think Swift SMART when Buying a New Caravan
The TIMBERLESS body frame of the Sprite uses PURe, a tough and hard-wearing polyurethane material that is totally impervious to water by preventing the transfer of moisture from the outside through the wall of the Caravan.
Call 01255-830-229 for more information about our Sprite Caravans for Sale in Essex and to learn more about 'Swift SMART' Intelligent Construction System.
Sprite Features
Staying ahead of its rivals and perfected over generations, the affordable, stylish and lightweight Sprite Range has three opening front windows, stylish 'Tyrion' soft furnishings, low energy LED lighting throughout, fast heat up Truma Combi-Boiler and well equipped kitchen and washroom. You may be surprised you've walked into a Sprite and this is the secret to its success. There is a wide range of options including a panoramic sunroof and Diamond Pack, which are so competitively priced, they are always selected.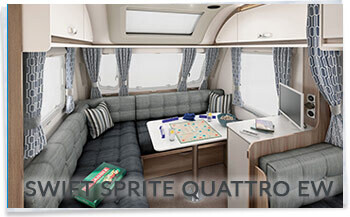 Within the Sprite Range there are three fabric options available. The 'Tyrion' scheme that comes as standard and the optional 'Elodie' and SwiftShield schemes. SwiftShield fabric has a soft suede type feel and has been treated during manufacturing to resist stains. It is very easy to clean and just requires a soft cloth dampened with water to remove most stains. SwiftShield is exclusive to Swift Group.
There are plenty of Sprite Caravans to choose from, with entry level models to top of the range luxury models that cater for a wide range of budgets, with Caravan weights to suit a wide range of tow cars. Whatever your requirements and budget, you can be sure to find a Sprite Caravan to meet your needs.
Download the 2019 Swift Sprite brochure using the 'Download PDF Brochure' button at the top of the page to take a look at the exciting new range.
New Sprite Features for 2019
This season's refinements include a redesign of the front chest and binnacle area which now features a soft close drawer with concealed drawer inside. Practical changes include better access to sockets in the kitchen and new modern slate grey worktops. Boosting specification levels further is the enhanced Swift Command control system. This now comes with a new larger 7", easier to use, LCD colour touchscreen control panel with improved functionality and app interface. It now features integrated DAB and FM radio tuning and sound setting control as part of the Diamond Pack, which comes as standard throughout our Sprite demonstrators and back up stock.
2019 Swift Sprite Models
Sprite Alpine 2 / 2 Berth
Sprite Alpine 4 / 4 Berth
Sprite Major 4 SB / 4 Berth
Sprite Major 4 EB / 4 Berth
Sprite Major 6 / 6 Berth
Sprite Major 6 TD / 6 Berth
Sprite Quattro EW / 6 Berth
Sprite Quattro FB / 6 Berth
Sprite Quattro DD / 6 Berth
Sprite Quattro EB / 4 Berth
Swift Command
Boosting specification levels further is the enhanced Swift Command control system now with larger display and integrated DAB radio, to remotely manage many of the onboard functions using an intuitive touchscreen menu. Easily and conveniently track system levels like power, temperature, humidity and monitor the location of your Caravans. Custom notification settings keep you informed of functions such as battery levels, frost alerts and alarm status.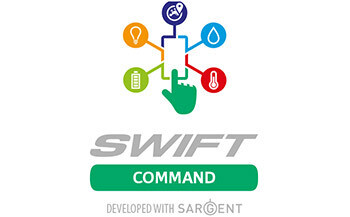 Incorporated into the Swift Command control system is a Thatcham Category 6 approved, pro-active tracker system that is monitored by Sargent. Tracking includes European coverage and direct police liaison. This system is ready for use, all you need to do is purchase a low-cost tracking subscription for real-time tracking from any location.
Stay connected to your Caravan from your mobile device using the clever Swift Command App, which links you to the onboard Swift Command control system. Access the clever onboard interface when nearby using Bluetooth or via your internet connection when remotely located.
READ MORE: New Swift Command Intelligent Control System
Swift Connect Direct
Connect Direct is an online system which personalises each customer's experience of owning their caravan. Once you have logged on and created your profile, you will be able to access a whole host of information, specific to your caravan. In addition you will be able to have a direct line into the retail team, with the launch of a live chat facility.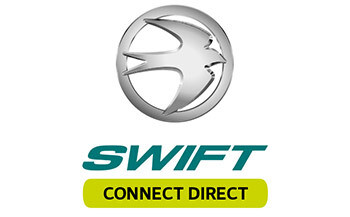 Should a problem occur, you will be able to report a fault to us directly, enabling us to react quickly and work together with your dealer to take the problem away from you the owner and resolve the issue as quickly as possible.
Product upgrades and notifications will be sent via Connect Direct keeping you up to date over the coming years. This online system provides a direct route for you into the Swift Group, and enables us to provide you with proactive Customer Service support, enhancing your experience.
READ MORE: Swift Connect Direct - the only caravan maker with an in-house customer service team
Buying your Next Caravan at Homestead Caravans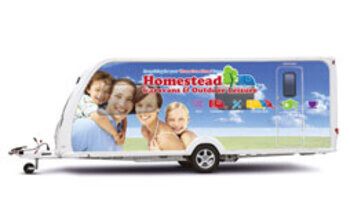 Homestead Caravans has offered Sprite Caravans for sale in Essex since 2011 and knows the brand extremely well. Visitor's can expect to find friendly and knowledgeable sales staff who, are only too happy to help, in a relaxed and pressure free sales environment. We offer extensive dealership facilities including one of the largest Caravan Accessory Shops in the country. We even operate own Touring Park located on our premises that boasts a stunning 2-acre fishing lake.
We offer low rates of finance provided by Black Horse on most caravans (subject to status). Ask about our range of flexible finance plans from Black Horse including, Personal Contract Purchase (PCP) and Hire Purchase plans. Call 01255-830-229 for further information.
Optional equipment for your new Swift Sprite Caravan can be factory fitted by Swift or carried out in our state-of-the-art Caravan Workshop by our team of highly skilled and experienced technicians.
Browse our new Swift Caravans for sale
3 Nights FREE at Homestead Lake Park Touring Park
All New and Used Caravans come with 3, free nights stay at Homestead Caravans very own Homestead Lake Touring Park, so you can give your new caravan a dry run without ever leaving the showground. All things considered.. Homestead Caravans really is the "Perfect Caravan Dealership' in Essex or the UK for that matter, to buy your next Touring Caravan.
Swift Sprite Gallery
Click on an image to enlarge