Beginners Guide to LPG Gas – 1. The Basics
Back
Buying your first caravan marks the beginning of a very rewarding and enjoyable learning experience. The road from novice to expert maybe long but in the passage of time, you'll be able to pass on your wisdom to others following in your footsteps.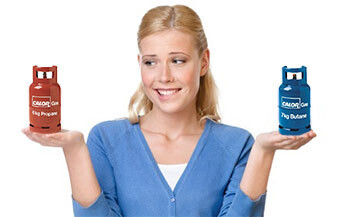 By now you're probably aware that caravans and motorhomes are heavily reliant upon LP Gas to run utility heating systems and appliances. Knowing which gas to buy requires some thought and the acquisition of a small amount of technical data. To that end we will be putting together a series of basic guides on the topic of LP Gas, starting with this one. Guide one deals with the basics, what is LPG, who are the key leisure industry gas bottlers, the differences between Propane and Butane.
Before I go any further it's probably a good idea to narrow the field, in terms of bottled gas suppliers. While there are several independent suppliers of LP Gas dotted around the country, only Calor Gas and Camping Gaz are readily available throughout the UK and UK campsites. Indeed Camping Gaz is available throughout Europe and other parts of the world.
Difference between Propane & Butane Gas
Liquid Petroleum Gas, more commonly known as 'LPG' is, a highly portable and versatile liquid fuel that is stored in a pressurised container. LPG is available in two variations, Propane and Butane. Butane and Propane have endless applications and are used extensively across many industries. It's difficult to imagine how a modern leisure industry could exist, in all it's many forms, in the absence of LP Gas.
For identification purposes, Calor Gas Propane cylinders are painted red, while both Calor and Camping Gaz Butane bottles are blue. In case you were wondering, Camping Gaz do not bottle Propane gas.
TIP: We're very sorry but we no longer provide a door-to-door gas deliver service. Collections only!
A little Technical Data
This isn't a technical document but it does help to provide you with a small amount of technical data in explaining the fundamental differences between Propane and Butane.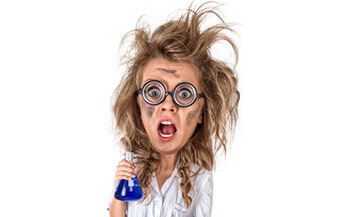 Propane and Butane are stored under pressure in liquid form. This is necessary because both liquids convert into a gas at very low temperatures. Pressurising the containers maintains the liquid state of the fuel inside the bottle and makes it more stable in everyday storage and operating environments i.e., sitting inside the storage box of a brand new 2017 Swift Basecamp on a hot summers day, or standing in snow outside a park home in January.
At an incredibly low -44° Celsius, liquid Propane begins to boil and transform into a gas. Butane on the other hand transforms into a gas above -0.5° Celsius. Simply stated, Butane is great for 3 season camping and caravanning where there is no danger of freezing temperatures. At temperatures approaching freezing it becomes difficult and finally impossible for the liquid to convert into a gas. In contrast Propane is easily able to cope with most cold environments this planet has to offer, which is why it's perfect for residential and business use.
If you plan on making good use of your caravan or motorhome come winter time, it's wise to make Propane your LP Gas of choice from day one. We recommend a Calor Gas 6kg Propane cylinder or if space is really restricted, a Calor 3.9kg bottle.
It's worth noting that because Propane is stored at a higher pressure compared to Butane, it is considered more hazardous, making it illegal to store Propane gas indoors.
READ MORE: On the back of recent Severe Weather Warning announcements, we thought now might be a good time to tell you about our Kampa Cabinet Heaters
Gas Regulator Valves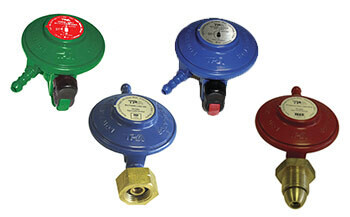 Almost all caravanning, camping and leisure appliances require the gas bottle be fitted with a gas regulator valve to, reduce the pressure of the gas as it leaves the cylinder. Fortunately all leisure products are designed to run from both gases. Gas regulators connect directly to the cylinder head using either a clip-on or threaded connection. A special size spanner is required to remove and reconnect threaded gas regulators, these are readily available from our shop.
From 2004 all new motorhomes and caravans are supplied with a pre-fitted bulkhead gas regulator. In order to link up a bulkhead regulator to either a Propane or Butane cylinder, these types of regulators require the assistance of a reciprocal pigtail connector, which is essentially a length of rubber tubing, with bottle and regulator connectors fitted at either end.
The type of regulator valve required always depends upon whether you are using Propane or Butane and a cylinders size. We recommend putting off buying a regulator before having made this decision, it's not unheard of for customers to buy a used regulator from a stranger or via eBay at a discount, only to find out later it's not suitable.
Comparing Calor Gas & Camping Gaz
Calor Gas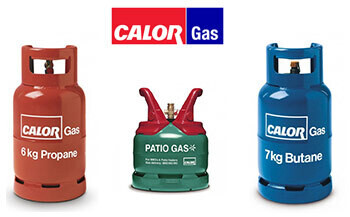 Calor Gas is by far the most well known and established suppliers of bottled LP Gas in the UK. Over the course of many years the Calor brand has become synonymous with its product, so much so that the two have become almost indistinguishable. In truth Calor Gas is a company name and does not describe the gas contained in the bottle. Calor Gas is available in both Propane and Butane and there is a wide selection of bottle sizes, designed for various applications.
Here follows a list of Calor Gas cylinders and their popular uses:
Caravans & Motorhomes: Calor Lite 6kg, Propane 6kg, Butane 7kg, Butane 4.5kg
Camping: Butane 4.5kg, Patio gas 5kg
BBQ: Patio gas 13kg, Patio Gas 5kg
Patio Heaters: Patio Gas 13kg
Portable Heaters: Butane 15kg, Butane 7kg
Tools/DIY: Propane 3.9kg
Light Commercial Use: Propane 13kg, Propane 19kg, Propane 47kg
Forklift Trucks: Propane liquid off take 18kg, Propane liquid off take 12kg
Commercial Heating/Drying: Propane 47kg
Camping Gaz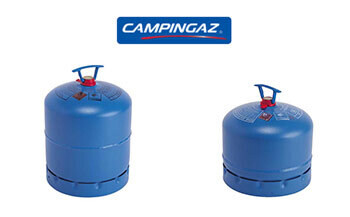 There are 2 sizes of Camping Gaz cylinder, the CG 904 at 4lb gas weight and the larger and more popular CG 907 at 6lb. Camping Gaz bottles have a lower weight and smaller physical dimensions, making them easier to store and carry. These cylinders are very much designed for camping, although they are also found in VW campervans, trailer tents and other leisure vehicles, where space is restricted.
As mentioned previously, Camping Gaz is available Worldwide, which makes it very popular with caravanners and campers planning holidays in Europe. Camping Gaz is only available in butane and therefore, only suitable for 3 season camping. If you attempt to use it in near freezing conditions, you're going to be very disappointed.
For the past 50 years Homestead Caravans & Outdoor Leisure has been one of the largest stockists of Calor Gas, Camping Gaz and gas cartridges in the Tendring area. In addition to serving gas to our leisure customers, we also serve businesses, park homes and residential consumers.

We are open 7-days a week and you can be sure that in the event a cold snap, we will have you up and running in no time.

TIP: Before leaving home please telephone our store to check stock availability on 01255-830-229, in the unlikely event we are awaiting delivery!
Comments
Be the first to comment on this article