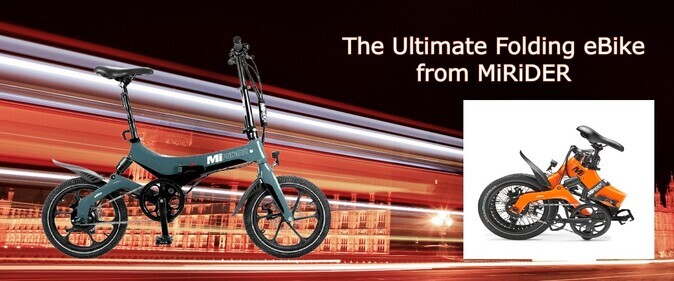 MiRiDER Folding Electric Bike
31/05/2023 IN Buyers Guides
Who is MiRiDER ?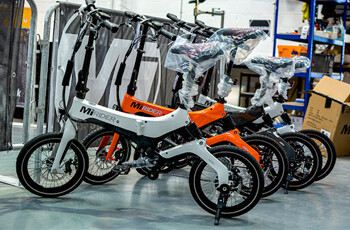 MiRiDER is a family run business with Mark Higginson Snr the founder and Managing Director. Mark in his early career trained as a forester which gave him the practical skills to pursue a subsequent inventing career path. He formed his first company (Disklok UK Ltd) in 1993 and has also estabilished other companies in different industries.
Mark works along side his wife and four children whose collaborations help run the business to the highest possible standard. MiRiDER are passionate people with a very keen interest in outdoor leisure and they have a dream to get people to fall back in love with cycling, by making it fun and accessible for everyone. MiRiDER are keen cyclists, and they took a look at the eBike and scooter market, and could see an opportunity to provide affordable products without compromising on quality and style.
The MiRiDER One which was the companies first eBike was designed with a focus on providing reassuring performance ride after ride. They have been carefully crafted to be the Ulitmate electric folding bike. Unlike other electric folding bikes on the market which are imported from all over the world, MiRiDER build and test all their eBikes here in the UK.
MiRiDER One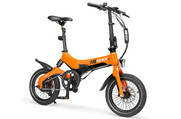 This Award winning folding eBike is exceptionally versatile whether you are commuting in the city, or just a leisure ride at home and on holiday. The MiRiDER One is perfect for all ages and abilities, this folding eBike is fun for everyone!
The innovative frame is die-cast, which is breaking away from the traditional welding process to create a streamline chassis with a slick,enviable design. The frame is made from Air Craft grade magnesium alloy which makes it impressively lightweight whilst still offering great shock and corrosion resistance. As you would expect, the MiRiDER One folds easily in a matter of seconds. Whether you are commuting, going on holiday or a ride by the coast, the MiRiDER One folds compactly and securely , and fitting easily in to the car boot or any public transport(Except planes)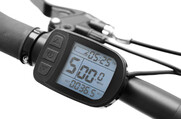 Smooth and Responsive Boasting the latest sinewave controller, the MiRiDER One feels smooth, responsive and powerful. It has a high quality 250W rear hub-motor that assists when pedalling up to 15.5mph. MiRiDER has included a thumb throttle which provides electric assistance up to 4mph (when NOT being pedaled) and doubles up as a boost button up to speeds of 15.5mph (when being pedaled) which helps with those steep hills on windy days.
It's powered by a Samsung 7ah/252wh battery that packs great mileage thanks to the clever power management system. This combined with the new, more efficient motor and 1.6kg weight reduction you can happily see up to 45miles of assisted cycling from a single charge.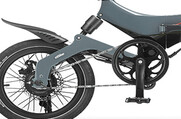 No gear No fuss The MiRiDER One is a single speed bike, meaning it only has a single gear. The bike has been thoroughly tested and found that the best gear ratio for optimum pedalling comfort when cruising at 15mph. This means that you don't have to mess around aligning gears and getting covered in oil, or risk damaging delicate parts.
The larger front sprocket does mean the bike is slower to accelerate from standstill when pedalling unassisted, but with the power boost button it's not a problem, a quick dab of the boost button and you'll be leaving everyone at the lights. And for the hills, the boost button will make very easy work as a power assist.
MiRiDER One

Price £1,595.00

Available in 5 colours: Grey, White, Silver, Blue and Orange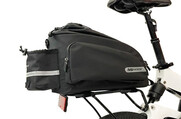 MiRiDER One Optional Upgrades The great advantage with MiRiDER is that you can upgade your MiRiDER One eBike at a very low cost that can suit your cycling needs.
Luggage Rack £45.00 Pannier Bag £70.00 Saddle Bag £20.00 Waterproof Phone Holder £20.00 Gel Saddle with LED Lights £40.00
Chunky Off Road Tyres (Pair) £50.00 CNC Folding Alloy Pedals £50.00 Full Colour LCD Display £90.00 Storage Bag £50.00
MiRiDER One GB3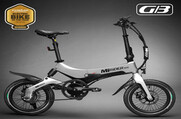 The MiRiDER One GB3 is the top model of their range, the main differents to the MiRiDER One is that this model offers a 3 speed gearbox with a Kevlar belt drive. The main advantage to this is minimum maintenance, and provides almost instant gear shifting even from a standstill, giving a positive and effortless experience.
The beautiful integrated crank mounted gearbox sits low and central to retain the MiRiDER One's excellent balance and weight distribution. The trio of gear ratios have been devised to offer a perfect selection, gear one is for clinbing or riding without assistance, gear two offers a typical riding, and third gear is for cruising or riding above the 15.5mph cut out.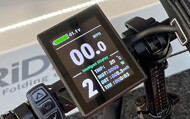 The MiRiDER One GB3 comes standard with the large colour LCD display, the control system is very much enharnced by the larger full colour display screen which also has a USB charging outlet.
The large display screen gives you the rider a clear view of the many features on display like the battery usage, mph speed, temperature and much much more.. Just like the MiRiDER One, the GB3 also comes with the larger 7ah Samsung battery, which has been neatly concealed within the main frame, leading to a great weight distribution and balance.
You are able to charge the battery whilst fitted into the frame, or if needed you can remove the battery which can be done quickly by unfolding the bike and with the security key, remove the concealed battery for charging indoors overnight.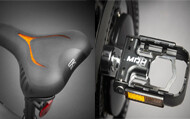 Another noticeable differents from the MiRiDER One is the Selle Royal Saddle. Core to the whole riding experience is the saddle and who better to provide this than Selle Royal. The Royal Saddle has been designed with an anti-slip material and a cool gel layer for comfort. The Selle Royal Saddle make your whole riding experience so much more enjoyable, and will enable you to ride for miles in comfort.
The MiRiDER One GB3 has the very lightweight CNC folding pedals, with it's exquisite aluminium pedal which turns the style up a notch. Because of the lightweight aluminium pedal this reduces the weight and provides an effortless fold when storing the bike away. Every little detail has been thought of from MiRiDER to produce a lighter weight quality eBike.
MiRiDER One GB3 Price £2,495.00

Available Colours: Grey, White, Silver, Blue and Orange
MiRiDER One GB3 Optional Upgrades
Luggage Rack £45.00 Pannier Bag £70.00 Waterproof Phone Holder £20.00
Storage Bag £50.00 Chunky Off Road Tyres (Pair) £50.00
All Prices are correct at the time of going to press

Homestead Caravans always have limited models and colours in stock, but please contact us on 01255 830229 before your journey to us to avoid any disappointment. If we don't have the model in stock at that time, we are able to get directly from our suppliers and shipped directly to you within a few days with no extra charge.
Comments