Swift Connect Direct - the only caravan maker with an in-house customer service team
Back
Following the successful introduction of Swift Connect Direct in 2014 on premium ranges of caravans, Swift Group has invested in extending Connect Direct to owners of all new caravans, motorhomes and holiday homes for the 2017 season ensuring everyone has the opportunity to benefit from the service.
What is Swift Connect Direct?
Connect Direct is an online system that's been carefully designed to personalise each customers experience of owning their Swift Group product. The system is now available across the entire caravan, motorhome and holiday home ranges. Connect Direct gives Swift customers 24/7 access to Customer Service, Technical Support, Repairs and Customer Chat.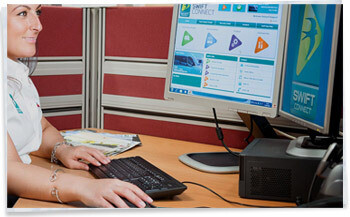 The Swift Group is the only caravan manufacturer to have an in-house customer service team and is constantly exploring how to improve an owner's experience. Connect Direct was developed to be a proactive service to customers and an extension of the existing customer service operation at Swift.
Connect Direct provides a host of benefits for owners including, notification of when vehicle services are due, a service history record, updates and links to vehicle information, direct contact with Swift Group and much more. Customers contact Swift through either a dedicated telephone number, email address or live link facility. If a vehicle develops a problem the owner can contact Swift directly who will work with them and their chosen dealer to resolve it.
READ MORE: New Swift Command Intelligent Control System
How Does it Work?
Once you have logged on and created your profile, you will be able to access a whole host of information, specific to your model. In addition you will be able to have a direct line into the retail team, with the launch of a live chat facility.
Should a problem occur, you will be able to report a fault to Swift directly, enabling them to react quickly and work together with yours truly to take the problem away from you the owner and resolve the issue as quickly as possible.
Product upgrades and notifications will be sent via Connect Direct keeping you up to date over the coming years. This online system provides a direct route for you into the Swift Group, and enables us to provide you with proactive Customer Service support, enhancing your experience.
The Key Benefits of Swift Connect Direct
Access to information 24/7
Ability to report faults directly to Swift Group
Product upgrades and notifications
Live chat direct into Swift Group's experienced retail team
Upload service history records
Service history reminders
"The growth in Connect Direct registrations is tremendous news, especially for new owners who are now benefiting from enhanced customer service" said Amy Archer, Deputy Managing Director, "as a company we lead the industry in many areas and to be at the forefront on customer service is especially rewarding. Ensuring our customers can enjoy their leisure time with the added peace of mind they have from the direct support of our dedicated customer services team is really important to us. Connect Direct takes our customer service offering to new levels, and the registration figures show just how relevant this offering is to our customers today."
Comments
Be the first to comment on this article