2018 Camping Tables Range Review
Back
If your table packed itself away last year in a heap on the floor let this 2018 Camping Tables Range Review serve as a reminder and hopefully a useful guide.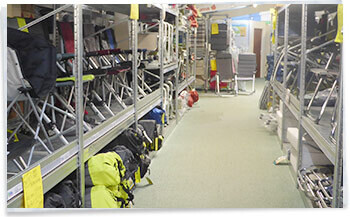 Our Essex Camping and Caravan Showroom has one of the most extensive displays of Camping Furniture in the UK. We stock a wide range of styles, designs and colours of Outdoor Furniture with Camping Table prices starting from as little as £5.00.
Our entire range of Camping Tables have been carefully selected for their practical application, high quality, ease of use and reliability in their respective classes. Each piece is quick and easy to set up and can be neatly and conveniently folded flat for easy transportation. From single person stick table to 6 person dining table our collection is primarily geared to our caravan and camping customers but the true extent of uses is almost without end.
Read more: 2018 Lafuma Reclining Chairs Review
Materials and Construction
Steel
Steel furniture tends to offer a higher level of strength and is very resistant to bending however, being that steel is heavier than Aluminium the high strength tends to come at a price. Larger high end Camping Tables are usually made from aluminium because of the high content of metal involved. As steel oxidises it soon begins to rust when it comes into contact with water, and air, which is why steel frames are normally galvanised or paint coated for protection. If painted surfaces are scratched or damaged and the paint is removed, eventually the framework will rust so it's always a good idea to repair scratches with an appropriate paint as soon as possible.
Aluminium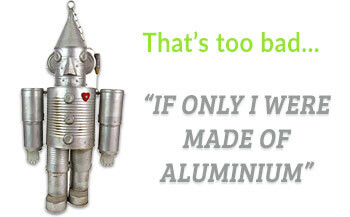 Aluminium is extensively used in the manufacture of Camping Furniture and offers some important advantageous over steel. In the world of caravanning and camping weight is everything; rarely, if ever is something considered an advantage if it is heavier. Aluminium is typically 2.5 times less dense than steel giving it a huge weight advantage over steel furniture. Another big advantage over steel is that aluminium does not rust. Aluminium is protected by a natural layer of aluminium oxide that prevents the metal beneath coming into contact with oxygen and hydrogen. Had aluminium been readily available in 1939, no doubt the Tin Man in the 'Wizard of Oz' would have gone by a different name. Aluminium is also very easy to clean and resistant to marks.
While it's true steel is stronger than aluminium, for the purpose of furniture production aluminium is more than capable of performing. The only tangible disadvantage aluminium has over steel is its addition cost.
Plastic
Camping Tables made using plastic components have the benefit of being lightweight, strong, easy to clean and tend to be cheap to produce. Plastic tables mainly occupy the cheaper end of the market, perhaps this has something to do with plastics susceptibility to UV light expose, which over time can degrade plastic considerably, making it weak and brittle.
Composite materials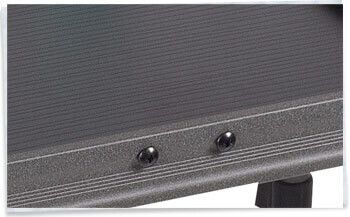 Composite materials used in the production of table surfaces are chosen specifically for their ability to endure and their inherent resistance to heat, water and UV-light. They are easy to clean, resistant to stains and are hard-wearing. Of course not all composite materials offer the same level of performance.
Kampa fibreboard materials are about as good as it gets. Fibreboard is a type of engineered wood product that is made out of wood fibres. It is available in various levels of density and can be finished off with a protective coating that is durable, waterproof and yet, attractive and highly polished at the same time.
Types of table legs
Cross leg table legs: ideal for 2 people, offer better performance than U-shaped legs on uneven ground but only marginally, as legs can be pushed into soft ground if required.
U-shaped legs: designed for flat surfaces and will allow for the seating of 2-6 people depending upon the tables size. Legs are able to pass through the table unobstructed.
Independent adjustable legs: are best for uneven surfaces and allow legs to pass under the table without obstruction. Ideal for sitting 2-6 people.
2018 Folding Table Range
Kampa Stick Table
"Where ever I Plant my Stick Table that's my Home" is the motto. Yes it maybe unsophisticated, yes it may have just one leg... but it has a pointed end that won't let you down when you're desperate for a cuppa, and urgently need a home for your favourite mug! It's the perfect drinks station with an anti-slip surface to ensure drinks and light snacks stay put.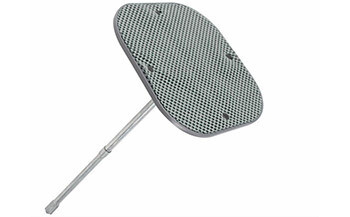 Assembly of the Kampa Stick Table is a quick one-two thanks to the two-piece steel leg with ground spike, identify your spot, take aim and you're good to go. When not in use simply pull out of the ground, disassemble the leg and store it conveniently under the table.
Kampa Stick Table is made for any occasion; it's a best friend on the beach, great in the garden, a top pick at picnics, fun at festivals, a short stop on long walks and of course..., for making yourself at home while camping and caravanning at Homestead Lake Touring Park. This has to be the most loyal table ever created and for less than £5.00, it's a smashing price too!
Key Features
Construction: Steel leg | Plastic table top | Anti-slip top
Surface dimensions: 25 x 25cm
Table height: Up to 44cm
Pack size: 25 x 25 x 3cm
Weight: 0.2kg
Colour: Grey top | Silver leg
SKU: TA0005
Our Price: £4.49
Kampa Table Top for Kampa Camping Stool
If your Kampa Camping Stool is looking a little sad and lonesome the Kampa Table Top is the perfect companion, which transforms the stool into a practical and functioning table that's great for board games and drinks.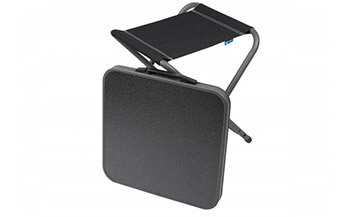 The Table Top has a laminated fibreboard top with aluminium surround that incorporates a good size plastic carry handle for convenient transportation. The attractive surface is easily cleaned with the swipe of a damp cloth. No need to be concerned about the extra weight, it weighs just 0.8kg but combined with the Camping Stool is able to support up to 30kg – it seems two really is better than one!
At 42 cm squared the Kampa Tabletop offers practical dimensions and is stable enough to serve as a kids table. The Kampa Camping Stool can be purchased from our online Caravan Accessory shop or in-store at our Essex based showroom.
Key Features
Construction: Laminated fibreboard top | Aluminium surround | Plastic carry handle
Surface dimensions: L 42 x W 42 x H 3.5cm
Table height: 46.5
Pack size: L 42 x W 42cm
Weight: 0.8kg
Max. load: 30kg
Colour: Grey
SKU: FT0086
Our Price: £7.99
Kampa Mini Plastic Table
The Kampa Mini Plastic Table is an extremely popular lightweight, low cost Camping Table. This table covers many bases; it is lightweight and compact enough for minimalist camping but large enough to be of great service to caravanners. It has a wipe clean surface that makes it ideal for use as a side table or perhaps for smaller children at play, or during meal times. Weighing just 1.3kg its cross leg steel frame is able to support almost 20 times its own weight, which is a pretty incredible feat of engineering, and for less than the price of an ounce of Silver, it's affordable at any budget!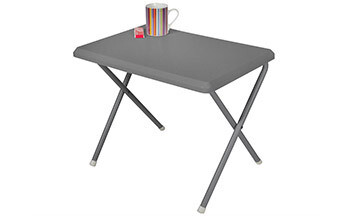 "A lightweight all-purpose mini table that's ideal for camping, caravanning and around the home."
When not in use the powder coated steel legs collapsed down for easy transportation and storage. Like all Kampa products the Mini Plastic Table is quick to set up, so by the time the tea is made, you'll be sitting comfortably in your favourite Kampa Relaxer, with your Kampa Plastic Table set up beside you.
Key Features
Construction: Powder coated steel frame | Easy clean plastic top
Surface dimensions: L 51 x W 37cm
Table height: 48cm
Pack size: L 52 x W 51 x 6cm
Weight: 1.3kg
Max. load: 25kg
Colour: Grey
SKU: TA0003
Our Price: £10.99
Sunncamp Domingo Aluminium Table
If you are looking for a quality 'low' table for camping we highly recommend the SunnCamp Domingo Aluminium Table. At only 26cm high it's an obvious choice for camping in smaller tents without standing height, picnics and days out at the beach. SunnCamp Domingo is a perfect match for use with our range of Kampa Sandy High Back Low Chairs.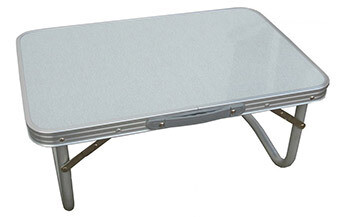 Domingo has a very sturdy and strong tubular aluminium folding legs that enable the table to withstand weights of up to 30kg. The U-shaped legs can be set moved into position in a flash, with the legs folding beneath the table when not in use. At just 1.4kg you're never going to break into a sweat carrying this table and like many Camping Tables available today, it has a handle incorporated into the side.
The 60 x 40 cm surface is ideal for two people and thanks to its heat resistant laminated top it's suitable for hot and cold food and beverages. The attractive grey surface is easy to clean and is contained by a modern aluminium frame. It's a very solid and well designed Low Table that's sensibly priced.
Key Features
Construction: Aluminium
Surface dimensions: L 60 x W 40cm
Table height: 26cm
Weight: 1.4kg
Max. load: 30kg
Colour: Grey
SKU: 306250
Our Price: £13.99
Kampa Camping Side Table
The first of our folding leg Camping Tables and another popular product from Kampa. The Camping Side Table has a quality finish that looks good in any tent or awning and could even be put to good use around the home. It is of course a side table but that doesn't mean it doesn't have alternative uses. We think the U-shape legs make it an excellent dinner or play table for younger children, providing plenty of unobstructed leg room. With that in mind you'll be please to know the table is very stable on flat surfaces and is able to support up to 30kg.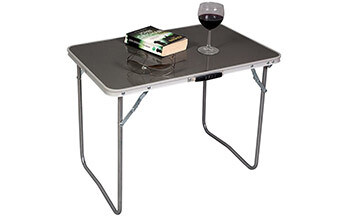 The U-shape table legs are sturdy and lock into place using stainless steel hinges. These hinges permit the legs to move quickly beneath the table top when setting up and packing away and allow the legs to conveniently stow away under the table when not in use, with no parts to loose. Carrying the table is easy thanks to the built-in carry handle fixed to the side of the table top. The polished fibreboard finish is attractive and gives the table a quality finish.
Key Features
Construction: Strong, easy clean fibreboard top | Hinged easy fold out coated steel legs
Surface dimensions: L 60 x W 40cm
Table height: 45cm
Pack size: L 60 x W 40 x 4cm
Weight: 1.56kg
Max. load: 30kg
Colour: Grey
SKU: TA1415
Our Price: £13.99
Kampa Duplex Large Camping Table
The Kampa Duplex Large Camping Table is an excellent low cost table with a one piece, easy clean 80 x 60cm plastic table top. It features a neat 2 tier adjustable height of 51cm and 61cm, which gives it a broad range of uses; side table during the day and dinner table at meal times, with adequate room for two persons.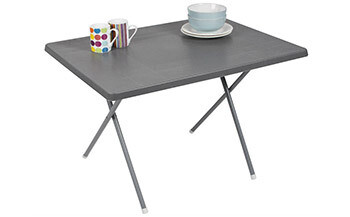 The cross leg system is very easy to set up by clipping the legs into purpose made slots in the underside of the table. The strong powder coated tubular legs provide excellent stability and limited tolerance to uneven surfaces. The legs are fitted with protective feet for use on hardstanding surfaces.
What a fabulous table for £15.00, I really do think you'll be hard pressed to find another table to rival the Kampa Duplex Large Camping Table at such a keen price point. For obvious reasons this is a highly popular table that is ideal for camping, caravanning and use around the home.</>
Key Features
Construction: Powder coated steel frame | Sturdy plastic with easy clean surface
Surface dimensions: L 80 x W 60cm
Table height: 51cm or 62cm
Pack size: L 80 x W 60 x 4cm
Weight: 3kg
Max. load: 25kg
Colour: Grey
SKU: TA0004
Our Price: £14.99
Kampa Aluminium Leaf Side Slatted Table
The Kampa Aluminium Leaf Side Slat Table has a strong aluminium, cross legged frame that is able to support up to 30kg despite only weighing 1.9kg. Slatted Tables have been around for many years but despite having a very characteristic design they remain contemporary.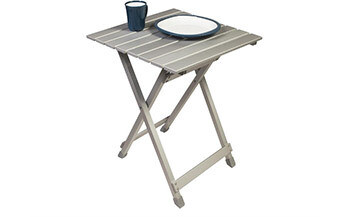 With a 50 x 50cm surface standing at 60cm high this table serves as a convenient side table for two in the awning. It's light weight makes it ideal for camping. Like any good Camping Table it folds down and packs into the smallest dimensions. Kampa Alu Leaf Tables are quick and easy to assembly and can be folded flat for storage and transportation.
A perfect table to use whilst camping, caravanning, on picnics and home use. We recommend this table be used on level terrain or a hardstanding pitch for maximum stability.
Key Features
Construction: Aluminium
Surface dimensions: L 50 x W 50cm
Table height: 60cm
Pack size: L 70 x W 50 x 4.5cm
Weight: 1.9kg
Max. load: 30kg
Colour: Aluminium
SKU: TA1587
Our Price: £24.99
Kampa Camping Table Large
The first of our family dining tables at 122cm long it is easily big enough for 4 to 6 people with the option to place a young one or maybe a high chair at one end. Its U-shaped legs ensure unimpeded leg movement and provide strength and stability, enough to support up to 30kg. The smooth tubular steel legs are powder coated and supported by 4 large stainless steel hinges.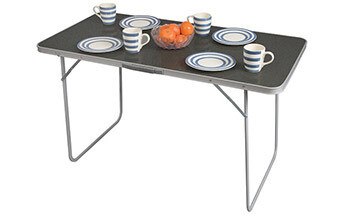 The Kampa Camping Table Large can be set up in seconds and when not in use the legs tuck away beneath the table. At 4.5kg the table is light enough to be transported without straining a muscle and can be carried suitcase style thanks to the discrete carry handle affixed to the table top frame.
The strong and durable laminated fibreboard top has an attractive polished finish in grey, which offers resistance to moisture, cold, heat and stains. To clean, simply wipe over with a damp cloth and you're good to go. The table has excellent standing height at 71cm, which is about the same as my office table. Dare I say it, if you have to catch up on some important emails and spend an hour or two going over some figures, the Camping Table Large is the ideal place to fire up the laptop.
Key Features
Construction: Fibreboard top | Coated steel legs
Surface dimensions: L 122 x W 61cm
Table height: 71cm
Pack size: L 122 x W 61 x 3cm
Weight: 4.5kg
Max. load: 30kg
Colour: Grey
SKU: TA1419
Our Price: £27.99
Leisurewize 88cm Square Blow Moulded Table
A table with attitude formed from super tough, blow moulded Polyethylene that's able to suport up to 80kg, with 28mm round frame and bronze hammertone finish. The wipe clean resin top is designed to give long life and will not crack, chip, peel or stain.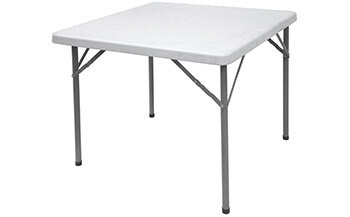 The Leisurewize 88cm Square Blow Moulded Table underside has some interesting features, with recesses cut into the mould that allow the meaningful framework to fold flat when in storage. The 88cm square table top provides plenty of space for 4-people to sit comfortably without the table legs getting in the way of diners.
At 8.5kg it's a bit heavy for tent camping but it does have appeal with caravanners and motorhome owners looking for something more rugged than most Camping Table. Standing at almost 74cm this table is suitable for commercial and home uses too, such as marquee events and barbecues at home, it could even be used inside the conservatory.
Key Features
Construction: 28mm Steel legs | Durable blow moulded Polyurethane top
Surface dimensions: L 122 x W 61cm
Table height: 73.5cm
Pack size: L 88 x W 88 x 4.7cm
Weight: 8.5kg
Max. load: 80kg
Colour: White
SKU: LWACC296
Our Price: £34.99
Leisurewize Blow Moulded Table Large
A double table with clever folding 'brief case' design that goes up in seconds, supported by 28mm coated steel legs for strength and stability. It's very strong and easily capable of supporting 80kg – that's some meal right there!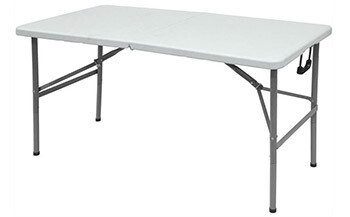 Using the same table top and frame features as the Leisurewize Square Blow Moulded Table above but in a larger 122 x 61 size. What's unique about this table is that it folds in half onto itself and incorporates a carry handle for easy transportation.
Due to its size and weight I think it unlikely you will want to take this table camping? That said, for families with oodles of storage space who need a sturdy table for home or car boots etc. it could make a lot of economical sense. Once thing is for sure, it's built to last and priced at £37.99 it should provide years of use and great value.
Key Features
Construction: 28mm Steel legs | Durable blow moulded Polyurethane top
Surface dimensions: L 122 x W 61cm
Table height: 73.5cm
Pack size: L 61 x W 61 x 4.7cm
Weight: kg
Max. load: 80kg
Colour: White
SKU: LWACC295
Our Price: £37.99
Kampa Hi-Lo PRO Medium Camping Table
The Kampa Hi-Lo Table is attractively styled and coloured to compliment the incredibly successful Kampa Caravan and Motorhome Awning Ranges. Hi-Lo tables offer excellent value and are manufactured using quality materials offering practical and functional features. Suitable for Camping, Caravanning and general outdoor or indoor purposes.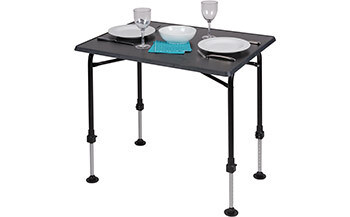 Kampa's Hi-Lo PRO Medium Table offers campers and caravanners some clever design features that are easy to appreciate. The most obvious being the 4 independently adjustable legs that permit you to level the table on uneven surfaces. Legs are made in lightweight aluminium and feature a sturdy locking mechanism that maintains its position even under loads of up to 30kg. The adjustable lower leg section incorporates a rule (2cm increments) making leg adjustment quick and easy. To increase stability, avoid sinking in soft ground and prevent damage to awning flooring, each leg is fitted with a pivoting oversized foot. These are just some of the features that demonstrate Kampa's zest for intelligent design.
The Kampa's Hi-Lo PRO Medium Table has a 80 x 60cm wipe clean surface, which is waterproof and resistant to temperatures and stains. The table top height is adjustable between 55cm to 76cm making this a very flexible and comfortable table for adults and children to use.
Key Features
Construction: High quality synthetic finish with plastic edging | Lightweight Aluminium frame
Surface dimensions: L 80 x W 60cm
Table height: 55 - 76cm
Pack size: L 88 x W 69 x D 9cm
Weight: 6 kg
Max. load: 30kg
Colour: Charcoal
SKU: TA0564
Our Price: £39.99
Kampa Element Table Medium
A very clever high quality table that's destined for great things, the Kampa Element Table Medium speaks to experienced campers who have been through the school of hard (knee) knocks and are looking for a set of tools to overcome the unforeseen at lunchtime.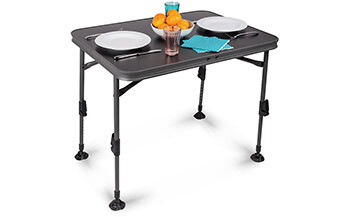 With a surface area of 80 x 60cm Element Medium is ideally suited for comfortably seating two persons at meal times and 4 persons for drinks and games. The wipe clean composite top is not only stunning to look at but is also durable, waterproof and resistant to heat and cold. Finished in Kampa's signature Charcoal colour, Element Tables are an obvious choice for owners of Kampa Awnings looking to create the perfect environment. The table top is beautifully framed in a matching matt charcoal aluminium edgingal that coordinates perfectly with the adjustable table legs.
Element tables posses talented legs that offer independently adjustment to help traverse uneven surfaces. While the outer top leg section is fixed the lower inner section moves up and down to level the table. Like the Kampa Hi-Lo Table the lower leg section incorporates a visual rule that makes equalisation of the table quick and easy. Table leg adjustment is secured using high quality, easy grip snap-locks that reliably support up to 30kg in weight. Element Tables are suitable for adults and children, with telescopic adjustment between 55cm to 78cm.
Of course many other Camping Tables have adjustable legs but none quite like this, each leg is capped at the end with an oversized foot that protects awning flooring from damage and helps spread the load to prevent sinking in soft soil. These feet are somewhat unique in that they are connected to the leg by a ball joint that facilitates 360 degree movement to truly conquer uneven surfaces.
High quality solid construction comes as standard and at just 6kg it's portable enough for family camping holidays, caravanning and motorhome use.
Key Features
Construction: High quality synthetic finish with matt charcoal aluminium edging | Lightweight Aluminium frame
Surface dimensions: L 80 x W 60cm
Table height: 55 - 78cm
Pack size: L 80 x W 60 x 6cm
Weight: 6 kg
Max. load: 30kg
Colour: Charcoal
SKU: TA2002
Our Price: £49.99
Kampa Element Table Large
The Kampa Element Table Large offers the same amazing features as the Element Medium Table but with larger dimensions of 115 L x 70 W cm. With plenty of legroom it makes for a very comfortable 4-person dining table.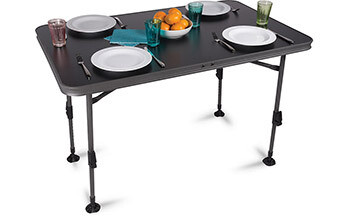 The aluminium construction ensures Element Tables are as light and as strong as possible, each leg folds beneath the table using a large hinge, allowing the table to be quickly and easily set up and put away.
The composite tabletop surface is waterproof so drink spillages and rain water will not delaminate or damage the surface over time. Perfect for use in trailer tents, family tents, caravans, motorhomes, park homes or garden etc..
Key Features
Construction: High quality synthetic finish with matt charcoal aluminium edging | Lightweight Aluminium frame
Surface dimensions: L 115 x W 70cm
Table height: 55 - 78cm
Pack size: L 115 x W 70 x 6cm
Weight: 7.2kg
Max. load: 30kg
Colour: Charcoal
SKU: TA2004
Our Price: £69.99
Lafuma California XL Folding Table (Carbon or White)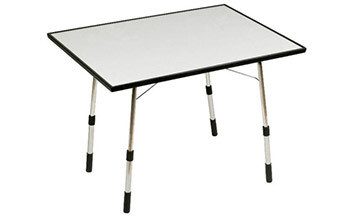 Like all Lafuma Furniture the California XL Folding Table is made to a very high standard with a durable melamine surface and quality edging that coordinates with the sleeves on the legs. The tabletop surface is waterproof, UV and heat resistant, easy to clean and available in White or Carbon colour schemes.
In terms of table top size the California is somewhere between a comfortable two person and 4-person table. I think it is realistic to expect to seat 2 adults and 2 younger children at meal times and 4 adults for drinks, games and finger food, such as sandwiches and barbecues. The durable heavy duty top makes it an ideal table for entertaining younger minds, without worrying about the table spoiling.
The alloy legs of the Lafuma California XL are sturdy and strong and offer 6 telescopic height adjustments to help overcome uneven surfaces. With a 22cm variable adjustment between 52cm and 74cm the table is suitable for many uses and even includes further fine tuning of height, using threaded feet at the bottom of the legs. For additional safety, a locking clasp has been added to the Lafuma California XL to secure the legs in position. A great feature benefit of this table is, once it is packed away it folds to a height of just 5cm.
Key Features
Construction: Robust melamine face with grey plastic edging trim | Alloy legs
Surface dimensions: L 91 x W 69cm
Table height: 52 - 74cm
Pack size: L 91 x W 69 x 5cm
Weight: 7.4kg
Max. load: 30kg
Colour: Carbon | White
2-Year Guarantee
SKU: LFM1491-CARB | LFM1491-WHT
Our Price: £49.99
Kampa Awning Table
This table looks stunning but one has to wonder if it were named by the tea boy and inspired by stale biscuits! With a futuristic design that wouldn't look out of place glamping in a space ship, the only thing that needs a polish is its name!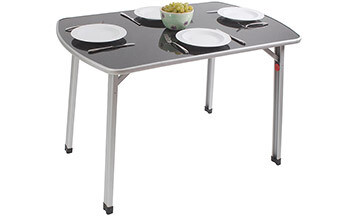 This is genuinely a really very impressive looking table that offers refined seating for 4 adults, with plenty of elbow and legroom at 110cm L x 70cm W. Features solid aluminium constructed and quality fibreboard top, it's light at just 5.5kg but able to support up to 50kg in weight! Fibreboard is ideal for Camping Table construction because it's easy to wipe clean, resistant to stains and temperature fluctuations and critically is waterproof. The table surface has an attractive highly polished Black sheen and is edged in aluminium for a true quality finish.
The Kampa Awning Table features unique button release fold out lightweight aluminium legs, with adjustable feet for uneven ground. The leg system is very quick and easy to operate and kind on the fingers. This is a perfect table for home, holiday park and campsite use and has been designed to compliment Kampa's groundbreaking Caravan Awning Ranges.
Key Features
Construction: Strong easy to clean fibreboard table-top | Lightweight aluminium legs and edging
Surface dimensions: L 110 x W 70cm
Table height: 72cm
Pack size: L 110 x W 70 x 6cm
Weight: 5.5kg
Max. load: 50kg
Colour: Black / Aluminium
SKU: TA1421
Our Price: £59.99
Quest Elite Gloucester Deluxe Picnic Set
Variations of this timeless piece of Camping Furniture have been around for time immemorial. It's a firm family favourite that is frequently found at the campsite but its accommodative design and portability makes it suitable for just about any situation.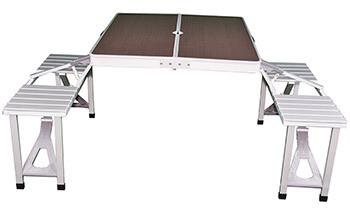 There are many different models of Picnic Table and Chair Sets available but because they share common design features inferior quality versions can appear to be the same as better quality versions. The Quest Gloucester Deluxe Picnic Set is a premium quality lightweight version with larger overall dimensions and a high quality onyx effect table top.
Quest Elite Gloucester Deluxe Picnic Set comprise a large family sized table with two double benches. The entire set folds neatly into an integrated carry case complete with handles making it easy to transport and store.
Aluminium legs support 4 individual aluminium slatted seats, each one with a maximum maximum weight load of 100kg (220lbs) each. For safety seating framework is locked in place when in use. The table is a good size and finished in an exclusive pro effect top which looks great and is shower proof. The whole set is rust-proof and easy to clean with a damp cloth.
Key Features
Construction: Aluminium frame | Plastic Onyx effect top
Surface dimensions: Total size: L 97 x W 82 x H 73cm | Table size: 72 x 86 cm
Table height: 73cm
Pack size: L 86 x W 36 x 10cm
Weight: 12kg
Max Load Per seat: 100 kg
Colour: Onyx effect table top | Aluminium seating & edging
SKU: 2719KC
Our Price: £64.99
Kampa Zero Medium Ultralight Table
New for 2018 Kampa Zero Medium and Large Tables are a breath of fresh air and have a modern and distinct look with wood effect top, aluminium edging and aluminium legwork. There are no limits to where you can enjoy using these high quality Camping Tables.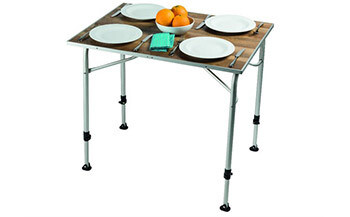 If you are looking to steal a few kilos from your load the Kampa Zero Medium Ultralight Table is one of the lightest ever produced for its dimensions and class at just 3.9kg. The composite table surface is very sturdy and is framed by a contemporary aluminium surround. The wood effect table top offers excellent resistance to heat and importantly is waterproof. The table is L 80 x W 60cm, which is a common size and a perfect fit for up to 4 adults.
The strong aluminium legs offer independent fine adjustment between 59 to 72cm, making them ideal for navigating over uneven surfaces and are locked in to place using reliable and snap-lock clamps. Each leg incorporates a swivel plastic foot to protect the awning carpet and provide additional stability on soft and uneven ground.
Both Kampa Zero Ultralight tables make use of a stable and convenient folding design to allow for the table to be easily set up as well as taken down.
Key Features
Construction: Composite waterproof/heatproof tabletop | Aluminium adjustable legs
Surface dimensions: Total size: L 80 x W 60cm
Table height: 59 - 72cm
Pack size: L 80 x W 60 x 6cm
Weight: 3.9kg
Max Load: 30 kg
Colour: Wood effect table top | Aluminium frame & edging
SKU: TA2016
Our Price: £67.99
Kampa Zero Large Ultralight Table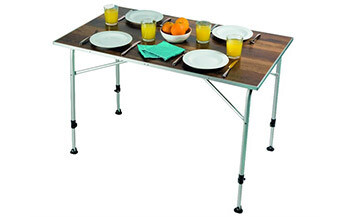 All the fantastic features of the Kampa Zero Medium Ultralight Table (above) but in the larger format of 120 x 70cm suitable for up to 6 adults and weighing only 5.4kg. Both tables have a maximum load of 30kg and are perfect for all indoor and outdoor activities including camping, caravanning, days out in the car and motorhomes holidays.
Key Features
Construction: Composite waterproof/heatproof tabletop | Aluminium adjustable legs
Surface dimensions: Total size: L 120 x W 70cm
Table height: 59 - 72cm
Pack size: L 120 x W 70 x 6cm
Weight: 5.4kg
Max Load: 30 kg
Colour: Wood effect table top | Aluminium frame & edging
SKU: TA2018
Our Price: £94.99

Leisurewize Blow Moulded Table Large