Kampa 'Limpet™ Fix System' Explained
Back
In a modern world where so many product innovations are virtual in nature, it's always refreshing to find new products and features that rely on some good old fashioned mechanical ingenuity. Kampa's new Awning to Caravan connection system Limpet is one such product.
What is Limpet?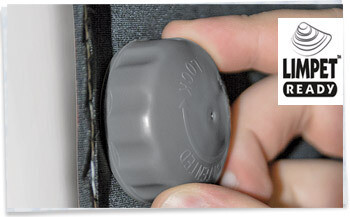 The all-new Kampa Limpet™ Fix System with Patent Pending, permits safe and reliable connection between the rear wall of your Kampa AIR Awning (2017 models and onwards) and your Caravan or Motorhome. Limpet utilises professional suction that protects the vehicle surface and is extremely safe, simple and reliable to use. No more screwing, no more press studs and no more Velcro defacing the side of your vehicle.
Simply attach the Limpet through pre-cut holes in the rear of the Awning and suction fasten to a smooth surface. When used in conjunction with the Upright Rear Pad Poles (steel or aluminium sets) Kampa Awnings offer the best rear weather protection seal of any other make of Awning available.
Make Your Next Kampa Accessory Limpet™ Fix Ready
Make your next Kampa accessory 'Limpet Fix Ready' with a growing selection of products. Not only is Limpet a groundbreaking Awning attachment system, it can also be used in conjunction with a growing list of Kampa Awning accessories. The Kampa Limpet Fix System provides safe and reliable attachment to the Caravan and Motorhome of Kampa Single & Double Wheel Arch Covers, Limpet Ready Dual Fix Draught Skirt, Organisers and the Limpet Suction Driveaway Kit. An innovative system that makes it possible to attach a Kampa driveaway awning to your Campervan without the use of press studs, or 'J' and 'C' rails. Limpet Fix Ready accessories are quick and easy to fit, and offer extremely reliable. (see related products for a full list of Limpet related products).
READ MORE: Read more: 2017 Kampa AIR Awnings Review
Limpet Your Awning with Kampa Limpet DIY Kit
Using the new Limpet Hole Punch designed to punch precise 8mm diameter holes through most Awning and tent fabrics, ready to fit Limpet Fix System suction pads. Any pre-2017 Kampa Awning can now benefit from Limpet Fix. This system can also be used on other makes of Caravan Awnings, as well as Awning Organisers and Awning Tidies
It's entirely possible that in the not too distant future we'll see campsites in the UK and across most of Europe go, stark raving Limpet mad!
Kampa Limpet™ Fix System Info Sheet
This information sheet provides a visual aid to help understand how Kampa Limpet™ Fix System actually works and is put together.
Of course the best way to find out more is to visit our dedicated Kampa Caravan Awning Showroom in Essex. Our Accessory Showroom is about the largest in the country and well worth a visit, and open 7 days a week! Alternatively give us a call on 01255 830-229.
Download PDF