2017 Kampa AIR Awnings Review
Back
Having become Europe's leading manufacturer of Motorhome and Caravan AIR Awnings, Kampa is showing no signs of slowing down. For the 2017 season Kampa has once again revamped their AIR Awning range, throwing yet another curve ball in the path of rival UK and European Awning makers.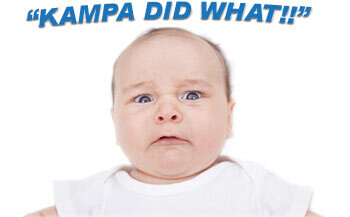 New developments for the 2017 Caravan season includes the introduction of 9, All-New Kampa Caravan AIR Awnings including, a super sized flagship Awning with a very clever design. Innovation is a word that is often inappropriately used by writers however, it is a word that consistently and most appropriately describes developments to Kampa AIR Awnings. So, for 2017 Caravanners can expect to see further innovation in materials and the birthing of a complete gamut of innovative Awning accessories; expect a tear or two from Kampa rivals - tissue anyone!
Kampa AIR Awnings are some of the fastest and easiest to erect with Kampa's patented 'ONE Point Inflation. All AIRFrame poles are linked so the whole Awning is inflated including supporting AIR Poles and beams. There are no additional poles to inflate and insert and no metal or fibreglass poles to set up. In 2017 Kampa Air Awnings are the strongest and most stable Awnings available, and with 19 individual models to choose from, they have the most comprehensive range available in the UK and Europe.
READ MORE: Kampa Inflatable AIRFrame Awnings - So Much More than just Hot AIR
Features that Make a Difference
Supplied as standard to all Kampa Inflatable Awnings for the 2017 Caravan season is a new easier to use Downdraught Hand Pump. The pump is an improved design that's taller than the previous pump, which of course means there's less bending involved. Unlike the old pump the new hand pump only works on the down stroke, and so requires less effort for each pump cycle – you'll certainly notice the difference. The pump has also been redesigned with a more comfortable handgrip and built-in pressure gauge, so you'll know when you've reached the correct pressure.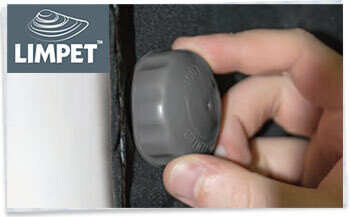 The new Kampa Awning 'Buzz Word' for 2017 is 'Limpet'. While it may sound like a wet coffee biscuit that's prone to breaking in a hot cuppa, 'Limpet™ Fix System' is actually Kampa's All-New patent pending, Awning to Caravan attachment system.
Limpet™ Fix System offers an ingenious way of attaching the rear wall of your Awning to your Caravan. Simply attach the Limpet™ through the precut holes in the rear of the Awning and fasten to a smooth Caravan surface. When used in conjunction with the Upright Rear Pads Poles (steel or aluminium sets), Kampa Awnings offer the best rear weather protection seal of any other make of Awning available on the market today'. Most Kampa AIR Awnings come Limpet™ Fix Ready and there are four holes each side of Kampa AIR Awnings for attachment. Using the new Kampa Limpet Hole Punch, it's possible to make additional holes to suit the profile of the caravan.
Download the 2017 Kampa Awnings brochure.
All-New Kampa Frontier AIR Pro
The Kampa Frontier AIR Pro is Kampa's All-New flagship model sure to be the envy of every Caravan Touring Park up and down the country in 2017. At an incredible 8 metres wide and 3 metres deep, no other Inflatable Awning has ever offered this much space! Despite the massive 8 metre width of the Frontier AIR Pro, it's clever design means it only requires a horizontal Awning rail of just over 4 metres! Although Kampa's largest ever Awning, it is still easy to inflate the TPU AirFrame via a single inflation point plus, the three front panels can be removed to make it easier to thread the Awning onto the Caravan. Once set up you can revel in the large open inside space, with loads of room for furniture and all your other Kampa Caravan Equipment.
"Despite the massive 8 metre width of the Frontier AIR Pro, its clever design means it only requires a horizontal Awning rail of just over 4 metres!"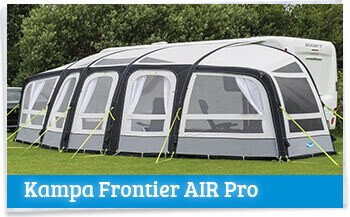 Frontier AIR Pro is an incredibly versatile Awning; all three centre panels can be zipped down, veranda style or completely removed. You can even replace them with mesh panels for those hot days when you want to keep the insects out. Each of the end extensions has its own front door and a windows in the rear panel so, if the extension covers your caravan window, you can still see out into the Awning. The rear panels also have zipped access for any lockers behind them. The crystal clear windows offer panoramic views of your surroundings however, using the curtains provided (to all windows), complete privacy is easily achieved. Removing panels is a smooth and effortless transition using the weather protected, number 10 heavy duty zips. Oh and did I forget to mention the Skylights incorporated into the Awning roof!
It seems that the large size of the Frontier makes it ideal for longer holidays or for seasonal Caravanning, which explains why the Kampa Frontier AIR Pro offers caravanners excellent protection against the elements. A double coated Weathershield™ Pro canvas featuring, hot air taped seams delivers an impressive 6000mm hydrostatic head.
READ MORE: Homestead Caravans New Dedicated 'Kampa Awning Showroom' is NOW OPEN!
Like many other Kampa Awnings the Frontier Inflatable Caravan Awning includes popular Kampa features such as, AccessoryTrack™, SabreLink™ lighting ready, Mesh Panel Ready and comes with the option of Limpet™ Fix System or traditional Buffer Pads with optional Rear Upright Poles.
All-New Kampa Classic AIR Expert
If you hanker after traditional styling but want the ease of one-point inflation system the Kampa Classic AIR Expert Inflatable Awning might be just what you're looking for. The Classic AIR is the Inflatable Awning that doesn't look like an Inflatable Awning! Don't be deceived by its traditional good looks, this Awning is inflated like any other AIR Awning using just one inflation point. This makes it quick and easy to set up and yet, it could be easily be mistaken for a classic Danish Awning.
Available in 300 and 380 optional widths, Classic AIR Expert features Kampa's latest Weathershield™ materials. The roof and walls are breathable, ensuring a comfortable climate inside the Awning with less risk of condensation. The wall fabric has a great textured feel and is extremely durable, translating into years of trouble free use. The front and side panels can be removed to make set up easier and if the side door is obstructed by the Caravan step, the side panels are interchangeable - you can swap them around so that the side doors are at the front of the Awning. A nive touch is the small front canopy that's supported by a lightweight aluminium frame taking mere seconds to set up.
The Awning can be customised to suit your needs with the usual Kampa optional Awning Accessories including Furniture, Roof Liner and Organiser. For the first time ever Kampa are offering a Tall Inflatable Annexe and there's the brand new and exciting Inflatable Conservatory; it's the ideal place to settle down with a book on those days when it's not warm enough to sit outside.
All-New Kampa Rally AIR Pro Plus
With all the great features and functions of the best-selling Kampa Rally AIR Pro but with a bit more space. The All-New Rally AIR Pro is equipped with a large extension built into the side of the Awning main body. The side extension offers a myriad of practical uses including, additional storage for bikes and furniture, a fabulous wet weather entrance or an extra bedroom, using an optional Annexe Inner Tent.
Kampa Rally AIR Pro Plus is available in left and right hand versions but we have decided to stock the left hand version, which is compatible with UK made Caravans (call 01255-830-229 for availability of right hand model). You can choose how you use this versatile space; leave it divided or remove the side panel to transform it into one large Awning space.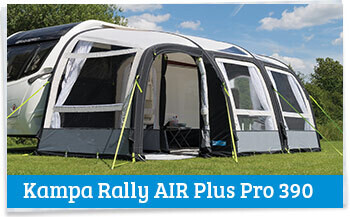 What's really clever about the extension design is, it doesn't rely on the Awning rail of the Caravan for support. This means that a Caravan with a horizontal Awning rail of 390cm, allowing for the main body of the Awning, is enough to support an overall width of 580cm - that's pretty impressive!
The extension is inflated at the same time as the rest of the Awning through the single inflation point, making it easy to set up like all Kampa Awnings. If the extension covers a Caravan window it's possible to open a flap on the rear panel to reveal a window, allowing unimpeded access into the Awning from the Caravan plus, there's zipped access to any lockers that may be behind the extension.
Rally AIR Pro Plus is equipped with some of the latest Kampa Awning features as standard including, zip out side panels with integrated flyscreen's to keep out the smallest bugs, roll to the side front panels and roof skylight. Also featured is the Limpet™ Fix System as mentioned in more detail previously. It's also possible to fit optional Mesh Panels Sets to the front panels. Mesh Panel Sets are ideal for warmer weather to keep insects out and provide shade, while allowing fresh air to ventilate the Awning, keeping you cool and comfortable. Each panel simply zips into the front of the Awning. Those on the Rally AIR Pro and Rally AIR Pro Plus zip in behind the front panels and can remain in place.
All-New Kampa Pop AIR Pro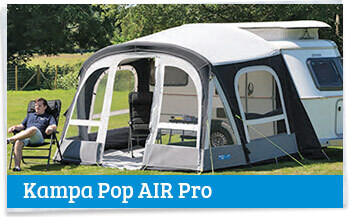 Essential extra space for pop-up Caravans – the Pop AIR is the first purpose made Inflatable Awning. Available in four different sizes to fit the Eriba Touring range but also suits other pop-up Caravans. The Pop Awning design provides plenty of headroom and is based on the popular Fiesta AIR design and it shares many of its features including the zip out front and side panels.
The Pop Awnings have a clever dual height system that means that they will fit pre and post 2010 models (260 Puck model only pre 2010). The rear of the Awning has an extra inflatable tube that raises the centre height making it a full height Awning with plenty of headroom and light airy feel. The Pop has plenty of windows for a great view out, and closable mesh panels provide ventilation when needed.
We should add that the Kampa Pop AIR Pro is not currently held in stock, please call 01255-830-229 if you would like to order.
Successful 2016 Kampa AIR Awnings that will continue into 2017 include, Fiesta AIR Pro 280, 350 and 420, Rally AIR Pro 200, 260, 330 and 390, and Ace AIR 300, 400 and 500. For 2017 the Rally AIR Pro 390 has been completely redesigned, giving it a clean new look with faster inflation. The three front panels of previous models have been replaced with 2 wider panels, just like the Rally AIR Pro Plus.
Kampa New and Improved Materials for 2017
For the 2017 season Kampa have introduced new fabrics and materials and made improvements to existing fabrics.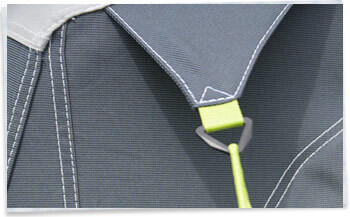 Weathershield™ Expert is Kampa's brand new durable and breathable fabric with a great textured feel and used exclusively on the two new Classic AIR Expert Inflatable Caravan Awnings.
Weathershield™ Pro which is used extensively throughout the range, it has proved itself time and time again. For 2017 Kampa have made improvements to the UV protection and the coatings to make sure that Weathershield™ Pro continues to be market leading.
Weathershield™ is durable and extremely weather resistant,this material's been protecting Caravanners since 2008. For 2017 Kampa have improved the coatings to make it even better. Weathershield™ is used on the Kampa Rally 200 260, 330 and 390 poled models.
2017 Kampa Awning Optional Extras
New Optional extras for 2017 to customise your new or existing Kampa Caravan Awning include:
The attractive striped Continental Cushioned Carpet Exquisite in contemporary colours to compliment your Awning.
Pro Windshield in 3 panel and 5 panel options, this windbreak is in double coated Weathershield™ to match your Awning and gives you vital protection from the wind and additional level of privacy.
New easy to use Aluminium Rear Upright Pole Set with an easy grip and twist locking action to enhance the seal between the Awning and Caravan.
Gale 12V Electric Pump specifically designed for use with Kampa AIR Awnings, set the PSI required and let the pump do the rest.
Packing Pads fill the gap between air poles and the Caravan to create a taunter roof if required and helps shed water, supplied in packs of eight.
Limpet™ Fix System an ingenious way of attaching the rear wall of your Awning to your Caravan, this system an be used on previous year models and indeed other makes of Awning by using the Limpet Hole Punch.
Kampa now also offer Wheel Arch Covers in single and double sizes. Includes storage pockets. Simple to fit using the Limpet Fix System included. Available in colours to match your Kampa Awning draught skirt.
No-one has more experience in the design and manufacture of AIR Awnings than Kampa. If you want an Awning you can be proud to attach to your Caravan that provides first class accommodation and is easy to set-up and pack away, Kampa is the way to go.
2017 Kampa Awning Brochure
Hot off the press!
Please feel free to download a copy of the 2017 Kampa Awning Brochure by clicking the 'Download PDF' button. If you have any questions please send an email to our Awning Sales Team or call the showroom on 01255-830-229.
DON'T FORGET! Homestead Caravans is quite possibly the only Caravan Accessory Shop in the country with a Dedicated Kampa Awning Showroom. Visit our showroom for a rare opportunity to see Europe's 'BEST-SELLING' collection of Lightweight Awnings and Caravan AIR Awnings UNDER ONE ROOF!
New 2017 Kampa Awning display should be ready by January 2017, please call for confirmation before travelling!!
Download PDF
2017 Kampa Caravan Awning Accessories
10 Page Kampa Awning Accessory brochure, included in the full catalogue above.
Download PDF