Kampa Inflatable AIRFrame Awnings - So Much More than just Hot AIR
Back
Look around any campsite and you will soon notice how many caravans, motorhomes and camper vans are proudly wearing a Kampa inflatable awning. What was initially perceived by many as an outlandish concept just a few seasons ago has revolutionised the awning market, not just in the UK but across Europe.
The inflatable awning has dated the traditional canvas and frame awning design like no other, with 1000's of caravan and motorhome owners disowning their old awning like the plague, year after year!
As novel as the inflatable awning concept is, it is no gimmick. To the contrary, the inflatable awning offers users the kind of practical, real world functionality that traditional awnings could only dream of. I'll expand on some of the specific features of inflatable awnings a little later in this article.
In a fortuitous roundabout turn, it's become extremely fashionable to arrive on-site without the awning frame – now that can't be a bad thing can it?
Today, inflatable awning designs come in various shapes and sizes to meet an ever growing demand from caravan and motorhome enthusiasts. So whether you have an insatiable appetite for the latest awning features or are working within a limited budget, you can be sure of finding an inflatable awning to suit.
Kampa - Where it all Began
The UK inflatable awning market is very well catered for by several established awning manufacturers. However, after 50 years of experience retailing caravan awnings, it is our belief that the number one inflatable awning manufacturer has to be Kampa. Why do we say this, because when all things have been carefully considered Kampa AIR awnings offer superior design, function and quality. Kampa also happens to be the market leader in lightweight awnings.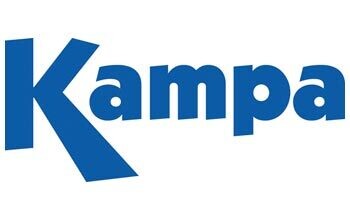 Kampa is the most relevant and widely recognised manufacturer of Inflatable motorhome and caravan awnings in Europe, and the first company to introduce the AIR awning phenomenon to the UK. Kampa has tremendous pedigree and experience in awning design that has lead to a number of significant innovations going back more than 35-years. Since introducing the inflatable awning to the market, Kampa has continuously pushed the boundaries of what is possible and taken the inflatable awning concept to ever higher levels.
After years of development, Kampa AIR awnings have revolutionised caravanning. Gone are the traditional metal or fibreglass poles, replaced by strong, high pressure inflatable AirFrame poles.
READ MORE: Visit Homestead Caravans on the Kampa Stand at NEC Caravan Show Feb 2016
The Conquest of Europe
In 2013 following the successful launch of the Kampa Rally AIR, Kampa's entrepreneurial DNA took the Essex based business into Europe where they were the first company to successfully introduce AIR awnings. Since introducing the Kampa inflatable awning range to Europe the company has developed a network of dealers around the globe, including South Korea!
Key Benefits offered by Kampa Inflatable Awnings
Before discussing some of the key benefits let's begin by highlighting some of the limitations that existed prior to the development of the inflatable awning and what this has meant for caravan and motorhome awning users.
The Traditional Frame Problem
Traditionally an awning is made up of a canvas and separate frame, which has to be built independently of the canvas. There are two major disadvantages to having a separate pole system. Firstly, the frame system has to be physically built and dismantled, eating up valuable holiday time and potentially leading to frustration.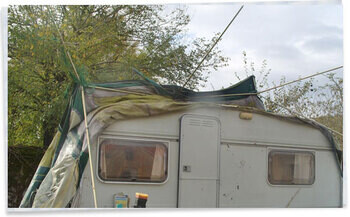 On the whole, caravanner's are a pretty capable lot but that doesn't mean they have a hankering for awning construction. They can appreciate convenience as much as anybody else and Kampa's AIRFrame technology delivers it in spades. With a Kampa inflatable awning there is only one way up and only one way down - it's that simple!
Secondly, the extra weight involved in a separate frame can be cumbersome to handle, especially for those with physical disabilities.
For caravanner's the additional weight of a traditional awning frame has to be accounted for. Alternative frame options, such as fibreglass and alloy do provide a degree of weight relief but unfortunately come at a price and offer reduced strength and durability over a typical steel frame.
Minor annoyances presented by traditional awning frames are missing or broken components and as previously mentioned, the dreaded forgotten frame - yes how very embarrassing!
The AIRFrame Solution
Kampa AIR Awnings offers the perfect solution to the traditional frame problems presented above. For a start, there is no separate frame to consider, let alone forget! The frame of the inflatable Kampa awning is no more than hollow tubes that are connected to the awning canvas.
This also takes care of the weight problem, as the weight of the AIRFrame tubes in most instances, is lighter than an equivalent sized pole and canvas awning. For example; the Rally AIR 390 is up to 27% lighter than an equivalent awning which helps to reduce payload.
One of the most amazing qualities of the Kampa AIRFrame awning is the unique way in which the frame behaves when subjected to inclement weather. Under normal conditions the frame is incredibly strong and stable and yet during inclement weather the frame flexes to absorb any forces exerted upon it; returning back to its original form once weather conditions have receded.
"The rigid AirFrame makes for an exceptionally strong and adaptable structure that outperforms steel framed awnings."
There are no broken or bent poles to worry about and happily, with no metal or fibreglass poles there's nothing to damage your caravan. Only soft AirPoles rest against your van with no other attachment.
Kampa Patented Single Inflation Point
Inflating a Kampa AIR awnings is simplicity itself. Heavy traditional pole-work is replaced by a modern slick AirFrame system that is always attached to the awning. The individual poles are linked together and are inflated using a single inflation point; a feature that is unique to all Kampa Air awnings and a major contributing factor to its success.
The patented single inflation system is also one of the key reasons we have made Kampa our top inflatable awning manufacturer. Look out for other brands that rely on each pole being inflated individually. Can you imagine having to inflate up to ten individual AirPoles - would somebody please get me my back pain medication!
Some models of inflatable awning also require fibreglass or metal poles to support them, not so with Kampa. Some non Kampa awnings also require the user to inflate additional tubes and then attach them to the inside of the awning with Velcro, which takes even longer and is all a bit low tech.
On some other brands you need to wrestle yourself inside to find the individual inflation points. Kampa AIR awnings have their inflation point on the outside of the awning making it very easy to pump up. Kampa AIR awnings are equipped with quick release deflation valves, rather than having to unscrew each inflation valve. How long will it take to undo and deflate ten individual poles – more meds please!
More about AirFrame Poles
The AirFrame is incredibly durable. Each pole is made of strong TPU inflation tube that is zipped into a tough reinforced PE cover, this is then zipped into a heavy duty polyester sleeve in the awning. The inflation tubes are well protected and need no maintenance.
Ideal operating pressure is between 8 and 12 psi but the AirPoles have been tested to a pressure of 22psi. This is substantially higher than other inflatable awnings and ensures that Kampa awnings are the strongest and most stable available.
Should one of the AirPoles become damaged, each AirPole can be isolated from neighbouring poles using the isolation valves. A repair to the AirPole or replacement can then be made in a matter of minutes. It is possible to continue using an AirFrame Kampa awning despite damage to a single AirPole.
What's the set up procedure?
It's never been easier, just follow these simple steps:
Thread the awning onto the awning rail of your caravan – Kampa AIR awnings are lightweight making it much easier than a conventional awning.
Peg down the four corners of the awning.
Attach the pump to the inflation point and pump until inflated – The tubes are high pressure so you can't over inflate with the pump supplied.
Peg down the intermediate pegging points and guyline.
Of course reversing the procedure is just as easy.
Kampa Awning Canvas
Kampa AIR awning canvasses are the culmination of a great deal of experience and real world knowledge on the fundamental behaviour of various materials under stress. Unlike many rival brands Kampa uses thicker, more durable canvasses that undergo testing under various conditions. Lighter materials loose form and show signs of UV Ray degradation faster.
Kampa awning canvasses are thoroughly tested to make sure that water does not collect on the roof. This is a benchmark of good design where adequate run-off prevents pooling, whilst at the same time ensuring internal clearance of the caravan door. This may sound somewhat obvious but as surprising as it may seem, many awning roofs are prone to pooling, which can stretch the roof permanently.
Each of Kampa's designs spend hours in a rain room ensuring that a Kampa AIR awning will not let you down.
READ MORE: 2016 Kampa Caravan AIR Inflatable Awnings - Range Overview
Full Compliment of Kampa Accessories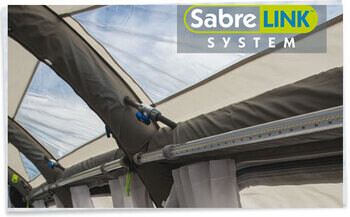 A unique and innovative feature of the Kampa AIR range is the AccessoryTrack, an additional line of beading that runs parallel with the main awning beading that enables the attachment of various Kampa accessories, such as the Kampa Organiser and Hanging Rail. It is also possible to attach a Kampa awning Inner Tent. AccessoryTrack is available to enjoy on Kampa Rally AIR, Rally AIR Pro & Ace AIR ranges.
Kampa AirFrame awnings are supplied with a high volume manual pump but for ultimate convenience and ease of use, a Breeze two stage 12 Volt pump can be purchased for around £65.00. However, using the supplied manual pump, it is possible to blow up(not literally) a Kampa Rally AIR 260 in less than 60 seconds!
Kampa AIR awnings can be customized with a range of accessories including different types of carpet, roof linings and the fantastic new Kampa SabreLink LED lighting system. For 2016 the Ace AIR 300, 400 and 500 can be complimented by the spectacular new Sun Wing that is available for each of the sizes.
Now let's all say together..., "bravo for Kampa AIR!"
Comments
Be the first to comment on this article