2018 Kampa Caravan AIR Awnings Review
Back
I have to confess, I wasn't looking forward to writing the 2018 Kampa AIR Awning Review. I have written a few Kampa Awning Reviews now and each year I wonder if this is going to be the year the only new news is the date.
Fortunately for me Kampa has a ferocious appetite for design and innovation, unrivalled by any other UK or European Awning Manufacturer. It's not that other Awning manufacturers don't partake in research and development, it's just Kampa is better at it. At Kampa continuous enhancements are 'par for the course' and thanks to Kampa's extensive experience, when changes are made no further tweaks are necessary. Kampa is one of the most innovation companies around with a extremely skilled and experienced management team, and quite frankly my job is all the easier for it!
Browse our range of Kampa AIR Caravan Awnings
Key Kampa Innovations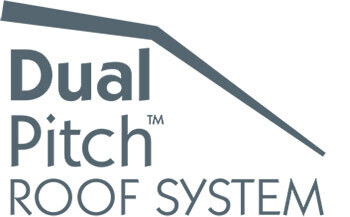 2018 sees the introduction of Kampa's Dual-Pitch Roof System to all but the Fiesta AIR Pro range, with major revisions to the roof design. Awnings that feature Dual-Pitch Roof System, now offer increased headroom and more efficient weather protection, thanks to its aerodynamic profile that is designed to deflect wind and prevent water from pooling on the roof. This important design modification makes Kampa Awnings more spacious and useable than any other Inflatable Awnings on the market.
Kampa's Single POINT Inflation System is the nemesis of other AIR Awning manufacturers and the foremost reason for buying a Kampa Inflatable Awning. Unlike other brands where each AIRPole needs to be inflated individually, Kampa AIRPoles are inflated through a single external valve. This includes all supporting AirPoles too, which means you get to spend more time relaxing in your favourite Kampa chair. With other Awning brands each AIR pole has to be inflated separately, an unnecessary task and quiet frankly a bit of a yawn!
READ MORE: Kampa AIR Awning Features Designed to Make a Difference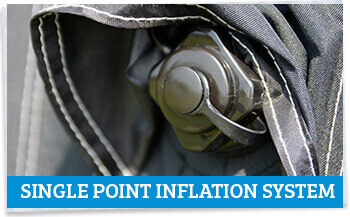 For this reason Kampa AIR Awnings are the fastest to set-up and thanks to their larger diameter AIRPoles and advanced design incredibly stable too. I recommend the use of optional Kampa Storm Straps as a matter of course.
Manufactured to BS EN ISO 8936:2017 all Kampa AIR Awnings are made using the most technologically advanced and breathable fabrics, branded under the trade marked name Weathershield™. Further enhancements to these fabrics have been made for the 2018 season including, improved UV protection and weatherproof coatings, combined with hot air taped seams to deliver a WHOPPING 6000mm hydrostatic head. When you buy a Kampa AIR Awning you can be confident your investment is well protected from the elements and designed to outlast other Awning brands.
Kampa AIR Awnings were Made READY
Kampa AccessoryTrack™ is one of many exclusive features developed by Kampa. AccessoryTrack™ is a cleverly designed beading strip that runs in parallel to the awning rail beading, which permits the use and installation of a number of compatible Awning Accessories. Choose from a range of AccessoryTrack compatible products and enjoy simple and convenient fitting without having to risk damage to the caravan.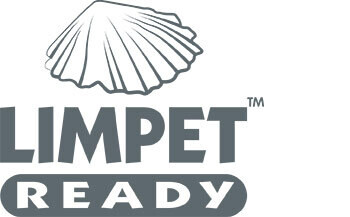 Due to it's massive popularity with customers all Kampa awnings are Limpet™ Fix System READY, this near ingenious suction system offers a way of attaching the rear wall of your awning to your caravan. Simply attach the 'Limpet' through the pre-cut holes in the rear of the awning and fasten to a smooth caravan surface. When used in conjunction with the Upright Rear Pad Poles (steel or aluminium sets), Kampa Awnings offer the best rear weather protection of any other make of Awning available on the market today.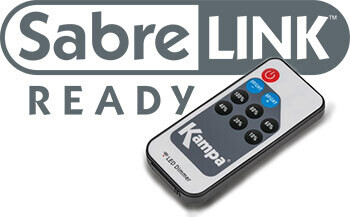 As of 2016 all Kampa AIR Awning are SabreLink™ READY. Sabre Link is a modular LED lighting system that includes a Starter Kit plus additional add-on LED kits. Using a maximum of 3 SabreLink™ lights it is possible to create a lighting system of 450 LED's. For optimum control and convenience SabreLink™ is supplied with a remote control with on/off and dimmer control.
Optional zip-in Mesh Panel Sets provide important ventilation to keep the inside of the Awning as comfortable as possible during warmer weather. The mesh weave is close enough to keep insects including, mosquitoes and flies out. For convenience Mesh Panels can remain in place behind the front panels and used as required.
Comprehensive Range of Optional Accessories
Kampa Awnings can be customised with the widest range of optional equipment imaginable. The list is to extensive for the purpose of this review but some of the key equipped is mentioned herein. For a full list of available equipment please visit the Kampa Awning Accessories web page in the online shop.
If you would like to find out more about Kampa Awning features you can download the 2018 Kampa Caravan Awning Brochure at the bottom of this review. It includes the latest 2018 Poled and Inflatable Awning Ranges. If you have any questions please don't hesitate to call our Awning Sales Team on: 01255-830-229.
Brand New Kampa AIR Awnings for 2018
New Kampa AIR Awnings for 2018 are.
Frontier AIR Pro 300 - a NEW addition to the range
Ace AIR All-Season 400 - ALL NEW class of Awning
Rally AIR Pro Grande 390 - ALL NEW class of Awning
Rally AIR Pro Plus 260 LH - a NEW addition to the range
Addition to the range - Kampa Frontier AIR Pro 300
Introduced in 2017 the Frontier AIR Pro 400 is Kampa's flagship model and quite possibly Europe's largest Caravan Awning. While it's true size isn't everything, if it's Space you require this AIR Awning has to be the Final Frontier! Okay that was uncalled for.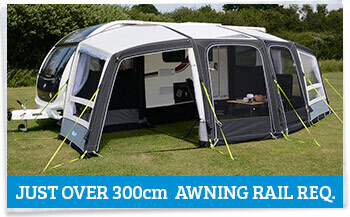 If the 800cm width of the Frontier 400 is a little larger than needed the introduction of the Frontier AIR Pro 300 for 2018 may prove timely, with a smaller width of 700cm. Don't be too quick to discount both Frontier AIR Awnings as too large for your caravan, the Frontier 400 only requires an awning length of just over 400cm, while the Frontier 300 requires an awning rail of a little over 300cm.
The Dual Pitch Roof System only adds to the spaciousness experience when you step inside the Frontier thanks to its raised height ceiling. With so much headroom it's easy to imagine the luxury of this awning with the optional Roof Lining fitted but beware, you may be the envy of fellow campers. The Kampa Frontier AIR Pro 300 and 400 is the ultimate awning for grown up families. If you're children like to bring along a friend/s or you like to entertain friends in style, the extra space really comes in handy.
Large panoramic, crystal clear windows equipped with curtains allow you to flood the awning and caravan with as much light as desired and enjoy the best possible views. As evening draws in simply close the curtains for complete privacy. Another well thought out feature of the Frontier AIR Pro are the unique Skylights found in the centre roof panels. These offer even greater light penetration and a view of the stars at night.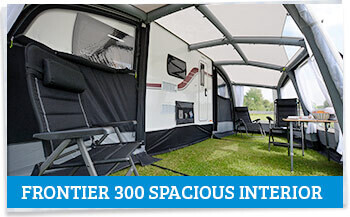 Despite its size Frontier remains versatile and easy to inflate with Kampa's Single Point Inflation System. All the centre panels can be zipped down, rolled to the side to serve as a doorway or be completely removed. Optional zip-in Mesh Panel Sets consisting of 3 mosquito panels can replace the standard panels in warmer weather to keep air flow moving and help keep insects out. Mesh Panels can remain in place behind the front panels for convenience if desired.
Each end of the Frontier Awning incorporates a specially configured extension, each with its own front door and window in the rear panel. The carefully thought out extensions are likely to be positioned beyond the edges of the caravan body and so serve a special function. If the Awning covers your caravan window, you can still see out into the awning through the crystal clear window panel. The rear panels have zipped access so in the event the Awning is blocking access to any lockers they still remain accessible.
Brand NEW Design - Kampa Ace AIR 400 All-Season
As the name implies the Kampa Ace AIR 400 All-Season has been designed to achieve a very specific purpose; to be set up for extended periods of time regardless of location and prevailing weather. Of course no AIR Awning could ever be a realistic substitute for a 'bomb proof shelter' but for the average caravanner looking to put down roots for many weeks at a time it could be the next best thing!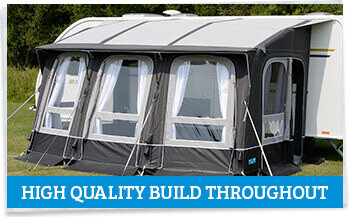 Outstanding workmanship, modern construction and the use of high quality components throughout, ensure the Ace AIR 400 All-Season meets its objectives head-on! Materials and components have been carefully selected to cope with extremes of weather. If you are looking to buy an Inflatable Awning that can withstand the rigours of a seasonal pitch, Ace AIR 400 All-Season deserves closer inspection.
For example; the Four Seasons fabric has been tested in the hottest parts of Australia to guarantee high performance, even in the sunniest regions of Southern Europe. Conversely the awning has been tested in some of the wettest places in Europe. The material is breathable, with excellent weight making it extremely durable even when windy.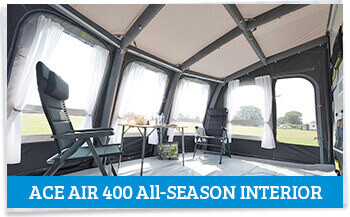 Like many 2018 Kampa Inflatable Awnings the All-Season 400 features the latest 'Dual-Pitch Roof System' with a crisp roofline that's shaped to deflect wind and shed rain water more efficiently, helping to prevent puddling on the roof and thereby enhancing performance.
This caravan awning has all the features of the popular Kampa Ace AIR awnings but also comes with a protective canopy, exterior roll back blinds to all windows and a storm tie down kit as standard.
Brand NEW Design - Kampa Rally AIR 390 Pro Grande
Once you have familiarised yourself with the Kampa Rally AIR range you are just one step away from appreciating all that Kampa's latest Rally awning has to offer. The All-New Kampa Rally AIR 390 Pro Grande shares all the advantages of other Kampa Rally AIR models but with a huge 3 metre depth. This along with the Dual-Pitch Roof System ensures full use of the entire floor area, giving the Rally Grande a remarkable 11.7 square metres of useable space.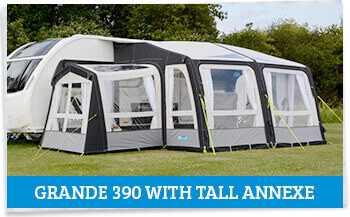 Grande is a handsome looking awning that's sure to compliment your caravan, finished in Kampa's hallmark Charcoal and Grey colour Scheme. Grande is destined to be a popular AIR Awning for larger families looking for extra elbow room. Like all Kampa Awnings versatility comes as standard, with zip out side panels and two zip-out front panels that optionally zip and roll to the side. Side door panels include secondary flyscreens and the left hand side window incorporates a large flyscreen, providing plenty of ventilation and a barrier to keep insects at bay.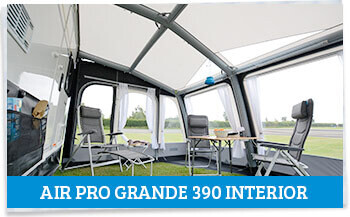 If you need some extra storage space or have kids that like to bring along friends the Rally AIR 390 Pro Grande can easily cope, with the optional side fitting Inflatable Pro Annexe. Also new for 2018 is Kampa's innovative Pro Conservatory, an optional zip-on room with windows to all three sides and a skylight in the roof. Kampa Pro Conservatory creates a pocket of space that has a multitude of uses but will be valued most for its views and sense of relaxation.
The Grande is light and airy thanks to the continuous crystal clear windows that encircle all sides of the awning. You might feel outdone if you don't find yourself on the most scenic pitch on the park but should you find yourself in need of a little privacy the Rally AIR 390 Pro Grande is kitted out with plenty of smooth pull curtains. There is a triangular skylight in the roof that provides extra light and a views of the sky at night – do watch out for those stars!
Addition to the range - Kampa Rally AIR Pro 260 Plus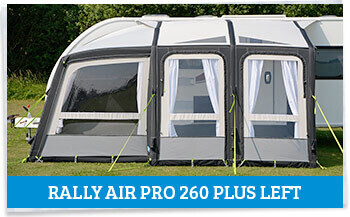 In 2017 Kampa unleashed a brand new AIR Awning upon the UK and European market, a stunning design with an exclusive feature quite unlike anything else Kampa had produced. The Rally AIR Pro 390 Plus is equipped with a large extension incorporated into the side of the awning main body. The side extension offers a myriad of practical uses including, additional storage for bikes and furniture, a fabulous wet weather entrance or an extra bedroom using the optional inner tent. You can choose how to use this versatile space, leave it divided or remove the side panel to transform it into one large Awning space.
So You have a short awning rail - Forget About It!
What's really clever about the extension design is, it doesn't rely on the awning rail of the caravan for support. This means that a caravan with a horizontal Awning rail of 390cm, allowing for the main body of the awning, is enough to support an overall width of 580cm - that's pretty impressive!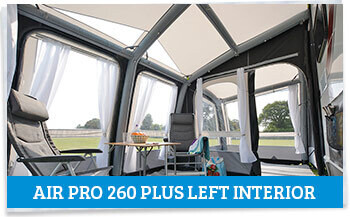 If that is still too wide for your caravan you will immediately appreciate why Kampa has introduced the smaller AIR Pro 260 Plus, transforming a model in to a range, albeit with just 2 models. The All-New Rally AIR Pro 260 Plus offers the same design concept as the larger 390 Plus but with a shorter total width of 450cm and an awning rail length requirement of just 260cm!
The extension is inflated at the same time as the rest of the awning through a single valve (Single Point Inflation System), making set up easy and convenient. If the extension covers a window it's possible to open a flap on the rear panel to reveal a window, allowing an unimpeded view into the awning from the caravan, there is also zipped access to any lockers that maybe obstructed behind the extension.
The Rally AIR Pro 260 Plus has all the latest features of the Rally AIR Pro 260 with a bit more space. Homestead Caravans stock the LEFT Hand extension version suitable for UK Caravans.
Existing Kampa Awnings
Ace AIR Pro, Sizes: 300 / 400 / 500
Classic AIR Expert, Sizes: 300 / 380
Rally AIR Pro, Sizes: 200 / 260 / 330 / 390
Fiesta AIR Pro, Sizes: 280 / 350 / 420
Pop AIR Pro, Sizes: 260 / 290 /340 / 365
Kampa Ace AIR Pro
Hold onto your hats here comes Kampa's latest Ace AIR Pro range and now with Dual-Pitch Roof System. The increased height provided by the redesigned roof, combined with a generous 300cm depth endows this Awning with fantastic proportions and outstanding comfort. There are 3 width/models in the Kampa Ace AIR range; 300, 400 and 500 (cm) catering for the majority of caravans. Not only does this Awning look amazing on the inside, in-keeping with all Kampa AIR Awnings it's crisp and handsome on the outside too.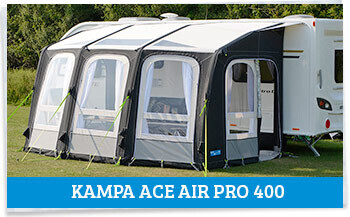 With increased height the expansive roof is crying out to be furnished with a luxury Kampa Roof Lining. When complimented with a Continental Cushioned Carpet it manifests an irresistible warm and cosy feel you may have trouble leaving. Enjoy excellent views out and glances of admiration from passing strangers via large panoramic crystal windows, each equipped with curtains that slide along Easy Run Track for effortless privacy. The roof incorporates skylights that allow plenty of natural light in, which can be controlled by the optional Roof Linings.
After removing the front and side panels and feeding the roof section through the Caravan Awning, you'll soon discover how easy owning a Kampa AIR Awning is. Everything Kampa does is designed to make life easier, more convenient and comfortable, Kampa's exclusive Single Point Inflation System leads the way in this regard – despite their spaciousness Ace AIR Awnings take very little time to set up.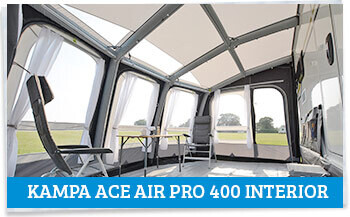 With the help of the NEW Dual-Pitch Roof System the 2018 Ace AIR Pro is the most durable and stable yet, like all Kampa AIR Awnings the poles are extremely strong, arguably stronger than steel. When pegged out properly and optional Storm Straps deployed Kampa AIR Awnings are extremely stable and capable in any normal weather conditions. Although the frame is rigid it is also flexible which is essential for performance in windy conditions.
The Kampa Ace AIR is made in Weathershield™ Pro 300D, a high quality material that has a luxury appearance and texture feel. Weathershield™ Pro is breathable which is important to help avoid condensation and enhance comfort in warmer weather. Thanks to its NEW improved coatings it offers enhanced protection from UV light and rain, with an impressive Hydrostatic Head of 6000mm.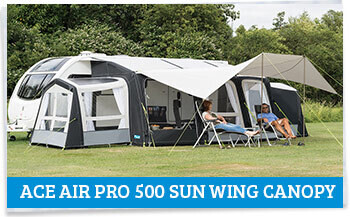 Should more ventilation be required one side panel now has a large mesh window panel that stops insects from getting inside. Depending upon the model front panels can be zipped out, zipped to the side or lowered at the top and used 'verandah' style. Both side panels can be zipped out of the awning to accept the optional Standard and Tall Annexe or NEW and exciting AIR Conservatory.
If you like to sit out and enjoy the sun I guarantee you are going to love the spectacular Sun Wing Canopy, with its unique shape it not only provides essential shelter but it has an eye catching design too! Ace AIR comes Limpet™, AccessoryTrack™, Mesh Panel and SabreLink™ READY.
Kampa Classic AIR Expert
If you love the Inflatable Awning concept and its many advantageous but are not quiet as enamoured with its contemporary curves the Kampa AIR Expert could be just for you. AIR Expert is an outstanding class of AIR Awning, you will not be disappointed by its ability to perform but you might be impressed by its classic good looks that harken back to a time when Scandinavian Awnings dominated the market.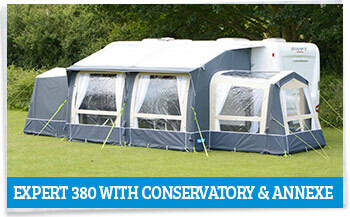 The transformation from contemporary to classic Awning actually requires only very subtle changes. Firstly Kampa have added a short canopy to the front of the awning supported by a lightweight aluminium frame that takes seconds to set up. This does an excellent job of masking the curved front panel and gives it a distinctive profile. The canopy is visually supported by the aerodynamic pitch of the NEW Dual-Pitch Roof System, which compliments the classic look quiet nicely.
There are two models in the Kampa AIR Expert range, the 300 with an overall width of 300cm and the 380 at 380cm wide. Both Awnings have a depth of 240cm offering plenty of room for families. Excellent vertical height at the front of the Awning allows full use of the available space, when extra space is required simply zip out the front and side panels and use the available space as required. Don't forget to detach all the panels before setting up and packing away, making it easier to feed the Awning on to and off the caravan.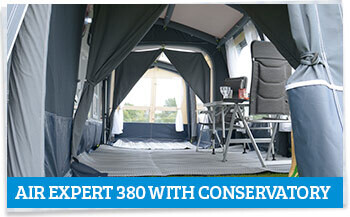 Kampa's latest Weathershield™ Expert materials in attractive Classic Dark Blue / Sand / Light Grey has been especially created for the AIR Expert range. The roof and walls are breathable, ensuring a comfortable climate inside the awning with less risk of condensation. The fabric has a high quality textured feel and is extremely waterproof and durable for years of trouble free life.
In addition to having fully detachable panels the front panels may be rolled to the side or zipped down to create a veranda effect. Both side panels include a door with flyscreen, if a door is obstructed by the caravan step simply switch the side panels over to position the door at the front of the Awning. The large crystal clear windows provide great views out and are fitted with curtains for privacy.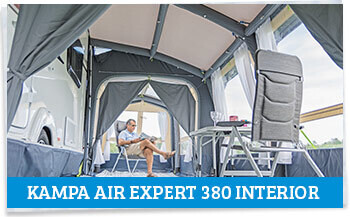 Like all Kampa AIR Awnings it is possible to extend the AIR Expert with optional zip-on Inflatable Tall Annexe and NEW Conservatory Annexe. In support of the Classic looks of the AIR Expert and in order to provide extra headroom, both these extensions have been created with an apex roof; a clear sign of intelligent design. The Inflatable Conservatory is a fantastic addition that can be used for any number of purposes. It can be zipped onto either side of the Awning and provides standing room height with crystal clear windows and curtains to the side walls and a large skylight to the roof. Its perfect for relaxing on cooler days and breaking away from the kids for some relaxation - although you may find the kids get there first!
Once again the Single Inflation point makes the AIR Expert quick to set up and very stable. Comes Limpet™, AccessoryTrack™, Mesh Panel and SabreLink™ READY. The list of accessories for all Kampa Awnings is seemingly endless.
Kampa Rally AIR Pro
Off the back of Dual-Pitch Roof System the 2018 Kampa AIR Pro Awning range takes another giant leap over the competition, with the most feature rich, fully developed AIR Pro Awnings yet. The Rally AIR Pro is a bestselling Inflatable Awning Range that's packed with all the latest Kampa features. What stands out is the affordability of this range with prices ranging from £550.00 to £890.00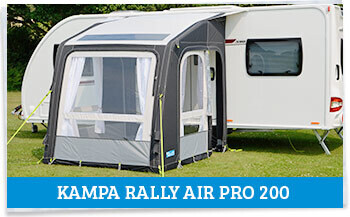 The Rally AIR Pro range includes 4 models each one wider than the previous including, 200, 260, 330 and 390 (cm), all with a depth of 250cm. With its compact width the Rally AIR Pro 200 is ideally suited for weekend stops, while the 260 is a great Awning for a budding family or couples looking for a bit of extra space. The Rally AIR Pro 330 and 390 offer plenty of space for grown up families to enjoy the outdoors. The good news is regardless of which size caravan you own there is bound to be a Rally AIR Pro to suit.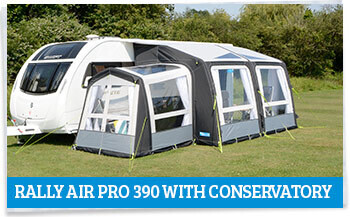 Rally AIR Pro Awnings are made using a durable and breathable fabric called Weathershield™ Pro, it's a tried and tested high quality material that's extremely durable and offers high performance in all weather conditions. For 2018 you can expect improvements to UV protection and Weathershield coatings.
Versatility is a common trait that runs through all Kampa Inflatable Ranges, and of course the AIR Pro is no exception, with all front panels featuring zip and roll back to the side door ways and zip down veranda set-up. The configuration and number of front panels varies according to the Rally AIR Pro model. In warmer weather you will no doubt want to open up all available front panels for additional ventilation to maintain comfort levels. Should roaming insects make a nuisance of themselves Kampa has created a series of optional Mesh Panel Sets for the AIR Pro range, to keep insects out of the Awning.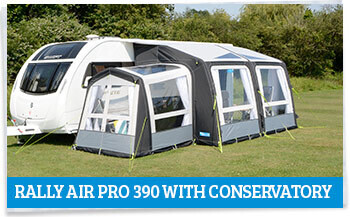 Side panels are completely removable allowing for the installation of the Inflatable Standard Annexe and Tall Annexe, or my personal favourite the NEW Kampa Inflatable Conservatory. Like other Kampa AIR Awnings the sides are interchangeable, a process that relocates the side panel doorway from the rear of the Awning to the front to overcome any obstruction caused by the caravan step. There is a large mesh window panel in the right-hand side panel, which permits fine tuning of ventilation in warmer weather.
The Rally AIR Pro Awning range is Limpet™, AccessoryTrack™ and SabreLink™ READY, which opens up full access to a Pandora's Box of optional accessories designed to further enhance Kampa AIR Awnings.
Kampa Fiesta AIR Pro
All Kampa AIR Awning ranges are unique and easily set apart from one another but none are quiet as distinct in appearance as the Kampa Fiesta AIR Pro Awning range. The curvaceous design of the Fiesta is not only soothing to the eye but endows the Awning with stubborn and elusive qualities when assaulted by inclement weather. When pegged out properly and used with the optional Kampa Storm Strap this is a very stable Awning indeed.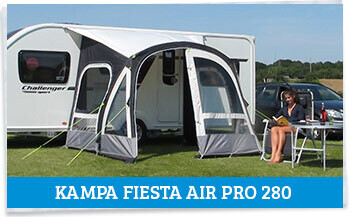 There are 3 models to choose from, each model wider than the next; Fiesta 280, 350 and 420 (cm) offering a highly configurable interior thanks to its 275cm depth, giving ample room for furniture and storage. If you are unlucky enough to own a caravan that is unsuitable for all 3 Fiesta sizes I'm sure Homestead would happily offer a trade in on your old caravan!
Why not book a night at Homestead Lake Touring Park and try your brand new Kampa Awning without ever leaving our leisure complex?
Learn more about Homestead Lake Touring park
Fiesta AIR Pro flysheets are breathable, made using exclusive Weathershield™ Pro with an impressive 6000mm Hydrostatic Head. If you are enjoying some fantastic hot weather, it's good to know when things get a little hot under the collar you have the option to remove both the front and side panels for maximum ventilation. There is also integrated ventilation in the eaves and one of the side panels incorporates a large mesh panel, which is good for keeping insects at bay. The front panel also has a wide, zip to the side doorway built-in providing practical access on cooler days.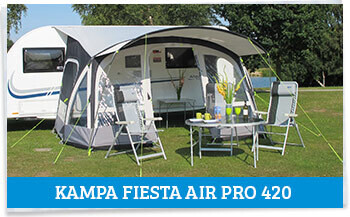 Like other Kampa AIR Awning ranges the side panels of the Fiesta AIR Pro range are interchangeable allowing the doorways in the side panels to be moved from the rear to the front of the awning in case the caravan step is obstructing access. The removal of Kampa AIR Awning panels is easy thanks to the heavy duty size 10 zips used.
Fiesta Crystal clear windows provide fantastic view of its surroundings but as night draws in or as needs dictate, each window is fitted with internal blinds for complete privacy.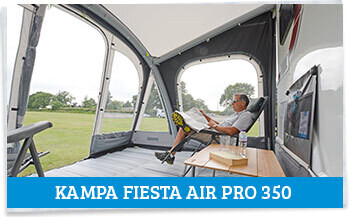 As expected set-up of the Fiesta AIR Pro range is the easiest available on the market with Kampa's exclusive ONE Point Inflation System. To make inflation even easier replace the manual hand-pump provided with the optional Gale 12v Electric Pump at just under under £50.00. You can always keep the manual pump as a back up. Don't forget the easy way to install your Kampa AIR Awning is to zip-out any removable panels, reducing weight to help avoid unnecessary straining.
Like all Kampa AIR Awnings there are a number of options to enhance function and usability of the Fiesta AIR Pro. For example; the side panels are detachable allowing zip-on fitting of a side Annexe that can be used as either additional storage or as a guest bedroom, using the supplied inner tent. My personal favourite is the optional front Sun Canopy that zips on to the Awning and is supported with strong aluminium poles to the front. The Front Canopy integrates so well with the curved design of the roofline it's hardly surprising it such a popular choice for owners of Kampa Fiesta AIR Pro Awnings.
Kampa Pop AIR Pro
Available in four different sizes to fit the Eriba Touring range but also suits other pop-up Caravans. The Pop Awning design provides plenty of headroom and is based on the popular Fiesta AIR design and it shares many of its features including the zip out front and side panels.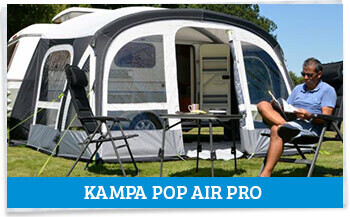 The Pop Awnings have a clever dual height system that means that they will fit pre and post 2010 models (260 Puck model only pre 2010). The rear of the Awning has an extra inflatable tube that raises the centre height making it a full height Awning with plenty of headroom and light airy feel. The Pop has plenty of windows for a great view out, and closable mesh panels provide ventilation when needed.
Kampa Pop AIR Pro is not currently held in stock, please call 01255-830-229 if you would like to order.
Kampa Caravan Awnings on Display
Did you know Homestead Caravans has a permanent display of the latest Kampa Inflatable Caravan Awnings in their Dedicated Kampa Awning Showroom? The 2018 awning display will be ready for viewing from the 11/12/2017. The display includes 12 of Europe's most popular caravan awnings, 2 campervan awnings, awning canopies, annexes plus, a selection of key Awning Accessories and Kampa Outdoor Furniture.
As of writing the full display of Kampa Awning products on display includes:
Rally AIR Pro 260 Plus
Ace AIR Pro 300
Ace AIR Pro 400 with Conservatory Annexe
Ace AIR Pro 400 All Season
Rally AIR Pro 390 Plus
Classic AIR 380
Fiesta AIR 420
Frontier AIR Pro 300
Fiesta 280 with Canopy
Rally AIR Pro 390 Grande
Rally AIR Pro 330 with Tall Annexe
Revo 240 with Privacy Room
Motorhome Awning include:
Travel Pod Action AIR VW
Travel Pod Motion AIR VW with Canopy
Call for further details regarding our display or any queries you might have on: 01255-830-229. Alternatively email: onlineshop@homesteadcarvans.co.uk
2018 Kampa Caravan Awning Brochure
If you would like to find out more about the 2018 Kampa Caravan Awning range you can download the 2018 Brochure by clicking the 'Download PDF' button. It includes the latest 2018 Poled and Inflatable Awning Ranges. If you have any questions please don't hesitate to call our Awning Sales Team on: 01255-830-229.
Download PDF