Vision Plus STATUS Digital Antenna Review
Back
Since inception the Vision Plus brand has become a caravanning staple and market leader in the manufacture of mobile Antenna (and accessories) for caravans, motorhomes and boats, thanks to the high quality and performance of their product ranges.
Vision Plus products are intelligently designed to discretely blend in with modern vehicle designs, with attractive curves and high quality polished finishes.
Shopper friendly, detailed and attractive packaging and purpose built retail display stands, competently demystify otherwise complex products. Inspired by choice, Vision Plus Antennas are designed to meet well established user requirements, aided by a range of supporting accessories (and spares) they consistently meet their objectives.
READ MORE: Vision Plus Image TV & Radio Antennas - Buyers Guide
STATUS - The Industry Standard
It was the very first Antenna produced by Vision Plus in the early 1990's, under the founding Grade UK company name, that went on to become the UK's most successful Aerial ever made. The original STATUS Omni-Directional Antenna (and successive generations) was soon adopted by British caravan, motorhome and boat manufacturers as standard OEM equipment.
The latest generation 'STATUS 570' directional Antenna is widely acknowledged as the most powerful Antenna ever designed for mobile use and adopted by the majority of caravan manufacturers, further enhancing the reputation of the Vision Plus brand.
Quality and Performance
Quality is a core component of a broader philosophy that has helped to make Vision Plus so successful. They have a perfectionist mindset and constantly strive to improve upon their successes, developing and adopting new technologies to ensure they retain their reputation as market leaders.
Life on the top of a caravan or motorhome roof can be unforgiving, where a cyclic bombardment of snow, hail, rain, wind and UV-light prevail. Quality is therefore an essential attribute in helping to overcome the elements; a Vision Plus Antenna uses high quality precise components, durable materials and robust construction to ensure reliable service year after year.
Vision Plus Antennas have proven to be reliable and enduring, which is why every Vision Plus STATUS Antenna enjoys 'Lifetime Product Support' and a 3-Year Warranty.
STATUS 350 & 355 Digital Antenna System (Omni-Directional)
The STATUS digital Antenna system is easily the most established caravan aerial ever made, its domed designed has ascended to iconic STATUS (no pun intended) and is widely recognised on campsites throughout the UK and EU.
The Power Behind Omni-directional Antennas
The Omni-Directional 335 receives horizontal & vertical signals through 360 degrees using an electronic amplifier to boost signals, requiring zero manual adjustment. It means once the aerial is installed you can simply forget it's there and save yourself the trouble of having to adjust its position, as would be expected with a directional Antenna. That isn't entirely true, as the base of the STATUS Antenna allows for angle adjustment, according to any ground surface camber that cannot be overcome using existing tools, such as corner steadies and levellers etc.. Clearly the omni-directional design offers caravanners a lot of convenience however, there is a trade off...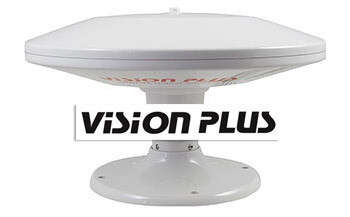 This type of Antenna relies heavily upon signal amplification powered by 12V DC to perform. It's a bit like playing an 'electric' guitar; take away the guitar amp and even an Eric Clapton solo played by the man himself, couldn't begin to tickle ears located in front row seats! Plug the guitar into a powerful amplifier and it's a different matter.
Vision Plus STATUS amplifiers have variable gain for precise amplification according to prevailing signal strengths. The affect of too much signal can be as bad as not enough; there is an acceptable range of signal strength, a variable gain amplifier is designed to achieve.
There are two variations of STATUS Omni-Directional Antenna, model '350' for UHF TV only via the VP2 amplifier and model '355', with the addition of FM DAB Radio capabilities via the VP3 Amplifier.
Please note: Homestead Caravans do not stock model '350' due to low demand.
To help prolong the condition of the STATUS 355, it can be easily removed when not in use for any length of time, such as during off-season months.
Optional Accessories
For users who have no desire to permanently mount the foot to the surface of the vehicle Vision Plus offer the option of a Suction Mount Base. It is also possible, although unusual, to mount the STATUS 355 Antenna using any of the optional Masts found in the Vision Plus range. However, the majority of installations occur on a permanent basis directly to the roof.
Key Features
Designed for digital television signals and FM radio reception
Receives horizontal and vertical signals through 360 degrees
Incorporates a power amplifier with variable gain adjustment
Standard fitting options, roof or mast mount with optional sucker mount
Angle adjustable, allowing level mounting on a sloping surface
Easily removable Antenna dome
Spare parts available if required in the future
3-Year warranty | Lifetime product support
Frequency TV: 470 - 790Mhz
FM Radio 88-108 Mhz
Dimensions:
Antenna (dome) diameter: 315mm
Antenna (dome) diameter: 50mm
Base diameter: 185mm
Height overall: 280mm
In the Box
The STATUS 355 is supplied with the following components:
Antenna Dome
Antenna Foot/Base
Variable gain VP3 Amplifier with 12V power lead
5m Coax
1.5m TV Lead
Fixings/Tool Pack & Blanking Cap
STATUS 570 & 580 Digital Antenna System (Directional)
Building on the success of the market-leading STATUS 550 Antenna, the STATUS 570 and 580 resume flagship status but with the benefit of enhanced design and performance. The lower, slim-line profile is easy on the eye with lighter construction and a smaller footprint, leaving room for solar panels etc..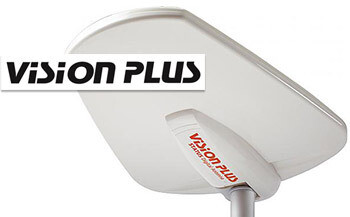 Both models are based on a brand new LTE Protect dipole array with improved performance and efficiencies and manufactured in corrosion resistant materials, with high quality ABS plastics designed for external use.
Installation of the STATUS 570 and 580 is very much permanent, as the Antenna integrates with a Mast and designed to pass through the roof of the vehicle. Yes, it's a serious undertaking, one that will undoubtedly require the services of a professional fitter with the appropriate qualifications and experience. But the reward of the endeavour is convenience and of course, access to the best directional Aerial money can buy. The integrated aluminium pole allows manual adjustment of height, direction and orientation from inside the caravan or motorhome. The antenna cants through 90 degrees dependant on whether local TV channels are being transmitted horizontally or vertically.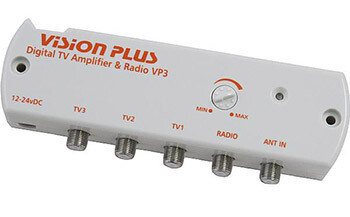 Tuning the TV literally takes seconds to complete, thanks to the TV Signal Finder that's conveniently integrated into the Variable Signal Gain Amplifier. Just keep your eyes on the LED light indicator colours (red, yellow and green) for an indication of signal strength.
In addition to the TV Signal Finder new features of the STATUS 570 and 580 include, Horizontal and Vertical Polarisation (visual) Indicator integrated into the bottom of the mast and DAB / FM Radio Reception plus, fixed FM Radio Antennas.
Directional Capabilities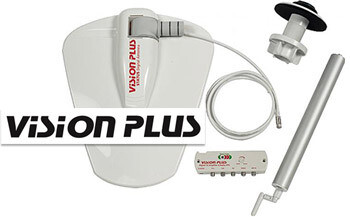 Unlike omni-directional Antenna, directional Antennas do require manual adjustment in order to receive the best viewing picture possible. In the old days it was a bit of a bind but since the introduction and integration TV Signal Finder technology, any frustration has evaporated leaving you free to relax and enjoy your holiday. At the heart of this new Antenna and offering the the latest in TV/Radio reception technology, is the Vision Plus VP5 Digital TV Amplifier. VP5 features: Digital TV, DAB & FM radio reception, dedicated TV Transmitter Locator and Variable Gain Control, for strong and weak signal areas.
STATUS 570
With a total length of 330mm the STATUS 570 mast has an intrusion into caravan of between 305 - 280mm, making the ideal location for installation inside one of the overhead lockers. From here the mast can be rotated to the best reception position and the winding handle at the bottom, allows you to maneuver the antenna from horizontal to a 90 degree cant, for best reception of both horizontal and vertical signals.
STATUS 580
The Vision Plus STATUS 580 Antenna has all of the features of the 570 but is supplied with an extra-long mast of 920mm and Wall Bracket. This gives the STATUS 580 an intrusion into the caravan of 875mm, making it ideal for installation in the caravan or motorhome wardrobe. The longer Mast is designed to overcome obstacles that might cause signal interference, thereby improving performance.
Optional Accessories
If your vehicle has a sloping roof Vision Plus offer an optional Roof Mounting Assembly Kit to get over the problem. If you are upgrading your current aerial to the STATUS 570 or 580 and need to cover any existing holes left by the previous installation, the Vision Plus Antenna Blanking Plate is the perfect off the shelf solution.
Key Features
Construction: High quality ABS plastic & corrosion resistant materials
Roof mounted amplified antenna with integrated mast
Powerful Digital UHF, FM & DAB performance
Integrated TV Signal Finder and amplifier specifically for mobile use
Incorporates signal gain adjustment and triple TV outlets
Dedicated Radio outlet for FM and DAB Radio
Height, direction & orientation fully adjustable from inside
Cants 90 degrees to receive vertical & horizontal signals
Incorporates internal, mast-mounted polarisation gauge
Compact design of the 570 allows installation in most overhead lockers
Very low profile, with head height of only 108mm
3-Year warranty | Lifetime product support
Frequency TV: 470 - 790Mhz
FM Radio 88-108 Mhz
DAB Radio 175-230 Mhz
Dimensions:
Antenna Dome Fitted: L 412 x W 348 x H 108mm (head height)
Mounting Foot & Gaiter: Dia. 122 x H 35mm
Roof Cavity Range (Depth): 25-50mm
Mast Length: STATUS 570: 330mm | STATUS 580: 920mm
Mast Intrusion into Locker (Including Winding Handle): STATUS 570: 305 - 280mm | STATUS 580: 875mm
Amplifier & TV Signal Finder: 157 x 45 x 29mm
In the Box
The STATUS 570 and 580 is supplied with the following components:
Antenna
Powerful Digital Amplifier
TV Signal Finder
Mast
Roof Mounting Assembly Kit
5m Coax
1.5m TV Lead
Wall Bracket (STATUS 580 only)
Vision Plus Brochure
Click the 'Download PDF' button to download the Vision Plus Antenna brochure.
Download PDF