Introducing the Avtex Tourer One Caravan & Motorhome Club Edition Satellite Navigation System
Back
The Avtex Tourer One Satellite Navigation System is an outstanding example of what can be achieved when leading leisure companies, experts in their respective fields come together to co-create. Whether you're in the market for a new Satellite Navigation system or not, sooner or later everyone is going to want 'ONE'.
The Avtex Tourer One Satellite Navigation System is the latest collaboration between Avtex and Garmin and new for 2017. Tourer One improves further on the market leading Avtex Camper, adding a selection of new features designed to make life easier on the road for owners of motorhomes and caravans.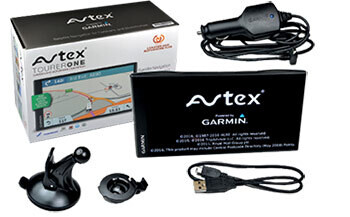 Caravan and Motorhome Sat Nav systems work in the same way automotive sat system do, but include additional features tailored specifically to the needs of caravanners and motorhome owners. For example; Avtex Tourer One gives users the ability to input the length, width and weight of the vehicle, which the Sat Nav's pre-programmed data base will then use to calculate the most suitable route.
The Avtex Tourer One boasts a 7" edge to edge screen but with the same physical dimensions as the older 6" model. The Tourer One Sat Nav is the ONLY Satellite Navigation system on the market that is licensed to hold the full Caravan and Motorhome Club data base, not only providing the customer with safe Navigation to the Caravan and Motorhome Club Sites but also providing detailed information on each of the sites and their amenities.
READ MORE: Avtex Television Features & Icons Guide
THE ULTIMATE SATELLITE NAVIGATE FOR TOURING
Routing based on the size and weight of your vehicle/towing set-up.
Covers 45 countries, with FREE lifetime map updates.
Free digital traffic alerts.
Search & filter site data from Caravan and Motorhome Club, ACSI, NKC and MotorhomeFacts.
Built-in Wi-Fi for easy updates - no computer required.
Avtex Tourer One boasts a larger (6.95") screen with a similar profile size to the previous 6" screen unit, fantastically simple Wi-Fi updates, more caravan & motorhome sites than ever before, TripAdvisor locations & ratings and much more.
TAILORED ROUTING FOR CARAVANS & MOTORHOMES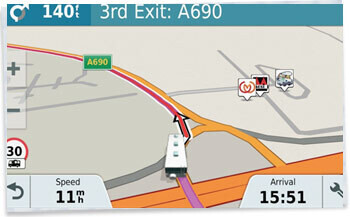 Routing designed for your vehicle
Avtex Tourer One is designed to eliminate unsuitable roads from your route, producing safe, practical guidance across Europe. Just input the size and weight of your vehicle or towing set-up and Avtex Tourer One will do the rest, avoiding height, width and weight restricted roads along with many other potential obstacles.
Club Sites, CL's, Overseas Touring Guides and more
Search Club Sites by name or distance, filter by amenities, view photos and information from your Sites Directory & Handbook and then route straight there. CL's and Overseas Touring Guide locations are also included in POI format.
More map coverage than ever
The Avtex Tourer One comes pre-loaded with comprehensive mapping for 45 countries across Europe, more than ever before - plus FREE lifetime map updates.
Intuitive Touchscreen
The high-quality touchscreen works just like your Smartphone, providing glare reduction and supporting pinch & zoom for a simple, responsive experience.
*free lifetime map updates refers to the lifetime of the unit.
NUMBER ONE FOR SIMPLICITY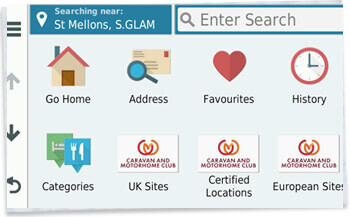 Garmin Real Directions
Get traffic updates faster with Garmin LIVE Digital Traffic services, help you reach your destination trouble-free. Digital traffic has several advantages over traditional FM TMC traffic coverage provided with many other Sat Navs; it updates much quicker and provides more accurate warnings. Garmin LIVE digital traffic is included free, and uses the DAB network to provide updates via built-in hardware, so there's no need for an additional antenna. You can also retrieve traffic updates via your Smartphone using the free Garmin Smartphone Link app, and TMC is also available.
Active Lane Guidance
Active Lane Guidance (ALG) uses voice prompts and brightly coloured arrows to indicate the correct lane for your route, and moves along with you to make sure you're in the right place at the right time, without any last-minute lane-swapping panic.
Photoreal & Bird's Eye Junction View
Full colour, detailed, photo-realistic images on approach to junctions are provided by Photoreal junction view, while Bird's Eye junction view provides a detailed overhead view of interchanges. Each of these tools will display on the right-hand side of your screen whenever relevant, keeping your Navigation visible at all times.
Speed Limits For Your Vehicle Type
The speed limit for a car often differs from the speed limit for your caravan or motorhome. Avtex Tourer One will provide you with the correct speed limit for the type of vehicle you're driving, so you can relax and enjoy the trip.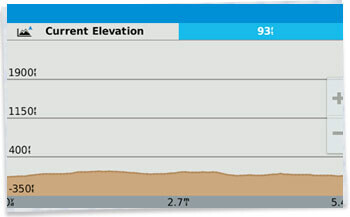 Route Warnings & Elevation Profile
In addition to routing you based on the size and weight of your vehicle or towing set-up Avtex Tourer One will provide advanced warning of sharp bends and many other potential obstacles throughout Europe. This includes providing elevation profile information that you can view at any time while remaining on your Navigation screen. Using this tool you can see your current elevation along with how your elevation changes further down the road, so you'll be prepared for any gradients on your route.
NUMBER ONE FOR TECHNOLOGY
Voice Command
With Avtex Tourer One you can find and plot destinations, add stops to your route and make an take calls completely hands-free. Simply say ' voice command' and command your Navigator to find somewhere to stop for a coffee, for fuel or call a contact in your address book.
Trustpilot & Foursquare Social Apps
When you're far from home it can be challenging figuring out the best attractions or places to eat. With thousands of searchable user rated locations from Trustpilot and Foursquare, you'll never be without a helping hand on your travels.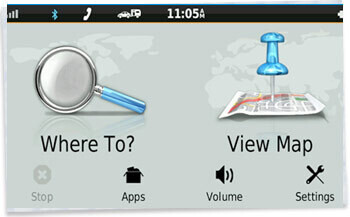 Smartphone Link
Add the Garmin Smartphone Link app to your Smartphone to enhance your Sat Nav with live weather updates, parking updates at your destination, a back up for your digital live traffic & to update your Foursquare ratings.
Bluetooth Hands-Free
Takes calls via your Sat Nav with Bluetooth. Just pair your mobile phone to Tourer One and your address book can be loaded into the Sat Nav so you can make and receive calls completely hands-free.
Add a Reversing Camera
Avtex Tourer One Caravan and Motorhome Club Edition is compatible with the Garmin BC30 wireless reversing camera (sold separately).
INSIDE THE BOX
Avtex Tourer One
Lifetime Map Updates & Digital Traffic
Vehicle Suction Cup Mount
Vehicle Power Cable
USB Cable
Quick Start Manual
FEATURE SUMMARY
Custom camper routing for the size and weight of your camper or caravans
Road warnings for bridge heights, weight limits, sharp curves, steep grades and more
Shows elevation and possible steep grades along your route
Directory of more than 9000 ACSI camp sites
POI's for The Caravan and Motorhome Club
Find camp sites with preferred amenities
Shows camp sites, food and fuel stations along your route
Easily change your route to include preferred roads or cities, just by touching the screen
Garmin live traffic via DAB – Drive with the fastest traffic solution with one minute update cycles – everywhere you need it
Lets you command with your voice and keep your hands on the wheel
Bluetooth® technology for hands-free calling
Garmin Real Directions™ guides using landmarks and traffic lights
Active Lane Guidance & helpful PhotoReal Junction Views. Prepares you to drive through an exit or interchange with confidence.
Smartphone Link is a free app that allows your Garmin camper sat nav to receive real time information such as traffic, mobile safety cameras, weather and much more.
7" Edge to Edge Screen
Wi-Fi Compatible
Dimensions: W 170 x H 99 x D 14mm
Weight: 251g
Comments
Be the first to comment on this article