2018 Cadac Grill 2 Braai Review
Back
The Cadac Grill 2 Braai BBQ is brilliant in its simplicity & ease of use. It has a compact, portable & modular design, weighing less than 7 kilos & promises versatile & talented cooking without compromise...
The Cadac Grill 2 Braai Barbecue really doesn't care if you own a £100k motorhome, are renting a fabulous holiday lodge by the sea or camp modestly from a 2 person dome tent. If you are living life on the go and have bags to pack and limited space from which to unfold daily life, you are going to dig Grill 2 Braai. Sure when you get home you may prefer to cook on the Colossus 7000, complete with 7 burners, eagle winged sized side shelves, cavernous shelving and rotating whole hog roast spit but while on the road, you might want to scale things back a tad... hmm.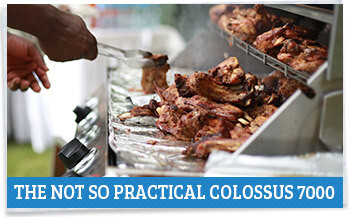 The Cadac Grill 2 Braai was created exclusively for outdoor and active lifestyles and its design combines all the essential attributes required of it. Owing to its modular construction the pack size of the Grill 2 Braai is very small, something that will be greatly appreciated when loading the boot and utilising narrow storage spaces inside the caravan and campervan etc.. Adopting principles of intelligent design such as, up-to-date construction techniques and modern materials, Grill 2 Braai relies upon minimum components making it lightweight and extremely portable, even when transporting by hand.
Perhaps the biggest challenge is to transform something so practical in to something equally desirable to look at? If there is a trade-off here, Cadac has done a fantastic job at disguising it; Cadac Grill 2 Braai has a contemporary and minimalistic look that conceals the true power and nature of its talent - effortless and versatile cooking, energy efficiency and on-the-go convenience!
READ MORE: 2018 Cadac Carri Chef 2 BBQ Review
Common to all Cadac products is a high level of quality backed by a 2-Year Manufacturers Warranty. It maybe surprising to learn that Cadac is a South African company, although recently Cadac has moved production to China in order to keep prices as competitive as possible however, the original BBQ concept and design is very much South African.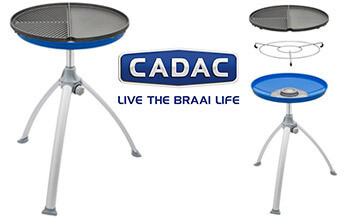 I think it would be helpful to explain that the Cadac Grill 2 Braai is one of a trilogy of Barbecues that also includes, Skottel Braai and Paella Braai variations. Each of these three BBQs has an identical base unit that includes the following components:
3 Lightweight anodised aluminium legs
Stainless steel support stem with integrated gas control valve with Piezo ignition
Powerful 3kW stainless steel LPG gas burner set in burner surround.
Pot Stand
Of the three models stated above Homestead Caravans has decided to carry in-stock 'Grill 2 Braai' only. This is because of the 3 variations Cadac Grill 2 Braai is by far the most popular, with a single cook plate that combines both ribbed grill and flat pan surfaces necessary to cook the majority of popular BBQ foods. Furthermore, all three Barbecues are supplied with a Pot Stand that permits the use of any pot from home, up to 30cm in diameter including, Wok and Paella Pans. If you would like to add a Skottel or Paella Pan to your purchase plans, both are available as optional Cadac Accessories.
Cadac Grill 2 Braai Assembly & Operation
Assembly of Grill 2 Braai is so quick and easy, you'll be up and running in no time at all:
Simply hold the BBQ stem and slot each of the three curved aluminium legs on to the base, just above the gas contrli valve.
Screw-on the large plastic retaining nut to secure the legs.
Place the burner housing/burner on to the top of the stem.
Connect the gas supply (more about gas below).
Fit the Pot Stand and Grill 2 Braai cooking plate and start using your BBQ.
Low Pressure LPG Gas Supply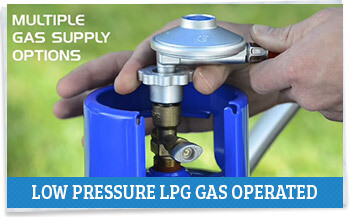 Cadac Grill 2 Braai utilises a low pressure gas supply for operation meaning, it relies upon a regulated gas supply, the fitting of a regulator and compatible cylinder to operate correctly. The Barbecue burner will run from both Butane (blue) and Propane (red) gas types. Popular brands of LPG gas include Calor, with national distribution and Campingaz who offer European wide distribution. Caravan and motorhome owners are able to run this Barbecue via the vehicles internal gas supply by connecting it to an external wall mounted gas point, available separately from Homestead Caravans Accessory Shop.
The Grill 2 Braai is supplied with a 1/4" BSP LH tailpiece and nut that screws on to the BBQ stem base. Simply connect a length of 8mm LPG gas hose secured with a Jubilee Clip (hose and clip not supplied).
Optional Cadac Brass Tail Piece with Hand-Wheel
The Cadac Brass Tail Piece with Hand-wheel is a uniform left hand thread (1/4") tailpiece to fit any 8mm gas hose pipe. The hand wheel assembly allows you to easily and conveniently fit the tail piece to the Cadac Grill 2 Braai without the need for a spanner. Put simply it is the same as the connector supplied with the barbecue but includes a hand-wheel to tighten, rather than relying upon a separate tool.
Cadac EN417 Regulator Assembly
The Cadac regulator assembly allows the Grill 2 Braai to operate from Cadac or alternative brands of disposable gas cartridges. The EN417 Regulator Assembly includes a hose and tailpiece, the regulator screws on to the cartridge and incorporates a non/off control valve.
If you would like to enjoy the benefits offered by Grill 2 Braai but have desire to transport a large heavy cylinder, the EN417 Regulator Assembly is the perfect solution for you. Gas cartridges not supplied.
Cadac Power Pak
Following on from the EN417 Regulator Assembly, the Dual Power Pak is the first of its kind, a portable dual gas cartridge supply that delivers greater convenience and longer run times from disposable gas cartridges. It is light and easily portable, making it is perfect for camping, picnics and even caravanning.
Use in conjunction with 2x 300g, 2x 445g or 2x 500g Cadac (compatible with other brands) threaded EN417 gas valve cartridges (not included).
Using the Cadac Grill 2 Braai
The Grill 2 Braai has a two-sided light-weight aluminium grill plate that has an organic ceramic non-stick surface. One half of the grill plate is ribbed while the other half is flat providing a combination of cooking options. Imagine if you will preparing grilled fish, chicken and vegetables on one side, while preparing eggs and bacon, or perhaps a stir fry on the other. The non-stick coated grill plate is easy to clean and easy to maintain thanks to the latest Cadac innovative coating called GreenGrill.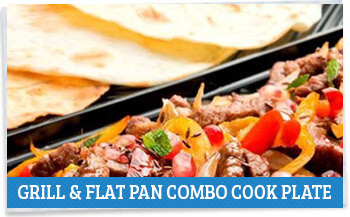 GreenGrill is made from an organic ceramic that is environmentally friendly and non-toxic. It offers improved durability, scratch resistance and coating hardness. It can also withstand higher temperatures for longevity and distributes and retains heat more efficiently, resulting in lower gas consumption.
Used with the pot stand, Grill 2 Braai BBQ acts as a single multi-purpose cooker to boil water and accommodates pots up to 30cm diameter.
Cadac portable barbecues exclusively incorporate a leading grill technology called ThermoGrill. Cadac BBQ grill tops (circular) now have an innovative integrated heat deflector. This negates the need for a flame tamer and delivers even heat distribution across the grill surface. This will improve the quality of your cooking and reduce gas consumption by approximately 34%.
Despite the lightweight build of the curved aluminium legs once you have Grill 2 Braai set-up you will appreciate just how stable the design really is. Packing away the Grill 2 Braai BBQ takes just a couple of minutes. There are two carry bags supplied for both the base unit and a separate Braai Plate carry bag to keep it clean, protected and secure.
2018 Cadac Catalogue
Click the 'Download PDF' button to download the latest 2018 Cadac Brochure.
Download PDF