New Motorhomes For Sale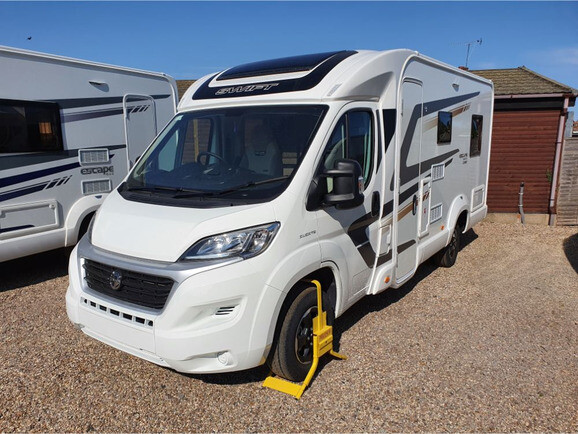 ** BIG SAVINGS - WAS £50,925 - NOW £47,995 ** Only just released in February 2020 the new Swift Escape Compact C502 appeals mainly to couples who want that extra comfort whilst they're away with its fixed single beds at the rear. It has a maximum of four belted seats but sleeps a maximum of two. It has a 2.3l 120bhp diesel engine and 6-speed manual gearbox. It is fitted with the 'Comfort Pack'
Year : 2020
Berth : 2
Maximum Technical Permissible Laden Mass
MTPLM : 3300kg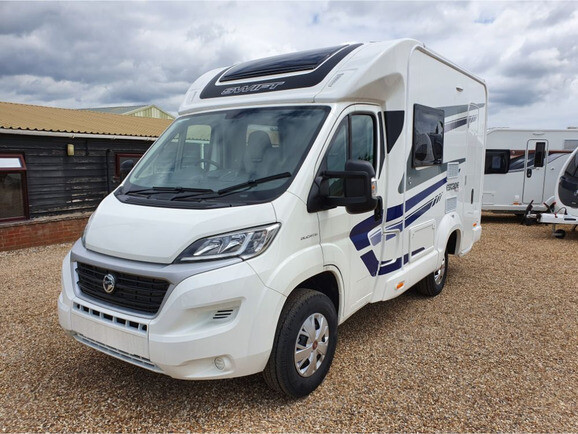 ** FURTHER SAVING - WAS £50,690 - THEN £46,995 - NOW £44,995 ** The Swift Escape continues to be one of the UK's best selling motorhome ranges and it's not hard to see why. The Escape 612 is a new 2-berth layout for 2019 with parallel seating arrangement which allows to sleep as two single beds or a large double bed and has a kitchen across the rear. The demonstrator 612 comes upgraded to the 'Comfort and Winter Packs' and is fitted with the optional Automatic Transmission.
Year : 2019
Berth : 2
Maximum Technical Permissible Laden Mass
MTPLM : 3500kg
New motorhomes for sale include two ranges from the Swift Group. Swift Slect is a panel van conversion based on a Fiat Ducato, there are 4 base models in the range, the Swift Select 122, 144, 166 and Select 184. Although there are only 4 base vehicles for sale Swift Select has been designed to be extremely versatile with two additional packs that can be purchased to upgrade the base vehicle, as well as the availability of other optional equipment. The Swift Select base vehicle is already very well equipped however, the 'Comfort Pack' and 'Drivers Pack' give buyers the ability to personalise the motorhomes specification.
The Swift Escape is an entry level coachbuilt motohome range that completes our new motorhomes for sale. With prices starting sub £50,000 Swift Escape is the UK's best selling range of motorhomes. The Swift Escape 604 was crowned Winner of, Motorhome of the Year 'Best Compact Motorhome' at the Practical Caravan and Practical Motorhome 2018 Awards. The Swift Escape 604 is just 5.97m in length, combining 4 berths, modern style, bundles of equipment and a washroom with separate shower.
Choosing a new motorhome can be confusing, there are so many motorhomes for sale to choose from and making the wrong decision can be costly and disappointing. At Homestead Caravans we pride ourselves on our high levels of service, we operate a relaxed sales environment and do not use high pressure sales tactics. We'll want to be sure you are happy with your new motohome not just during your time with us but for years to come.