'ALL NEW' Maypole Premium Breathable Caravan Cover with *FREE Breathable Hitch Cover!
Back
It seems impossible to believe that in just a few short weeks the sun will set on summer and quite frankly, it doesn't feel good to have to remind you. But Homestead Caravans Purchasing Department recently handed me an All-New Product alert vis-à-vis Maypole Premium Caravan Covers, and they were most insistent I tell you...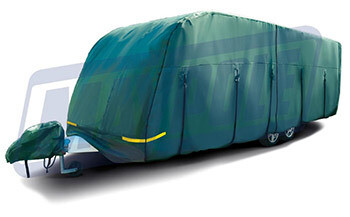 If you had the understanding of hindsight and knew with certainty that this winter would be the worst on record, it's only natural that you would want to make preparations to ensure the survival of your family ahead of time. Of course such predictions are beyond most people to make, which in itself is a good case for exercising preparedness.
Likewise, when putting your Caravan into storage for the winter there is simply no way of predicting what might occur. Getting a good nights sleep is so much easier knowing you have done everything you possibly could to keep it safe, secure and protected. The benefits of buying a Maypole Premium Caravan Cover are there to be enjoyed all-year round, during winter months or for shorter periods of time as required.
ALERT!! Get ready for Winter with our full range of Caravan Covers For Sale, available in-store or by visiting our Caravan Covers Online Shop section.
Key Benefits of Fitting a Caravan Cover
Beware of seeking out a Cheap Caravan Cover, especially for winter storage. The cost of purchasing a Maypole Premium Caravan Cover is easily justified when taking into consideration the value of the average Caravan. Discoloured, faded, cracked and scratched paintwork will ultimately be reflected in the resale value of your Caravan. If you value your labour naturally you are going to want to take care of your investments. Maintaining the appearance of your Caravan is going to be a whole lot easier if you keep it protected at all times.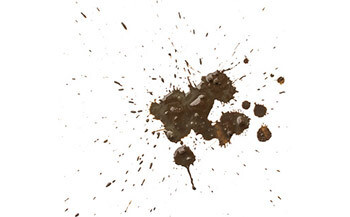 Fitting a Maypole Premium Caravan Cover is the most effective way of protecting both the interior and exterior of the Caravan from an exhaustive list of harmful factors, responsible for prematurely ageing all Caravan surfaces.
Many people choose to place their Caravan in the care of a professional Caravan storage firm, where it is common practise to maximise available space by packing Caravans tightly together. In this scenario it is easy to see how scratches might mysteriously appear over time with no apparent source, especially if owners have access to Caravans stored in close proximity. If your Caravan is wearing a full Caravan Cover this scenario can be easily avoided.
A Caravan will undoubtedly age faster if it is continually exposed to the elements. UV light is particularly degrading. Overtime paintwork and decals fade, and plastic once supple turns dry and brittle. Caravan Covers also help protect metallised and metallic surfaces and prevent rubber seals from drying out, which happens to be a leading cause of damp. Harm caused by UV rays can just as easily discolour interior furniture and cause soft furnishings to fade rapidly even in winter.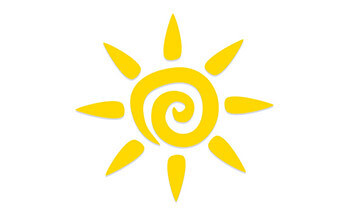 Let's not forget water, a Maypole Premium Caravan Cover incorporates a protective barrier to prevent moisture penetration. Any water that does get under the Cover is easily able to evaporate thanks to the inherent ability of the material to breathe. Say no to rain, snow and ice! Just a few more unassailable reasons to Shop For a Caravan Cover this winter. Read on to learn more about Maypole Premium Covers material and breathable properties.
Last but not least Caravan Covers offer excellent protection against everyday bird lime and droppings, green moss, leaves, dirty streak marks, smog, dust, traffic pollution and low hanging branches. Goodness me, it seems no matter which direction one looks, Caravans are under constant attack!
All New Maypole 4-ply Premium Breathable Full Caravan Cover
Modelled on the enormously popular Classic Caravan Cover range with improvements to functionality and ease of fitting, Maypole Premium Caravan Covers provide reliable and robust, all-season protection at very competitive prices. In our opinion these Covers are one of the best quality, non-bespoke Caravan Covers available from any UK supplier.
There are 6 sizes to choose from depending upon the body length of the Caravan, catering for the majority of UK Caravans from 12ft up to 25 ft in length.
Benefits of Maypole's 4-Layer Composite Material
Maypole Caravan Covers are constructed from 4-layers, one more than most brands. This extra layer provides additional strength and durability, resulting in a longer life with typical use. Using only 3 layers does of course keep prices down for end users but the old saying, "You Get What You Pay For", is very much applicable in this instance.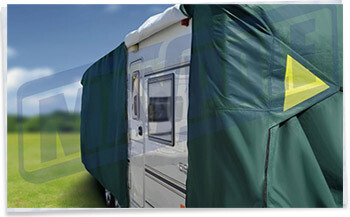 The 4-layer non-woven polypropylene fabric is made to a high standard and fully UV-stable, ensuring long product life. The composite design adds extra integral strength to the Cover while remaining flexible enough to breath. This encourages condensation to evaporate and eliminates mould and mildew, ensuring moisture continually moves away from the Caravan. The Premium Maypole Caravan Cover has a hydrostatic head of 1000mm.
The composite materials used include, three layers of spun bound Polypropylene for optimal breathability and evaporation plus, a single water membrane layer lets air flow in and keeps water out. All layers are bonded using an innovative rounded pattern, which is able to resist stresses and tears under normal weather conditions.
Thanks to its soft non-abrasive lining the Maypole Premium Caravan Cover will not scratch the Caravan but we recommend you thoroughly wash the Caravan before fitting the Cover to avoid scratches from occurring. See 'Cleaning your Caravan before Fitting a Caravan Cover' below for additional info.
Premium Exclusive Features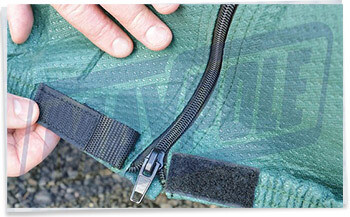 Unlike some Covers fitted with 2 zips Premium Covers are fitted with 3 extra strong heavy duty zips located on the nearside of the Caravan. 2 Zips simply unzip and roll up to allow for easy access to your Caravans exterior door and allows the door to be fully opened should you need to get inside your Caravan for any reason. This is a lot more convenient than having to unzip one corner of the Caravan Cover and struggle along until you reach the door to then find that you cannot open it properly. Three zips make sure fitting and removing the Cover is easier than other brands, a feature that is greatly appreciated by caravanners with larger Caravans.
Maypole Premium Covers include adjustable straps on the rear and side, which are perfect for tightening any excess material to prevent flapping in the wind and to maintain a safe and tidy looking appearance. The Premium Cover also features extra strong double stitching for improved strength and long life.
Maypole Premium Caravan Covers feature Reflectors on the front, side and rear to ensure clear visibility when stored, especially at night.
Caravan Cover Offers and Voucher Codes
For an unspecified period (until stock runs out) a FREE breathable Hitch Cover with adjustable strap is included, as well as a 10% online discount OFF displayed prices for forward orders placed before 04/09/2017.
At the checkout please use Voucher Code: 'PREM10'
Premium Standard features
Soft non-abrasive backing material designed not to scratch the Caravan.
Elasticated hem that allows a for a snug and tailored fit.
Extra strong double stitched adjustable nylon straps to secure the Cover.
Supplied with handy storage bag for when not in use, together with instructions.
Premium Maypole Caravan Covers are 231cm in width which is more generous than most other makes of non-bespoke Caravan Cover.
Maypole Premium Breathable Caravan Cover sizes
To find out what size of Cover you need, measure the external length of the Caravan body at its longest point (not including the A-Frame) and pick the most appropriate size from the list below.
Caravan Length (Approx)
Metric / Imperial / No. of Side Straps
Up to 4.1m / Up to 14ft / 4
4.1 - 5.0m / 14ft - 17ft / 4
5.0 - 5.6m / 17ft - 19ft / 5
5.6 - 6.2m / 19ft - 21ft / 5
6.2 - 6.8m / 21ft - 23ft / 6
6.8 - 7.4m / 23ft - 25ft / 7
Cleaning your Caravan before Fitting a Caravan Cover
It is very important that you clean and dry your Caravan before putting it into winter storage when fitting a Caravan Cover. This is because any grit and fine dirt that collects over the season which might not be easily visible, acts as an abrasive when trapped between the Caravan bodywork during breezes or windy conditions. Even the incredibly soft fabric used to produce Maypole Premium Caravan Covers cannot mitigate all scratches in windy conditions.
There are a number of specially formulated Caravan cleaning solutions such as Fenwicks Caravan Cleaner. We recommend you use this product alongside the popular Bobby Dazzler or Overwintering solution for best effect. These specialist cleaners are designed to ensure your Caravan is clean and protected from damage, which makes them ideal for use before installing a Cover.
Imagine if you will, unwrapping an unblemished, sparkling clean and highly polished Caravan at the beginning of the new season.
Comments
Be the first to comment on this article