Official Kampa Awnings Representative at the 2018 NEC Motorhome and Caravan Show
Back
Get over it competition! Once again Homestead Caravans has been chosen as an official representative of Kampa Awnings at this Octobers Motorhome and Caravan Show at the NEC.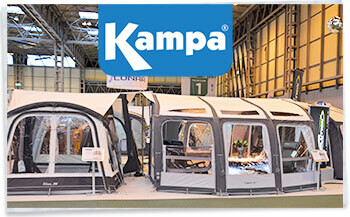 After a very successful Motorhome and Caravan Show in 2017 we've been selected once again by Kampa to take residence on the Kampa trade stand. Based in Essex just a few miles from the East Coast Homestead Caravans has one of the largest independent Caravan Accessory Showrooms in the UK and is uniquely positioned to help NEC Show visitors gain real insight into Kampa's exceedingly good range of Awnings and Accessories.
Our 15,000 SQ. FT. superstore includes a dedicated Kampa Awning Showroom with 12 of Kampa's most popular AIR Awnings (call before visiting off-season) on display. In addition the showroom is dressed with an abundance of Kampa Awning Accessories and Outdoor Equipment including, Camping Furniture and Utility Tents.
The Kampa showroom at Homestead Caravans gives buyers the unique opportunity to see Europe's best selling Awnings under one roof, not to mention access to a very experienced Kampa sales team. If you need more time to make up your mind, why not pop into our on-site Café for a coffee and a bite to eat and talk it over.
READ MORE: See You on the Swift trade stand at the Motorhome and Caravan Show Nec October 2018
Kampa - Emerging International Brand Award Winner
Kampa Awnings dominate the UK and European market and the company has gone from strength to strength, recently winning, 'Emerging International Brand' Award at the 4th annual Sunday Times Lloyds SME Export Track 100 awards ceremony.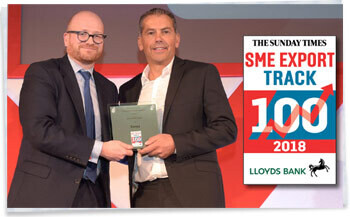 Kampa has a ferocious appetite for design and innovation, unrivalled by any other UK or European Awning Manufacturer. It's not that other Awning manufacturers don't partake in research and development, it's just Kampa is better at it. At Kampa continuous enhancements are 'par for the course' and thanks to Kampa's extensive experience, when changes are made no further tweaks are necessary. Kampa is one of the most innovation companies around with a extremely skilled and experienced management team.
Kampa's Single POINT Inflation System is the nemesis of other AIR Awning manufacturers and the foremost reason for buying a Kampa Inflatable Awning. Unlike other brands where each AIRPole needs to be inflated individually, Kampa AIRPoles are inflated through a single external valve. For this reason Kampa AIR Awnings are the fastest to set-up and thanks to their larger diameter AIRPoles and advanced design incredibly stable too.
Changes for the 2019 Season
For 2019 the Kampa Rally AIR Pro and Ace AIR ranges are remaining exactly the same for 2019 with no new features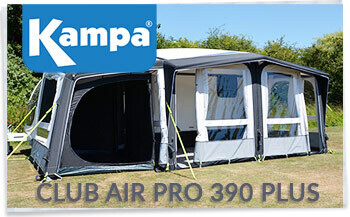 The Rally AIR Pro 390 Grande has been renamed Grande AIR Pro 390 and the Fiesta range of awnings have been discontinued for 2019, although we predict that some stock will be available for the first few months of the year.
New Kampa models for 2019 include a range of 'All Season' awnings that are especially popular in Europe and with caravanner's looking to stay on-site for weeks at a time and require an awning that's especially rugged and resilient. There is also a new range of Club AIR Pro models 330, 390 and 450, together with Club AIR 390 Plus, which have the look of a traditional awning.
The Sunshine AIR Pro (sunshade) now comes in two sizes 300 and 400 with optional extra 2 Side Wall Set. Also new for 2019 is the AIR Break Pro inflatable windbreak, which simply requires pegging out and inflating to set-up plus, there's a redesign of the 3 and 5 Panel windbreak with the material now going all the way down to the ground. It's now possible to add a door entrance to link two windbreaks together or add an additional panel to extend the length.
Show Tickets Information
The show runs from the 16 -21 October and kids under 15 get in FREE! A show guide is included in the price and parking is included for those attending the show. Pets are restricted to assistance dogs. For more information about the Motorhome and Caravan Show it's best to visit the website especially if you would like to book tickets online. See below for an outline of what's going on:
Don't miss your chance to be part of the UK's one and only new-season launch event. Be one of the first people to see the new and exclusive leisure vehicle launches from major manufacturers.
Take a seat in our LIVE Theatre and be one of the first to see the NEW-FOR-2019 product launches
Step inside, browse and compare all new season motorhomes, Caravans, campervans, trailer tents, holiday homes, lodges and thousands of accessories. campervans in the UK
Speak directly to the manufacturers behind the latest innovations
Improve your towing and motorhome manoeuvring skills with FREE expert-led tuitions
Get inspiration from our industry experts and celebrity enthusiasts as they share their passion for the great outdoors
Get inspiration for your next adventure
Comments
Be the first to comment on this article