STOP THE PRESS!! Make Way for Our Big Price Announcement.
Back
In the latest of what can only be described as, "a nasty run of bad luck for competitors", Homestead Caravans has once again made less competitive caravan accessory shops look well..., less competitive!
All joking aside, we really do have the following great 'money saving' news to share with you...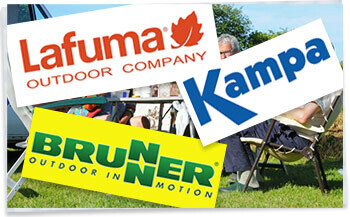 In preparation for the 2017 season, we have sourced a wide range of outdoor equipment directly from renowned European manufacturers, Lafuma, Brunner and Kampa effectively cutting out the middle man!
The good news for our customers is, that bypassing the usual import agents we have been able to forestall anticipated price increases, caused by weakness in the £ V's Euro exchange rate.
This has also allowed us to maintain 2016 prices on many 'fast selling' high quality products plus, we have reduced prices on many other products expected in 2017.
One of the great advantages of shopping at Homestead Caravans 15,000 square foot accessory showroom is, you're guaranteed to see products you won't find at most of our competitors. Our latest buying scoop has not only made the impossible possible, it also means that come 2017 our customers can expect to discover many new and unique caravan, motorhome and camping accessories, not readily available in the UK.
We are constantly striving to offer the most complete range of Caravan, Motorhome, Campervan & Camping Outdoor leisure accessories, at the very keenest prices for our on-line and in-store showrooms.
A Taste of What's to Come
Lafuma
Worth a mention is the Lafuma Futura Air Comfort Recliner & Cham Elips Air Comfort chairs. These outstanding garden chairs were introduced for the 2016 season and proved very popular with caravan, motorhome and park home owners. The upside is, these will be reduced in price in 2017, we're just sorry this wasn't possible in 2016.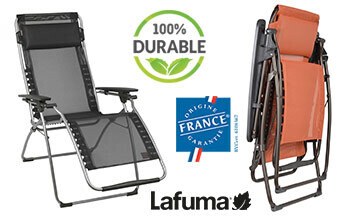 Customers loved the lightweight frames and high level of comfort provided by the padded seats and back rests. The new quick drying and technically advanced, 3-layer weatherproof fabric, makes these new Lafuma chairs ideal for any outdoor situation.
We are also able to offer reductions in price on the ever popular Cham Elips Batyline Chairs and a massive reduction in price on the Lafuma California Table, which incorporates 4 vertically adjustable telescopic legs.
This really is a great time to invest in a Lafuma chair at Homestead Caravans, where this superior quality folding camping furniture range has never been better priced and all items are supplied with a two year warranty.
Brunner
For those who may be unfamiliar with the Brunner brand, Brunner is a well established Italian company who, produces a rather unique range of camping, outdoor and 'on-the-road' accessories. The range of product they offer is quite vast, and much emphasis goes into design and innovation, which is evident in the many high quality products they offer.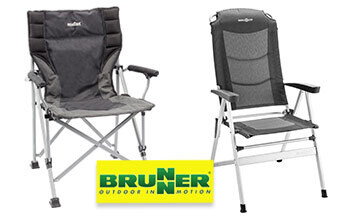 We feel that buying directly from Brunner is really going to make a difference to our customers this coming season and we recommend you look us up before you decide to make a purchase. Look out for keen prices on the popular Raptor and Kerry Slim range of outdoor chairs, in a choice of attractive designs and with optional footrest.
Just because it's such a popular product range for our caravan accessory showroom, we should also mention the fact that Brunner produces a great range of housewares. This includes a fabulous selection of tableware, which quite frankly wouldn't look an inch out of place at home. There's currently a great deal of demand for the Brunner 16 piece melamine Lunch Box Space Set. What customers love most about this product is the one-of-a-kind, anti-slip surface incorporated into the bases.
Kampa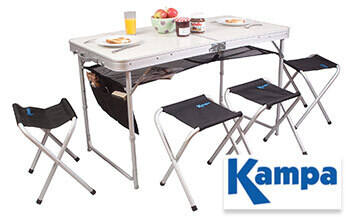 Homestead Caravans is the number one location to buy all your Kampa products. Our dedicated Kampa Awning Showroom displays all the latest Kampa Caravan Awning innovations, and is the ideal location to compare Europe's best selling awning range up close and in person.
READ MORE: Homestead Caravans New Dedicated 'Kampa Awning Showroom' is NOW OPEN!
We have in place extremely large orders with Kampa for their superb range of camping tables and chairs, which will permit us to navigate the coming price increases in your favour. In fact in 2017 our showroom will be displaying over 25 different Kampa furniture products, in different designs and colours.
There really is no other Kampa dealer in the UK who can compare for choice and price but please don't take our word for it, come and see yourself!
Our Commitment to Lower Prices
We are continuing our commitment to source products directly wherever possible over the coming months, hopefully this will minimize the impact on price increases caused by fluctuating currency rates.
Please note that some Lafuma and Brunner products may be arriving in the first quarter of 2017. Please check the website for availability or call 01255-830-229.
We look forward to seeing you in the near future.
Comments
Be the first to comment on this article