Homestead Caravans New Dedicated 'Kampa Awning Showroom' is NOW OPEN!
Back
Here's some great news to share with like minded family and friends! The Homestead Caravans NEW Kampa Awning Showroom has just been officially opened and is being well received by visitors.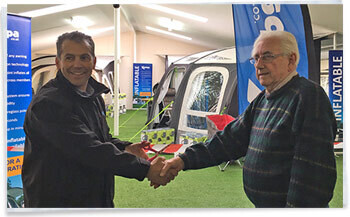 Oh yes! We are very, very excited to announce the opening of our everso, brand new, shiny, dedicated 'Kampa Awning Showroom' on Friday the 11th of March 2016. The ribbon was cut by Mark Lawless(left), the proprietor of Kampa UK Limited and Gerald Swinscoe, Chairman of Homestead Caravans & Outdoor Leisure.
The new in-store showroom is now home of the very latest Kampa caravan awnings, together with the full range of Kampa awning accessories and many more Kampa products besides including, the Verona and Tuscany furniture ranges, Utility Tent, Privvy Loo Tent and Kampa Awning Annexes.
The full compliment of lightweight and inflatable caravan awnings on display includes many established favourites, as well as new models launched for 2016. For a full list of models on display please read on.
The new display area is situated inside Homestead Caravans 15,000 square foot showroom and aims to showcase not only awnings and awning accessories, but other closely associated products from the Kampa range, including tables, chairs, lighting and Kampa Windbreaks.
Homestead Caravans managing director Jim Parry said this about the new Kampa showroom opening: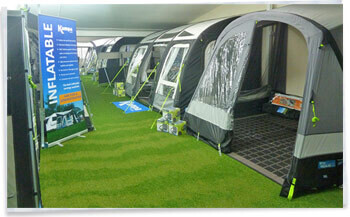 "The decision to create a Kampa dedicated showroom was made in concert with Kampa. We believe that the kampa awning range is the most complete available and offers caravanner's every conceivable option and price point. The new showroom will give our customers a unique opportunity to view the range under one roof, which will be hugely beneficial when deciding which awning to buy."
"Homestead is also an Approved "Kampa Awning Expert" with Premium Dealer status. Our awning sales team have received specialist Kampa training and therefore, will be uniquely positioned to provide customers with unparalleled advice and support."
READ MORE: 2016 Kampa Caravan AIR Inflatable Awnings - Range Overview
As with previous years, Kampa choose to take their 2016 Awning Brochure photography at Homestead Lake Park, on the adjacent and fully serviced Homestead Rally Field, which is normally exclusively reserved for Caravan Club rallies throughout the season. Homestead Lake Park is Homestead's very own caravan touring park that's situated within Homestead Caravans showground complex. Homestead Lake Park is just one more reason to head down to the store and take a look around.

For touring park bookings please call: 01255-833-492.
As well as the new Kampa awning showroom, Homestead Caravans accessory shop is home to one of the largest collections of Caravan Equipment and Outdoor Gear in the UK, and is a popular destination for caravanner's living in Essex and further afield.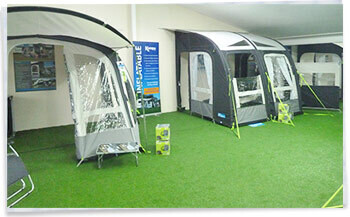 The choice of product is staggering and all products are backed up by a credible Price Match Promise, so there's no need to wait for your next big purchase, in the hope of finding a better deal online.
Other Kampa accessories available from the caravan accessory shop include caravan covers, gas stoves, camp kitchens, cook sets, cookware, freestanding cupboards and larders, inflatable mattresses, sleeping bags, water containers and housewares plus, many more besides.
2016 Kampa Awning & Accessory Display List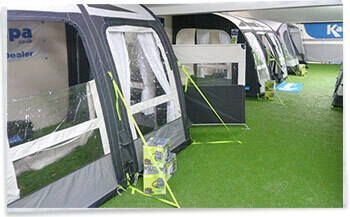 At the time of writing(see top of article for date) the following list of Kampa awnings and accessories were on show (see the list for one or two exceptions). However, this does not complete the full list of Kampa products available from our store, only products found in the Kampa Awning Showroom are listed below. As ever, we recommend you call 01255-830-229 before making a trip for a specific products/s.
Kampa Caravan Awnings
Fiesta Air Pro 350 with Canopy & Annexe (awaiting annexes)
Rally Air Pro 260
Rally Air Pro 390
2015 Fiesta Air 260 (discontinued for 2016)
2014 Rally Pro 390 (reduced price)
Rally Pro 330
Rally Air 260
Rally Air Pro 200
Fiesta Air Pro 420
Rally Air Pro 330 & Annexe
Ace Air 400
Rapid Air 260
Kampa Awning Accessories
Continental Luxury Breathable Carpet
Ace Air 400 Roof Lining
SabreLink 150LED Awning Light plus 2x 150LED add-ons
Accessory Track Organiser
Accessory Track Hanging Rail (due April)
Rear upright pad poles
Other Kampa Accessories on show
Utility Tent
Privvy Loo Tent
Loo-Loo Toilet Tent
Luxury Windbreak
Susie & Rosie Cupboard / Larder
A selection of Kampa Chairs & Relaxers
Verona range including: Indulgence Relaxer, Lounge Chair & Luxury Plus Chair (extra wide)
Tuscany range including: Indulgence Relaxer, Opulence Relaxer & Serene Relaxer
Kampa Awning Table
Element Waterproof Table Large
Prestige Double Slat table
Reasons to Buy your Kampa Awning from Homestead Caravans
There are lots of reasons to buy your Kampa (AIR) awning from Homestead Caravans, via our extensively stocked accessory shop or online, with FREE next working day delivery to most of the UK.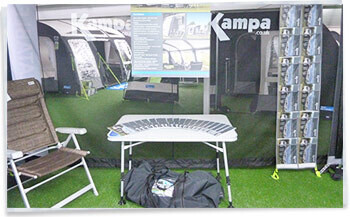 We are open 7 days a week and have plenty of free parking spaces. Why not combine a visit to our store with a trip to the beach? Walton, Frinton and Clacton on Sea are only minutes away and offer great locations to spend time with the family, beside the sea and on the pier.
Here are some more great reasons why we think you should purchase your next Kampa product from Homestead Caravans:
1. Homestead Caravans is an Approved "Kampa Awning Expert" with Premium Dealer status. This benefits our customers in the following ways:
Our Awning Sales Team has received specialist training from Kampa and therefore, is uniquely placed to help customers identify the most suitable Kampa awning, taking in to consideration customer circumstances and requirements.
Extensive Kampa sales experience – selected by Kampa to support the brand at the 2016 Caravan, Camping & Motorhome Show 2016 and previous shows. Over 50 years experience in Caravan Awning Sales.
Homestead Caravans and Kampa enjoy long-standing relationships and our companies are located within close proximity to one another. In the unlikely event something should go wrong with your awning in the future, you can be sure of a responsive and speedy resolution.
2. New large in-store dedicated Kampa Awning showroom, displaying 12 individual models, together with annexes and many other related items.
One of the best locations in the country to make an informed decision with so many models on show.
Have a drink and a bite to eat at our on-site Café to discuss your thoughts in private, before heading back to the store with your final decision.
Every awning on display is available from stock – there's no need to go home empty handed!
We hold in-stock the full range of Kampa Awning Accessories to compliment the awning range.
Fantastic prices! We buy big, which means you benefit from our ultra-competitive prices, backed up by our Price Promise Guarantee.
Homestead is well worth the travel miles and quite frankly..., we'd love to meet you!