2018 Kampa Awning Showroom Now Open
Back
Homestead Caravans 2018 dedicated Kampa Awning showroom is now ready for viewing and is rumoured to be the best display of Kampa Awnings ever. Visitors can expect to see 12 of Europe's best selling Caravan AIR Awnings & 2 Camper Van AIR models...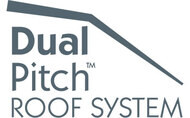 Make sure you ask about Kampa's latest design innovations including, 'Dual Pitch Roof System'. Dual-Pitch Roof System features on all Kampa Caravan AIR Awning ranges apart from the Fiesta AIR Pro and brings major revisions to the roof design. Awnings that feature Dual-Pitch Roof System now offer increased headroom and more efficient weather protection, thanks to its aerodynamic profile that is designed to deflect wind and prevent water from pooling on the roof. This important design modification makes Kampa Awnings more spacious and useable than any other Inflatable Awnings on the market.
READ MORE: 2018 Kampa Caravan AIR Awnings Review
Kampa AIR Awnings on Display
At the time of writing the current list of AIR Caravan Awnings on display is:
Rally AIR Pro 260 Plus
Ace AIR Pro 300
Ace AIR Pro 400 with Conservatory Annexe
Ace AIR Pro 400 All Season
Rally AIR Pro 390 Plus
Classic AIR 380
Fiesta AIR 420
Frontier AIR Pro 300
Fiesta 280 with Canopy
Rally AIR Pro 390 Grande
Rally AIR Pro 330 with Tall Annexe
Revo 240 with Privacy Room
Current Kampa AIR Motorhome Awnings on display include:
Travel Pod Action AIR VW
Travel Pod Motion AIR VW with Canopy
Kampa Travel Pod AIR Motorhome Awnings
For the 2018 season and already available for viewing in 2017 are two Free-standing Driveaway Kampa AIR Awnings, suitable for Motorhomes and Campervans. The Kampa Travel Pod Action AIR VW and the Kampa Travel Pod Motion AIR VW are suitable for VW Camper Vans and other minivans with a height up to 210cm. Both AIR Awnings offer the usual high level of quality and workmanship found in caravan ranges and have an attractive and modern appearance.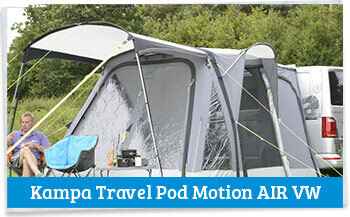 The Motion AIR VW is displayed with the optional Front Canopy, which is a great accessory if you plan on sitting out in the sun. These stylish looking lightweight Inflatable Awnings are very versatility and offer plenty of space with lots of headroom. Thanks to Kampa's clever design Kampa Travel Pod AIR Awnings are easy to set up and take down and are very stable.
One of the great advantages of Kampa Freestanding drive-away Camper Van awnings is they can be left on site to reserve your pitch whilst you explore the local area in your vehicle.
These drive-away awnings can be attached to the vehicle in several ways, guyline method, Velcro loops or using one of Kampa's Driveaway Attachment Kits.
Travel Pod Optional Equipment
Kampa offer a range of useful optional equipment to compliment the Travel Pod CamperVan Awnings;
Two Berth Inner Tent
Features a sewn-in groundsheet wide zipped doorway and ventilation panel. Ideal for use as a bedroom for family or guests.
Footprint Groundsheet
Footprint Groundsheets sit directly under the awning to help protect the Travel Pod awnings clip-in groundsheet from mud and stones.
Insulated Fleece Carpet
Insulated Fleece Carpet are especially tailored to fit the living area of the Travel Pod. These soft, cosy carpets add warmth and comfort to your awning. Washable with durable heavy duty PVC backing.
Travel Pod Motion Canopy
The Motion Canopy is made in matching materials and is a really stylish and practical addition, designed to simply zip onto the front of the Travel Pod Motion and supported by strong, lightweight aluminium poles.
Storm Tie Down Kit
An essential add-on the Storm Tie Down Kit is designed to fit Travel Pod Motion with storm kit fixings. Use to secure and stabilise your awning to the ground in windy weather.
Many Reasons to Buy your Kampa Awning from Homestead Caravans.
Homestead Caravans is based in Essex and operates one of the largest dedicated Caravan Accessory and Outdoor Equipment showrooms in the UK. If you're looking for the best location to buy your leisure supplies Homestead is the GO-TO destination.
Homestead have been awarded 'Kampa Awning Expert' Premium Dealer Accreditation.
We have sold Kampa awnings since 2006.
Over 50 years experience of caravan awnings.
We are both Essex based companies located within close proximity to one another.
Large in-store dedicated Kampa Awning Showroom displaying 12 different models, together with annexes and many other related items.
Full range of Kampa accessories to compliment the range.
Large stock holding of Kampa products.
FREE next working day delivery to most of the UK. Two days for Highlands and Islands.
2018 Kampa Caravan Awning Brochure
If you would like to find out more about the 2018 Kampa Caravan Awning range you can download the 2018 Brochure by clicking the 'Download PDF' button. It includes the latest 2018 Poled and Inflatable Awning Ranges. If you have any questions please don't hesitate to call our Awning Sales Team on: 01255-830-229.
Download PDF
Comments
Be the first to comment on this article