Paintseal Direct Paint Protection Film for Caravans
Back
Say NO to flat and dull paint surfaces and lock-in that brand new, glossy shine with Paintseal Direct. Paintseal paint protection film guarantees your caravan will look 'newer for longer'...
You may be tempted to invest in just about every caravan wash, wax and polish on the market, and spend every weekend vigorously washing, buffing and polishing, in a futile attempt to maintain that showroom dazzling shine. The the fact is that from the moment the rubber meets the road, the high gloss finish of your new caravan, will be under constant attack from road grime, fumes, acid rain, black streaks, tree sap and bird droppings, which tend to be acidic.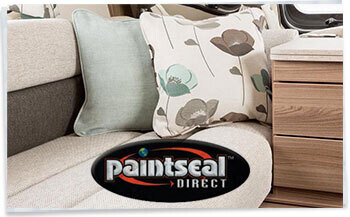 Ironically, the harder and longer you polish your caravan, the faster the paintwork is likely to begin to fade, as many polishes contain a cutting element, that overtime is likely to result in a flat and dull finish.
The large dimensions of caravans makes cleaning stubborn marks, especially in hard to reach areas difficult and time consuming.
Although this is a gradual process that can take years to play out, there is a way to keep the caravan paintwork in showroom condition for far longer, while making cleaning easier, more enjoyable and less time consuming.
Another benefit of Paintseal is that in the event you decide to sell your caravan at a later date, it will ultimately look far younger than the average caravan for its years, which should increase the resell price or trade in value.
What is Paintseal
The paint protection film applied by Paintseal Direct is a synthetic fluoropolymer of tetrafluoroethylene or polytetrafluoroethylene (PTFE), which is far more commonly known as Teflon. Teflon provides a stunning shine and is excellent at dispersing water on the caravan surface. Water and oil based products are not able to penetrate PTFE, allowing the paintwork to be preserved for much longer.
Paintseal applies a protective film to the outside of your touring caravan that helps to prevent premature fading and harm, caused by ultra violet rays and acid rain. Once applied there will be no need for further polishing, just gentle and easy cleaning to restore that 'as new' high gloss shine.
Unlike many similar products Paintseal is also suitable for used caravans. It is applied in the same way, and will help protect your caravans paintwork from further degradation.
Here's what Paintseal Direct have to say about Paintseal Exterior Teflon coating:
We use a world leading PTFE sealant. This high-gloss, durable and transparent product is professionally applied by our specialist fitting team. Once applied, the coating seals and protects your caravan, motorhome, plane, helicopter or boat's exterior, and is suitable for use on ABS and GRP surfaces.

The paint sealant provides a tough barrier against road grime, acid rain and salt attack.

The removal of black streaks, bird lime and tree sap also becomes a lot easier, as the sealant barrier prevents them 'biting' into the exterior surface. It also means there is no need for the use of harsh and abrasive cleaning products (which can damage your paintwork). All that is required to retain that new showroom look is regular washing, and for those real stubborn marks, Paintseal Direct have developed excellent, non-abrasive/harmful cleaning aftercare products that do not damage the exterior coating.

Our PTFE treatments have been tested and approved by Hodgson Sealants and Thompson Plastics, ensuring that your caravan, motorhome, plane, helicopter or boat is fully protected, and in harmony with the ABS/GRP manufacturers guidelines.
Paintseal Interior Fabric Protection
Painseal Fabric is a specially formulated solution designed to protect your caravan and motorhome upholstery from general day-to-day grime and staining, caused by accidental spills.
General cleaning of the caravan seating area is also made easier, where all that is required is a gentle dabbing with a towel to absorb any spills.
The fabric protector has a non-aerosol based hypoallergenic PTFE formula, which coats all the seating areas, delivering an unbeatable defence against stains caused by accidental spills and day-to-day grime. The product after application is odourless and invisible and the really good news is, your fabrics will look and feel like new.
Paintseal Application at Homestead Caravans
Paintseal is not available for DIY application and can only be applied by a Paintseal Direct specialist field operative. Correct application requires training and experience to achieve the desired effect.
Paintseal application is undertaken in our extensive workshop, which helps to ensure a clean and perfect finish. If you are purchasing a new caravan from Homestead Caravans, we can arrange for Paintseal treatment to be applied before you collect your new caravan.
At the time of writing this article our single axle charge is £399, and £499 for a twin axle caravan. This price covers both, exterior Teflon Paintseal coating and interior Fabric Paintseal treatment.
Prices are inclusive of VAT. Paintseal Direct protective sealants are covered by a nationwide 'fully supported' 5 year guarantee, for new touring caravans and a 3 year warranty for used caravans.
Please call 01255-830-229 or email service@homesteadcaravans.co.uk for more information.
Comments
Be the first to comment on this article