Benefits of Caravan Servicing
Back
Imagine a world where the car you relied upon to get your family safely from point A to B, was no longer subjected to a mandatory MOT. Sure you might save a few pounds by skipping the test, but could you look your family in the eye and say it was worth it?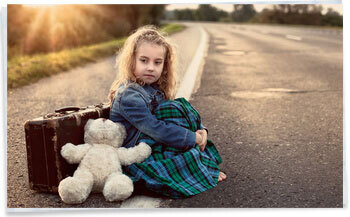 My point is this, you'd be surprised just how many caravanner's decide to avoid annual caravan service charges by avoiding the service altogether. The risks of personal injury to oneself, family members and other road users hardly requires explanation. Rolling the dice each time you venture out may end up costing you more than you had planned.
Apart from the safety, there are legal issues to consider, as by law every vehicle and caravan must be in such a condition as not to cause danger to anyone, while being towed.
Thankfully most caravanner's are well aware of the need to put their caravans through an annual service, and take their responsibility for the well being of their family and other road users, very seriously indeed.
Nip it in the Bud
The average price of a second hand touring caravan runs into several thousand pounds, and is a serious investment for most caravanner's. Taking care of that investment is likely to pay off when you finally decide to sell the caravan on. If the caravan hasn't been regularly serviced it may take longer to sell, and will most certainly command less money from a potential buyer.
Most problems that occur between services can be easily rectified at a reasonable price if caught early enough however, if a potential problem such as damp is left to fester, it will undoubtedly become a much bigger problem to correct.
Off course, there is another self defeating consequence to not keeping your caravan in tip top condition; breaking down on-route to your much anticipated holiday destination, is not going to be the ideal start to your holiday. If you have children, I sure hope you packed ear plugs for such an event!
DIY Caravan Safety Checks
Some caravan safety checks can be self directed including tyre pressures, tyre walls and road lights. Braking systems, wheel bearings, electrical and gas systems and appliances are best left to the experts, who posses the appropriate combination of skills.
Manufactures such as Swift are now giving 10 years `Body Integrity` warranty when you purchase a new caravan. This covers you against any water ingress or any type of body delamination, but this is dependant on annual servicing by a Swift approved workshop. Consequently you could left `High and Dry` or should that be wet, should this not be adhered to.
Approved Workshop Scheme (AWS)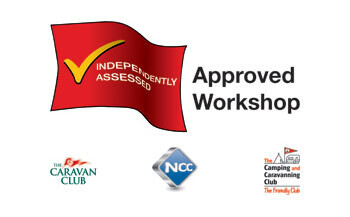 The AWS was set up in conjunction with the National Caravan Council (NCC) to ensure consistent standards and good practice within the caravan repair industry. All AWS members follow the same nationally agreed service schedule; provide clear menu pricing, a strict code of practice and also a dispute conciliation service.
You will normally get a six month guarantee on all work carried out, and members of the AWS are independently assessed each year for their ability and levels of customer service.
We can provide details of the work carried out on an AWS service or details can be found on the AWS website www.approvedworkshops.co.uk.
Caravan Servicing at Homestead Caravans & Outdoor Leisure Centre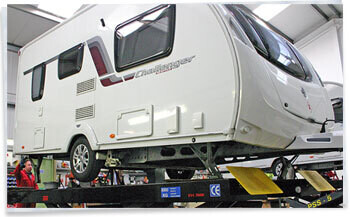 Some 65 separate checks are carried out on a standard service covering both the exterior and chassis together with the internal habitation parts of the caravan.
Homestead Caravans workshops have a range of specialist equipment such as caravan lifts, gas and electric testing equipment, and all of our technicians are regularly trained and assessed, in order to assure of our constant high standards when carrying out work on your caravan.
On completion of the caravan service you will be provided by service checklist that itemises all the points checked and will include advice and information on tyre condition and pressures. Remember tyres deteriorate with age but very rarely does the tread ware away, so tyres should be replaced once they reach seven years old, unless of course they show signs of deterioration earlier.
A vital part of our servicing is the damp check, and so a separate damp report detailing moisture readings will be provided. It's worth baring in mind that a reading of 10 - 16% is normal for a new caravan, but we will be able to comment more accurately once the check has been completed.
Comments
Be the first to comment on this article