Maypole Camper Van Covers Review - Cushioned Protection for Your Campervan
Back
Phew! Have you seen the average price of a VW Campervan lately? The good news is when properly looked after, VW Campers are fab at retaining their value, especially earlier classic models...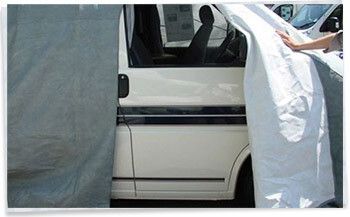 To this end, Maypole have created a range of low cost Covers that provide cost effective protection against a wide range of depreciating factors.
While there are many things you can do to protect your Camper Van from the rigours of normal wear and tear, some factors that lead to depreciation are more difficult to defend against. If you use your Campervan all-year round you're not going to get much use out of a Maypole Camper Van Cover but you could protect painted surfaces against UV light, weather and staining with a specialised solution.
If you do store your Camper for any length of time you will find a Maypole Camper Van Cover to be a very worthwhile purchase, saving hours of unnecessary cleaning, while helping to preserve a healthy resale value. Beware of Cheap Campervan Covers when looking for a long-term Winter Cover, it's important to ensure a Cover is water resistant and breathable to prevent condensation from forming. The cost of purchasing a competitively priced Maypole Camper Van Cover is easily justified, when taking into consideration the value of the average Campervan. Maypole Campervans Covers are available in VW T2, VW T3 (T25) / T4 / T5 / T6 and Fiat Ducato / Peugeot Boxer / Citroen Jumper.
Benefits of Fitting a Maypole Camper Van Cover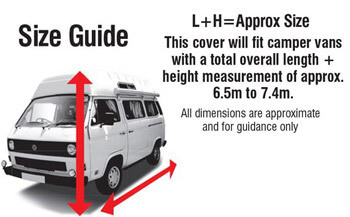 Maypole Breathable VW Campervan Covers are one of the best non-bespoke Covers on the market today and provides excellent all-year protection at a very affordable price. Maypole Covers have 4 separate layers that combine to produce a UV stable and highly water resistant fabric. The Cover has been specially designed to be kind to painted surfaces, so there is no need to worry during installation and removal.
Maypole Covers offer excellent protection against bird lime and poop, moss, leaves, black streaks, smog, dust, traffic pollution and low hanging branches.
A Camper Van will undoubtedly age faster if it is continually exposed to the elements. UV light is particularly degrading and overtime paintwork and decals fade, rubber seals dry out and plastic surfaces become brittle. Harm caused by UV rays can occur all year round, and cause interior furniture and soft furnishings to fade prematurely.
A Maypole Premium Camper Van Cover incorporates a protective barrier to prevent moisture penetration. Any water that does get under the Cover is easily able to evaporate thanks to the inherent ability of the material to breathe. Say no to rain, snow and ice!
4-Layer Composite Material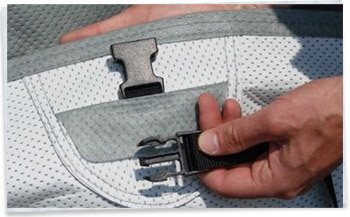 Maypole Campervan Covers are one of the only non-custom Covers on the market to offer 4-layer composite material. The non-woven polypropylene fabric is made to a high standard and fully UV-stable for a longer life span. The multi-layered design adds extra integral strength to the Cover while remaining flexible enough to breath, which aids the evaporation of moisture and eliminates mould and mildew. Maypole Covers have a hydrostatic head of 1000mm giving them excellent water resistant properties.
Maypole Campervan Covers layers are made up of three spun bound Polypropylene layers for optimal breathability and evaporation plus, a single water membrane layer that lets air flow in and keeps water out. All layers are bonded using an innovative rounded pattern, which is able to resist stresses and tears under normal weather conditions, making it ideal for all year round use.
How to Prepare your Camper Van before Installation
It is very important that you clean and dry your Camper Van before fitting a Maypole Cover. This is because any grit and fine dirt sitting on the vehicle surface can act as an abrasive when trapped between the Camper Van bodywork, especially during windy conditions. Even the incredibly soft fabric used to produce Maypole Premium Camper Van Covers is not enough to prevent all surface scratches if the paintwork has not been correctly prepared.
Available Models
Although these Covers are advertised as being model specific they can also be fitted to other makes and model of Campervan. Finished in Grey and supplied with breathable handy storage bag for when not in use, as well as fitting and care instructions.
Maypole Campervan Cover VW T2 is suitable for all models with:
Most roof options
Standard or lowered suspension
Rear cycle carrier or front mounted spare wheel
The Maypole VWT6,T5,T4,T3/25 Cover will fit any Campervan with an overall length plus height measurement of approximately 6.5m - 7m in total. Maypole Campervan Cover T6,T5,T4,T3/T25 is suitable with most roof options, including:
Pop-top and high-top
Rear cycle carrier
Side mounted awning blind
Maypole Motorhome Fiat Ducato, Peugeot Boxer & Citroen Jumper is suitable for all models with:
Standard or high top
Short or long wheel base
Rear cycle carrier and ladder
Side mounted roll out awning