What Makes the 2016 Sprite Major 4 SB an Ideal Family Caravan?
Back
If like me, you were fortunate enough to enjoy family caravan holidays with your parents as a child, you are likely to have an indelible appreciation of the caravans ability to seed precious memories.
Let's not forget, our 2 and 4 wheeled friends are quite literally built to facilitate the most precious and rewarding moments of human experience.
The small child I once was and the man that I have become can always agree on one thing; that the time spent on caravan holidays with family lead to the creation of some of the happiest memories of my life, both as a child and a parent.
"Behind Every Happy Caravan Holiday is a Well Oiled Caravan"
Reflecting back on my childhood, it's easy to appreciate how the family caravan transformed everyday events into exciting mini adventures, where sitting down for meals and climbing into bed at night became magical and exciting experiences to look forward to. As far as I was concerned the caravan was without rank and colour and it surely didn't matter how many bells and whistles it boasted, it was a caravan and that's all that mattered.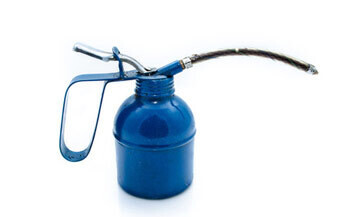 For my parents as providers of the grand adventure, things may have not been quite so euphoric. After all, a failing water heater producing inadequate hot water isn't going to give a 7 year old nightmares, but it might be the straw that breaks the camels back if Mummy and/or Daddy are already testing the stress barometer.
At first glance it may seem that kids are impervious to the welfare of the caravan but the reality is a caravan that isn't fit for purpose could negatively impact the entire family, especially if the holiday is cut short or worse still, Mum and Dad get stressed!
Far from the caravan having a passive participation in the delivery of experience, it seems that behind every happy caravanning holiday is a well oiled caravan. So, if we desire to create unforgettable and happy family caravanning memories it's clear we're going to need a suitably oiled family caravan to make them in. Cue, the 2016 Sprite Major 4 SB.
Back to the Present
The sales team at Homestead Caravans love the Sprite Major 4 SB. Apart from being an award winning single axle caravan, it has all the ingredients necessary to make it an ideal caravan for small families, as well as couples looking for a bit of extra space.
Here are some of our favourite 'family friendly' features we believe make the Sprite Major 4 SB an Ideal Family Caravan:
Full Width Rear Washroom with Separate Shower
One of the stand out features buyers looking for a family caravan really want is a washroom with separate shower. First time buyers may not have realised just how much they want it, but believe you and me, it's only a matter of time before it makes it to the top of the list.
The 2016 Sprite Major 4 SB SR boasts a full width rear washroom with separate shower. For families used to sharing 2 or more bathrooms the thought of having to get ready in a single room may be enough to produce irrational thoughts and ticks!
Getting ready in the caravan come morning time does require a certain amount of organisation, especially if you have teenage children who demand their own space and time, usually lots of it. Having a separate shower room means two people can get ready simultaneously without getting in each others way. Just make sure the mirrors free to use when I get out of this shower!
Transverse Fixed Double Bed
A transverse fixed double bed is very easy to make, as you can walk round both sides and it's much easier for two people to get out of bed without having to disturb one another, when clambering to the toilet in the middle of the night.
The transverse fixed double bed of the 2016 Sprite Major 4 SB has a Duvalay Duvalite mattress fitted as standard, which all but guarantees one of the most comfortable nights sleep you've ever experience. The bed incorporates an ingenious sliding mechanism that allows the bed to be shortened, providing more walking space during the day.
But what makes the transverse fixed double bed such a great family feature is the total convenience of not having to make up the bed every day. Because the bed is fixed there's nothing to assemble and no time wasted, which means you get to spend more time with the family having fun.
Large Front Lounge/Dining Area
Sitting down with the kids at meal times doesn't have to be chaos, no matter how much tomato source is on the table, the 2016 Sprite Major 4 SB has bags of elbow room where it's needed! There is ample room in the dinning area for the entire family to enjoys meals and when the cutlery and tableware has been cleared away in the evening, the area can be converted into a generous sized double bed for night time use.
Weight and Towing Ability
The average family car continues to become lighter and more economical due to concerns about global warming. However, while the average family tow car becomes lighter it seems the average family caravan is getting heavier, thanks to an increase in the amount of standard equipment fitted by caravan manufacturers.
It seems the perfect outfit is harder to find than ever as towing capacities continue to decline. Fortunately for caravanner's looking for the ideal family caravan, the 2016 Sprite Major 4 SB has been designed with low weight in mind. Despite its high level of standard specification, the overall weight of the Sprite Major range has been kept at class leading low levels, allowing it to fall within the towing weight of a wide range of potential tow cars.
Great Family Value Including Smart Plus Timber-less Construction
The Sprite brand has a long history of providing caravanner's with the highest standards in quality at the most competitive prices possible. As a consequence many Sprite caravans are class leaders when compared to other caravan brands. Sprite caravans have a look and feel of quality and indeed are produced to the same high standards as more expensive Swift Group caravans.
A combination of quality and price have made Sprite extremely popular with families looking to get onto the caravan ladder, as far back as the 1960's. Sprite really is the smart compromise for families looking to save money without cutting quality, comfort and features where they are most needed.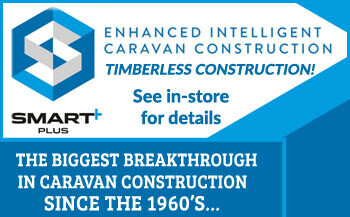 Everyone knows what fantastic value for money the Sprite caravan range is, but buyers also want to know that their new caravan is also going to stand the test of time. The 2016 Sprite Major 4 SB is built using the same technology as more expensive ranges of Swift Group caravans and motorhomes, using The Swift Groups SMART Plus Intelligent Construction System.
SMART Plus Intelligent Construction System is the product of 5 Years of research and development that has lead to the creation of a brand new timber-less construction system. Hailed as, "the most exciting breakthrough in caravan construction since their inception in the 1960's". SMART Construction was unveiled in late 2013 and has been adopted by all Swift Caravan ranges during 2014.
With its GRP Hail resistant roof and the timber-less construction the 2016 Sprite Major 4 SB should give you many years trouble free caravanning, without breaking the bank.
Rear Fixing Bracket for the Optional Thule Cycle Carrier
Cycling has always been popular among caravanner's, but recently it has taken somewhat of a leap in popularity and is something the whole family can enjoy. British sporting success has played a large part in the growth. Sir Bradley Wiggins' victories in the Tour de France and 2012 Olympics have certainly helped.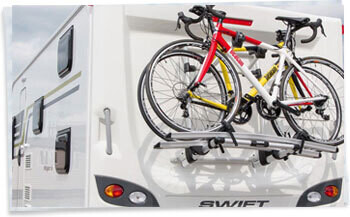 For caravanner's transporting bikes has always been a problem, especially where 3 or 4 bikes are needed. Existing rear mounted cycle carriers can be unappealing to look at and often require permanent fitting, while transporting bikes inside the caravan risk damage to furniture and is very inconvenient.
Thanks to The Swift Groups SMART Plus Intelligent Construction System Swift, it is now possible to fit a set of Thule Cycle Carrier Fixing Bars to the rear of all Sprite caravans, to facilitate the installation of a four cycle Thule bike rack. Fitting a bike rack to the rear of the 2016 Sprite Major 4 SB is now very easy and safe to do and can be performed professionally by any Swift Group Dealer in compliance with the caravans warranty.
We think this is a great new addition to the Sprite range that adds enhanced value for families looking to pursue cycling while enjoying caravanning holidays.
Truma iNet Box Allows Remote Control and Monitoring
Wouldn't it be great if you could control the caravan temperature and hot water heating system remotely via your mobile device or tablet, well now you can with iNet.
The Truma iNet System enables the Combi heater and Truma air conditioning systems to be remotely controlled anywhere and anytime; be it on the ski slopes, at the beach or when hiking. The Truma iNet System allows you to control the Combi Heater easily and simply via the Truma app from wherever you are, and to query the current device and vehicle status.
Truma iNet is an optional upgrade to the Truma Combi Heater that provides more control where and when it's most needed. Turn on the hot water before you arrive back at the caravan after a day of play on the beach or at the park. Perhaps you would like to get the caravan warmed up after spending a cold and windy winter day visiting attractions with the kids in Scotland or Blackpool.
Just think, with iNet installed you could even turn on the heating before you venture out from under the duvet!
Comments
You can upgrade to this system as long as the control panel has i Net ready stated on it (if it does not it will be an extra £170) The cost of the basic upgrade unit is £369.00
Just bought our first family caravan privately 2016 swift Sprite 4sb can I upgrade to this system ?
Do you pay for this remote control unit?