The Road to Finding Your Dream Family Caravan & Why We Think the 2017 Sprite Major 6 TD SR Should be at the Top of Your List
Back
It's logical to suggest that in order to find the 'Ideal Family Caravan' you first have to know what to look for. To that end it's tempting to look for external sources of wisdom when the truth is, the most meaningful answers are likely to be found at home.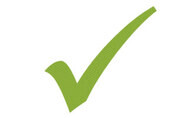 Doing a little research before arriving at the showroom is a sensible starting point and will provide the focus required to maintain an 'Objective' mindset during the buying process. Remaining true to your requirements and having the discipline to filter out the noise, will help avoid making decisions you may regret later on.
A really useful exercise you can do with the whole family is to create a list of key features and specifications you'd most like your new caravan to have. Opening a portal of communication between all family members is a great way to make the buying process inclusive and enjoyable for everyone, especially if you have older children.
Here's a few ideas to help get your list started:
1. Budget
Budget is an obvious point of discussion. There's no point falling in love with a caravan, only to than find that you are not going to be able to afford to buy it!
At this point it may be worth mentioning Blackhorse finance. Blackhorse have several finance options that allow you to comfortably increase your budget including, 'Personal Contract Plan'. Blackhorse Personal Contract Plan allows you to defer a final amount from the balance, resulting in lower monthly payments giving you the facility to buy the caravan you want for your family without compromise.
READ MORE: Black Horse Personal Contract Purchase
2. Towcar
Towing limits vary wildly and can be affected by several factors including the kerb weight of the vehicle, the age of the driver, and any towing weight stated by the vehicle manufacturer.
At Homestead we have access to the Towsafe car / caravan matching system and are able to advise you of your limits!
3. Storage (when not in use)
This is important as you may not be able to store the caravan at your home either for lack of space or local by-laws, restricting caravan storage on your driveway.
We have details of several regulated storage centres that have all the necessary security measures in place to satisfy caravan insurance companies.
This is obviously very important, and the other advantage for not keeping your caravan at home does not have to advertise when you are on holiday!
4. Berth & Layout
There is no written rule that says, a family has to buy a caravan where the number of berths are equal to the number of occupants. No, there are other factors to take into consideration, most notably the layout of the caravan.
So you may prefer a six berth caravan even if you only have two children as the layout may suit you better.
Don't forget the the addition of an awning you can sleep more than two in a two berth and more than four in a four berth! Work out which layouts suits you first, and your search becomes a whole lot easier!
5. Specific Extra Requirements
No doubt there will be other (some more heart based and inspiring for all family members) things you want to consider, such as where you are planning to mainly use your caravan. You may decide to visit caravan parks that offer basic services, with minimum facilities. If so, it might be a good idea to tailor your purchase to include caravans with LED lighting and perhaps the option of a solar fitted panel.
Perhaps you plan on taking the bikes with you? In which case you may want to include only those caravans that can transport bikes in your search.
Don't forget if you need some guidance we're here to help. Send an email or give us a call on 01255-830-229.
Why Buying a Sprite Makes Sense for Families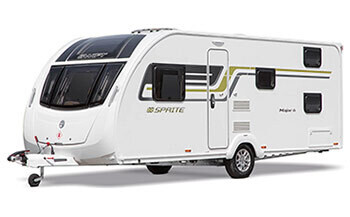 For most couples the additional costs involved in raising a family can be challenging. A fact not lost on the original Sprite company some 60 years ago, when they began production of the worlds first lightweight affordable caravan that could be towed by the average family saloon.
Although Sprite caravans today have a much more up-market feel, the brand remains true to its original goals, making entry-level caravanning more affordable to families.
During the Practical Caravan 'Owner Satisfaction Awards' 2016, Sprite received the highest satisfaction score of all Caravan brands of 90.8%, and was Gold Award winner for category "Manufacturers of new Caravans".
Here's what was stated at the time:
"Sprite is the UK's best selling range of touring caravans and is a much loved brand. The very high levels of customer satisfaction is testament to its design, construction, flexibility, great package of features and affordable prices. The Sprite range has enabled families and couples on a budget to get into caravanning for the first time and into a new caravan."
Some Value Added Sprite Features
All 2017 Sprite caravans are built with enhanced SMART Plus Intelligent Design Construction technology. SMART Plus has raised the bar in caravan construction industry wide, making Sprite caravans more durable than most competitors despite its competitive price tag.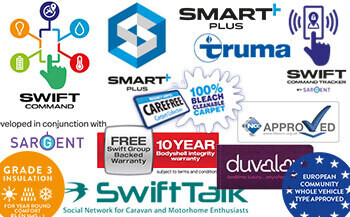 Assured build construction with a manufacturer backed, free 10 year bodyshell warranty as standard on all caravans, making it an even better investment when compared to other brands.
Other great 'family friendly' features include a host of money saving developments such as, improved fuel efficiency and use of low energy lighting, Truma dual fuel heating, Swift Command system, developed with Sargent Electrical (on all ranges) and the deployment of Computational Fluid Dynamics to help shape the bodyshell for better fuel consumption and safer towing.
The complete list of features and supporting technologies is very comprehensive and will be discussed in more detail in future articles.
2017 Sprite Major 6 TD SR
The sales team at Homestead Caravans are BIG fans of this years Sprite Major 6 TD SR. Apart from being an award winning single axle caravan, the 6-berth Sprite Major 6 TD has all the ingredients necessary to make it the perfect family caravan in 2017. Here are some of our favourite 'family friendly' features:
Side Washroom with Separate Shower
A must have for any growing family, especially if you have older kids. The 2017 Sprite Major 6 TD SR with its clever design, boasts a large washroom with separate shower, which makes it possible for two people to get ready at a time, in privacy if needed. In our opinion, it's not a family caravan if the washroom doesn't have a separate shower.
Kitchen Area
You can't cater for a hungry family if you're catering on a postage stamp. Thankfully the Sprite Major 6 has a generous kitchen area featuring modern appliances including an oven with 3-burner hob and grill plus, a 100 litre Dometic fridge with freezer compartment. The Diamond Pack includes a stylish eye-level microwave, offering home-from-home functionality, making meal preparation a pleasure.
Rear Fixed Bunk Beds with Dinette
The rear fixed bunk beds and dinette area is ideal for families giving the children their own area that can be partitioned off from the rest of the caravan. With the extra bunk bed that can be erected above the dinette, this area can sleep up to four. To save time setting up the beds each night, you have the option of leaving them permanently made up.
Large Front Lounge / Dining Area
The 2017 Sprite Major 6 TD SR dining and lounge area is light, airy and stylish with an optional large panoramic sunroof. You'll find oodles (that's oodles not noodles!) of dining seating available for the entire family during meal times, and when the cutlery and tableware has been cleared away in the evening, the area can be converted into a generous sized double bed for night time use.
Internal Storage
The 2017 Sprite Major 6 TD SR offers plenty of room for storing all your essential and non-essential holiday paraphernalia. The rear children's bedroom and dinette area offers storage space for clothing, bedding and equipment.
Diamond Pack
This season's refinements include a convenient one-key lock system and the exclusive Swift Command unit. This smart technology, exclusive to Swift Group allows you to quickly monitor and control selected functions either onboard or remotely.
There is also a sophisticated new 'Albion' soft furnishing option with woven grey bedding and muted shades of French grey and gold captured in a retro design for the curtains, blended with gold scatter cushions.
Comments
Be the first to comment on this article