2019 Swift Escape 604 Review
Back
The Swift Escape 604 was voted Winner of Motorhome of the Year 'Best Compact Motorhome' at the Practical Caravan and Practical Motorhome 2018 Awards. Visit our Essex based leisure showground to find out more about the award winning Escape 604.
Swift Escape is one of the UK's most successful 'entry level' Motorhome ranges and continues to set the benchmark in the entry level coachbuilt sector. With it's aerodynamic low profile, new cab coordinated graphics and class leading SMART construction plus, an expanded choice of 10 layouts for 2019, it's easy to see why Swift Escape is so widely chosen by those looking for their first new Motorhome.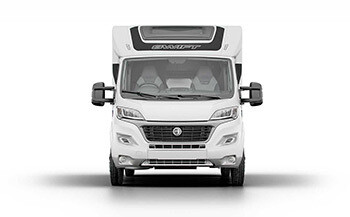 In 2017 the conventional Luton overhead cab of the Swift Escape range was dispensed with in favour of a more streamlined 'low profile' roof line, creating more internal space for storage. Low profile motorhomes have a sleeker modern appearance and offer greater fuel efficiency than traditional coachbuilt vehicles, while retaining the ability to be internally arranged to suit different layouts.
New to the Escape range for the 2018 season is the Swift Escape 604. At less than 6 metres in length it's one of the most compact 4-berth coachbuilt motorhomes on the market. Every inch of the Escape 604 has been carefully planned and cleverly designed to create a seemingly impossible combination of comfort, high specification and function. Nowhere is this perhaps better represented than by the drop-down bed but more on that a little later. Despite its compact credentials, the Escape 604 offers accommodation for 4, with two additional seatbelts in the lounge.
Unsurprisingly the Swift Escape 604 is based on a Fiat Ducato cab and chassis. For decades Fiat Ducato has been the most popular vehicle choice of Motorhome manufacturers. Offering excellent fuel efficiency, good loading weight, a comfortable cab, a 6 speed gearbox as standard and critically, a tight turning circle. The list of Fiat Ducato benefits is exhaustive and warrants an article of its own.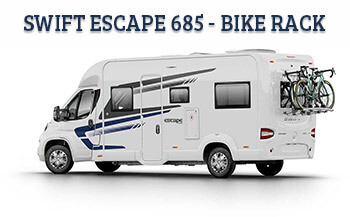 All Swift Escape models have a MTPLM of 3500kg and can be driven on a normal category B driving license. The Swift Escape 604 has a generous maximum user payload of 646kg, so there's plenty of extra weight for all your holiday equipment such as furniture or even a bike rack. The Escape is factory fitted with bike rack fixing rails ready for installation of a Thule cycle rack. In fact, there are a number of optional extras available for the Escape 604 including a detachable towbar, advanced satellite systems and SwiftShield upholstery fabric. Call 01255-830229 for a full list of available optional equipment.
The Swift Escape 604 features a Fiat 'Euro 6' 130bhp, 2.3 litre engine, which is more than enough power for this size of vehicle. Euro 6 is a European standard that sets out acceptable limits for exhaust emissions. Since September 2015, all new vehicles sold have to comply with the Euro 6 standard. Euro 6 measures put even stricter limits on diesel emissions, so not only is the Swift Escape 604 one of the most fuel efficient motorhomes, it also complies with strict European emissions standards too.
If you'd prefer an automatic transmission, you'll be pleased to know there's a factory fitted Comfort-Matic automatic gearbox available at £1750 (at time of publishing). Although please note that this upgrade is only available when selecting the factory fitted 'Comfort Pack' optional equipment pack. However, the Comfort Pack has already proven to be so desirable it's hard to imagine a single Swift Escape being sold without it.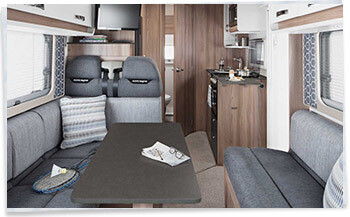 For demonstration purposes all Homestead Caravans Swift Escape Motorhomes are kitted out with the Comfort Pack as standard, which includes the following equipment:
Cruise control
Panoramic opening sunroof with NEW soft touch sunroof surround
Cab air-conditioning
Passenger air bag
Easy action concertina door flyscreen
Pleated windscreen blind
Status 570 TV aerial
Reversing sensors
By proxy the Comfort Pack also includes the 'Winter Pack'
Waste water tank heater with en-route heating to keep defrosted
Under floor waste pipe insulation
NEW insulated drain valve covers
Fridge vent covers
Swift SMART Construction – the smart choice
Exclusive to the Swift Group and present across Swifts entire caravan and coachbuilt Motorhome range including the Escape 604 is, SMART intelligent construction. SMART construction does away with traditional methods of Motorhome construction and replaces it with a high tech, completely timberless construction system that is so effective, the Swift Escape 604 comes complete with a 10 Year Manufacturer Bodyshell Warranty.
For the more technically minded SMART includes; a full GRP bodyshell that includes, a strong, moisture proof 'PURe' Polyurethane timberless framed body shell and balanced panel sandwich side walls with GRP outer and inner skin. Sandwich floor construction with GRP outer skin, sandwich construction hail resistant exterior and a GRP roof that's fully bonded for extra strength and flatness, with GRP inner skin and a full height GRP rear panel.
Watch the video below for more information about Swift SMART Construction.
Cab / Chassis
From the outside the Escape 604 looks impressive. Thanks to the low profile roof, the cab and body are more streamlined with improved aerodynamics. The graphics extend across the cab and body further enhancing its streamlined appearance. At almost 3 metres high, the height of the Escape 604 does look slightly exaggerated, owing to its compact 5.97 metre length. Quite noticeably, the wheels of the 604 are located close to the corners of the chassis, which should help improved handling.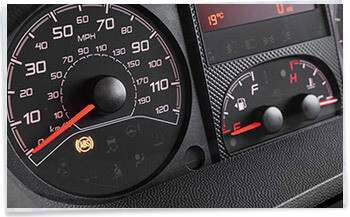 The cab benefits from a well designed dashboard with fully integrated factory fit DAB Radio/MP3 player with Bluetooth and wing mirror antenna for better reception. There's plenty of handy storage for on the road, with a central cup holder and dash mounted holder suitable for a full width tablet plus, a pocket for smartphone, with USB port for charging. Even the doors have pockets with bottle holders.
Escape 604 comes with thermal cab window covers, these are a great way to help keep out the cold while retaining any warmth during winter. During the summer they help to block the sun to keep you cool and help protect internal furnishings from damage caused by the sun.
Other features include removable carpets (throughout) and electrically operated and tinted cab windows. Technical features include, cab battery isolation switch to prevent discharge while in storage, ABS and EBD (electronic brake force distribution), where braking power is distributed individually to all wheels to prevent the wheels from locking up; making the Swift Escape 604 very safe to drive.
This years Escape range features 'Nova' soft furnishing scheme with complementary scatter cushions, 'Aralie Sen' woodgrain, with contemporary colouring and matt white overhead lockers, with chrome handles. The light colour scheme helps gives the Escape 604 a light and airy feel enhanced by natural light coming from the windows and overhead skylights.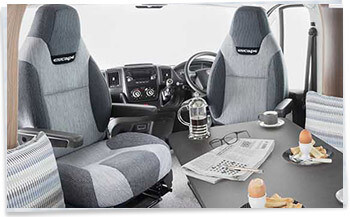 No review of the Swift Escape 604 could ever be complete without giving the Captain's chairs a mention. These are extremely comfortable to sit in with position, height and rake adjustment, both seats of course swivel and include two armrests for added comfort. Featuring high quality, fully upholstered Nova covers with attractive Escape logo. The Captain's chairs are professionally finished with seat base surrounds to further enhance their appearance.
Rotate the Captain's chairs 180 degrees during roadside stops or on-site and enjoy your favourite book, and an ideal opportunity to try out the conveniently located swan neck LED lights in the evening. During the day there's plenty of natural light courtesy of the large overhead Panoramic opening sunroof with NEW soft touch sunroof surround. The sunroof comes as part of the Comfort pack and provides excellent light to both the cab and lounge.
Watch TV from the comfort of your favourite Captain's chair via the dedicated TV wall space, complete with TV wall bracket and TV connections.
Lounge / Bedroom
The seating arrangement of the lounge is divided into three pods with seating extension, providing enough seating for 5-6 adults, in addition to the Captain's chairs. The lounge is served by a matching dining table complete with detachable extension, which is ideal for meal times or when more space is needed. The table is secured by a very sturdy looking telescopic leg.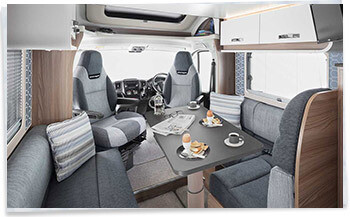 At night-time the lounge seating area transforms into a double bed by arranging the cushions provided.
Situated above the lounge is the magnificent and very clever drop down bed. The manually operated fixed double bed incorporates vertical height adjustment and is supplied with a bunk ladder for easy access. With the click of a button and very little effort the bed glides down into position. The fitted Duvalay Duvalite mattress is exclusive to Swift and benefits from lightweight memory foam, with Grade 3 heating and insulation properties.
When the fixed bed is in use it receives additional light via an overhead rooflight. Although you may wish to pull across the blind when the bed is not in use to protect bedding and the mattress from the sun.
The drop down bed is perhaps the best example of how comfort, clever design and functionality all converge, to make the Swift Escape 604 one of the most practical compact motorhomes on the market. Although the 604 sleeps 4, we feel it will be of special interest to couples who will welcome the easy set up and convenience of the fixed bed.
Kitchen
As with any Motorhome of this size there's always going to be a some compromise, in the Swift Escape 604 it's most noticeable in the kitchen area. The new kitchen worktop in 'Fero' dark grey, with textured finish is not very wide but is successfully reprieved thanks to the practical work-top extension and sink insert, located over the granite effect, moulded kitchen sink.
Despite its compact size the kitchen of the Escape 604 features the latest high specification appliances including, built-in microwave oven with digital controls, courtesy of the Comfort pack, Thetford combination thermostatic oven, with 3 burner gas hob with glass lid and grill; all with electronic ignition. On the opposite side of the kitchen is located a Dometic 138 litre slimline fridge freezer, offering copious amounts of room for family groceries.
There's plenty of storage at hand in the kitchen too with a large cupboard and complementary cutlery draw. In fact there's a good amount of storage throughout the Swift Escape 604 including an enormous wardrobe located to the side of the fridge, allowing plenty of room for clothing. The wardrobe is also home to the TV aerial amplifier, with the aerial itself directionally adjustable from inside the wardrobe (part of the Comfort pack), so you don't have to go outside to do it in wet weather – phew!
Washroom
The washroom of the Escape 604 is intelligently designed throughout and makes excellent use of the available space. Yes, the washroom is compact but it's design is so well balanced that it caters to your every need perfectly, so much so you'll barely notice its size.
For example there are 3 large storage cupboards and a handy shelf space above the modern sink; more than enough storage space for 4 people. The washroom is well lit receiving natural light via a window and rooflight, which bounces off the predominantly white surfaces.
Impressively the Swift Escape 604 washroom boasts a large, fully lined dedicated shower cubicle, with contemporary illuminated back panel and an Ecocamel shower head. A Thetford Electric flush swivel bowl cassette toilet completes the washroom.
Swift Command Control
Featured on all Escape models is Truma Combi warm air and water heating. The Escape 604 is fitted with a Combi 4 (1.8kW electric/4kW gas/3.8kW) combined heater. The Truma Combi heater is lightweight and compact, as well as quiet in operation, and there is an efficient boost function for a fast supply of warm water and room heating in a short time.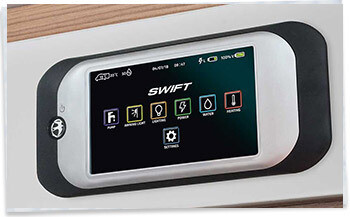 The Combi 4 heater provides en-route dual fuel heating and is fitted with a very clever Truma 'Crash sensing Mono' regulator for safe use of heating and water heating. The wall mounted digital programmable controller gives you precise control and it's even possible to control heating remotely using Swift's exclusive Command Control APP.
Swift Command is an intelligent electronic central management system that enables you to manage and monitor key vehicle functions from your mobile device including power, heating and selected lighting.
Swift Command gives you two access points; either by accessing directly the wall mounted Swift Command control panel, or by using the Swift Command APP from any mobile device via Bluetooth, when with the motorhome and Wi-Fi / GSM, when away from the motorhome.
For the 2019 season the Swift Escape range will feature an updated Command App with new interface that is easier to use and more intuitive. The wall mounted control panel now features a new larger, LCD colour touchscreen, with improved user interface and functionality.
Swift Command Features
Power: Battery selection, battery level meter and power usage
230V AC load limiter (settable between 5 amps & 16 amps)
Solar panel charging levels (where fitted)
Heating control of Truma system
Environment monitoring with internal & external temperature and internal humidity levels
Selected lighting control
Water system controls and tank levels and control of tank drain valves
Air-conditioning compatible with Dometic and Truma (dealer fit option, model dependent)
Pre-installed Swift Command Tracker, a Thatcham Category 6 approved pro-active tracker (subject to annual subscription)
Includes the useful 'Places of Interest' feature including 'Campsites' from the Camping & Caravanning Club and Swift dealership locations
Control over selected lighting
Swift Escape 604 Highlights
Fiat chassis cab with Fiat Euro 6 130bhp, 2.3 litre engine, complementary graphics and daytime running lights
Dashboard design with fully integrated factoryfit DAB Radio/MP3 player with Bluetooth and switch-off timing adjustable up to 3 hours and wing mirror antenna for better reception
ABS brakes and EBD (electronic brake force distribution)
Full GRP rear panel with exclusive LED rear light clusters
Swift AirWave cushioning for greater seating and sleeping comfort
Exclusive Duvalay Duvalite Apollo Luxe mattress containing Freshtec – a market leading high spec foam offering maximum airflow for a cool, comfortable good night's sleep
Height adjustable manual drop-down beds with lower drop level
Combination thermostatic oven, grill and 3 burner gas hob all with electronic ignition
Optional special value Comfort Pack incorporating panoramic opening sunroof and Winter Pack
En-route dual fuel heating with Truma Combi boiler
NEW larger 7", easier to use, LCD colour touchscreen Swift Command control panel with improved functionality and app interface
Microwave oven
'Nova' soft furnishing scheme with scatter cushions and 'Aralie Sen' woodgrain with contemporary colouring
Matt white overhead lockers with chrome handles and push-button locks
A minimum of four 230V sockets and NEW dedicated USB points
Ultra-low energy lighting system with LED spotlights and over-locker ambient lighting
Concertina blinds and flyscreens to side windows
Cab thermal blinds
Carbon monoxide detector and smoke alarm
Removable carpets throughout
Thule Bike rack ready
Cab battery isolation switch to prevent discharge in storage
Central cup holder with dash mounted holder for full width tablet and pocket for smartphone with USB port for charging
NEW VIN CHIPTM identification system concealed within construction to deter theft and aid quick recovery
NEW soft touch, automotive style decorative blind and flyscreen surrounds (except kitchen)
Exterior access locker door
Lap and diagonal seat belts on designated passenger seats
100 Litre internal fresh water tank with level sensor
60 Litre waste water tank with level sensor
En-route heating for underfloor water tanks to keep defrosted
Electronic drain valves on Fresh and Waste water tanks
Pressurised fresh water system with self-priming pump and accumulator
Summary
The Swift Escape 604 is an entry level motorhome that's attractively priced. It successfully combines class leading build quality, comfort, high specification, style and functionality in a really compact package. If you're looking for a motorhome that's easy to handle and requires less storage space, then look no further than the Swift Escape 604.
Price at time of publishing: £50,905.00 (includes the Comfort Pack)
Click here to see latest pricing and availability or call 01255-830-229 to discuss how we can help you drive away with one of these fantastic motorhomes. Flexible finance options available please call for details.
2019 Swift Escape Brochure
Click the 'Download PDF' button to download the 2019 Swift Escape Brochure
Download PDF
Comments
Be the first to comment on this article