Here comes the sun with Kampa Sunshine AIR Pro Sun Canopy
Back
Here comes the sun with the Sunshine AIR Pro Sun Canopy from Kampa - with AIR Technology gone are the days of having to assemble individual poles or having to worry about damaging the caravan.
Caravan Sun Canopies tend to have minimal construction with just a few lightweight poles that rely heavily upon guylines for stability. As many caravanners will no doubt already be aware, regardless of how well anchored a traditional sun canopy may be, a single gust of wind is all that is required to collapse the structure and potentially cause hundreds of pounds worth of damage.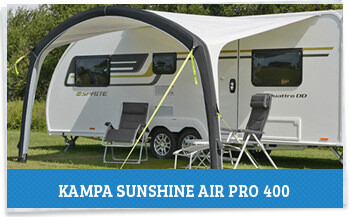 The Kampa Sunshine Sun Canopy is a relatively new innovation that is durable, inherently stable and unlikely to cause damage to the caravan in the event something does go wrong, thanks to the use of Kampa AIR technology. Like all Kampa AIR products the Sunshine AIRFrame is quick and easy to inflate and deflate in seconds, with Kampa's ONE point inflation system. The Sunshine AIR Pro 300 requiring just 55 pump strokes, or 35 seconds to inflate.
Sunshine has a ground to ground front AIRBeam and a centre AIRBeam (rafter support) for rigidity. The simple yet clever design makes the structure very good at absorbing wind and springs back in to shape when pressured, making it very safe. One of the key advantages of Sun Canopies is that they are a lightweight option when compared with a porch or full caravan awning – the Kampa Sunshine delivers both rigidity and low weight and looks great too!
Before inflation the the Sunshine Sun Canopy is threaded through the caravan awning rail, the Canopy is then ready for inflation using the supplied high volume Downdraught Pump. In no time at all the Canopy takes shape and is ready for guying using high visibility webbing straps, with total set-up time taking approximately 3 minutes.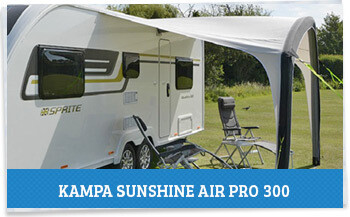 The Sunshine Canopy is 250cm deep and available in 300cm and 400cm widths making it suitable for most touring caravans, providing a generous sheltered area for table and chairs to relax in. Sunshine is perfect for enjoying the great outdoors, socialising with friends and family around a BBQ or keeping caravan equipment dry – you decide! Unlike most traditional Sun Canopies the high quality build and stability of the Sunshine Sun makes it perfect for weekends and longer holidays.
Sunshine Sun Canopies utilises Kampa's Weatherproof Pro fabric Weathershield, a flexible, high quality 300 denier lightweight Polyester that is prevalent throughout Kampa's awning ranges. It has excellent weatherproofing and durability, whilst remaining light enough for easy set up and handling. Weathershield offers even more UV protection and coatings than ever before to make sure it continues to be the market leading fabric.
Kampa Sunshine AIR Pro Side Wall Set
For 2019 Kampa has gone a step further by enhancing the Sunshine AIR Pro with optional Kampa Sunshine AIR Pro Sidewall Sets. Side Wall Sets are supplied in a pack of 2 and they are only suitable for 2019 Sunshine Canopies.

Set up is simple and quick using the supplied aluminium poles and awning bracket pads, which are fitted to each side of the canopy on the AIRBeam.
Key Features:
Inflatable Technology with ONE point inflation
TPU AirFrame Beam system with central roof bracing beam
Weathershield 150D Pro Polyester Pro fabric with taped seams
6000mm Hydrostatic Head Weatherproofing
Flame Retardant, UV stabilised and taped seams
Complete with webbing straps, pegs, oversized carry bag and high volume downdraught pump
To suit caravan heights 235cm to 250cm (Ground to Rail)
NEW - Ready to accept optional Sidewall Set
Kampa Sunshine AIR Pro 300 Specifications
Width: 300cm
Depth: 250cm
Weight: 7.5kg
Pack Size: 70 x 26cm
RRP: £374.99
Our Price: £299.99
BUY NOW >
Kampa Sunshine AIR Pro 400 Specifications
Width: 400cm
Depth: 250cm
Weight: 8.2kg
Pack Size: 70 x 27cm
RRP: £424.99
Our Price: £339.99
BUY NOW >
Comments
Be the first to comment on this article