Kampa AIR Break Pro - the World's 1st AIR Windbreak!
Back
Brand New for the 2019 season is the much anticipated Kampa AIR Break Pro Windbreak. Hailed as the WORLDS FIRST AIR Windbreak, it represents an evolutionary leap in Windbreak design and demonstrates the flexible and practical aspects of AIR Technology.
A Windbreak made from AIR does have a certain irony. However, the truth is the AIR Break Pro is designed to harnesses the innate strength and rigidity of pressurised air and just like Kampa's AIR Awning ranges, it does so to great success.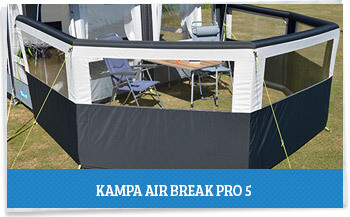 One can only imagine the level of trepidation that must have accompanied the unveiling of Kampa's very first AIR Awning designs, in October 2012. It's difficult to appreciate just how contrary to prevailing market conditions the AIR Awning concept was at the time. For time and immemorial all caravan and motorhome awnings relied upon a system of poles for support, commonly manufactured from steel and less commonly, aluminium and fibreglass.
It is only with the benefit of hindsight that we understand just how revolutionary Kampa's original AIR Awning designs would become. Today, the majority of awnings now sold in the UK and Europe are Inflatable. Furthermore, significant inroads have been made in the tent market with a large number of Inflatable models entering the family tent sector. Is it really so hard to conceive of an AIR Windbreak? I wouldn't bet against it!
The Kampa AIR Break Pro was unveiled at the 2018 NEC Caravan and Motorhome Show in October. Stephen Wyss, a Director at Homestead Caravans was in attendance on the Kampa trade stand for the duration of the show. Stephen had this to say;
"Naturally there was a great deal of interest in the AIR Break Pro Windbreak and this was reflected in the high number of sales taken during the show. People seemed to really appreciate the way the Windbreak interacted with the awning to form an enclosure. I spoke with several dog owners who bought the Windbreak because it allowed them to sit outside the awning and enjoy the weather, while at the same time, creating a secure environment for pets to roam."
AIR Break Pro Features
The AIR Break Pro bares Kampa's signature Charcoal and Grey colour scheme and use of Weathershield™ Pro Polyester material, making it a perfect match for any Kampa AIR Awning. The textured fabric not only looks and feels luxurious to the touch, it's extremely practical and functional too, delivering all-round weather protection for an extended life.
Weathershield™ 300D Pro double coated Polyester is a tried and tested fabric that is used throughout Kampa's AIR Awning ranges. It is very hard-wearing and features UV Protection Factor 50+, A Hydrostatic Head OF 6000mm and is Flame Retardant and UV Stabilised.
The AIR Windbreak is available in two lengths; AIR Break Pro 3 (3 panels) and AIR Break Pro 5 (5 panels). Both Windbreaks stand 140 high. The AIR Break Pro 3 is 620cm end to end, while the AIR Break Pro 5 is an impressive 840cm. If you intend on using the Windbreak with a Kampa Awning you will need to pay close attention to the following; AIR Break 3 is designed to fit Kampa Awnings with a total width of between 200 to 330cm, while the AIR Break Pro 5 is designed to fit awnings between 330 to 500 cm wide.
To help explain these measurements further; when an AIR Break Pro is inflated each panel rest at an offset angle giving the Windbreak a polygonal curve. This obvious design feature anticipates use as an enclosure and gives the Windbreak strength and a stasis of balance. The distance between the two end points of an AIR Break Pro, can be lengthened or shortened by adjusting the angle of each panel, to accommodate the width of your awning. The angle of adjustment each panel has is limited and so to reiterate; AIR Break 3 is designed to fit Kampa Awnings with a total width between 200 to 330cm, while the AIR Break Pro 5 is designed to fit awnings between 330 to 500 cm wide.
Not only does the AIR Break look like a Kampa AIR Awning, it inflates like one too. Thanks to the inclusion of Single Point Inflation, AIR Break Pro Windbreaks are exceptionally quick and easy to inflate using a manual pump or Kampa Gale pump (pumps not supplied). Manual inflation of an AIR Break Pro 3 takes approximately 80 strokes to complete – that's less than one minute!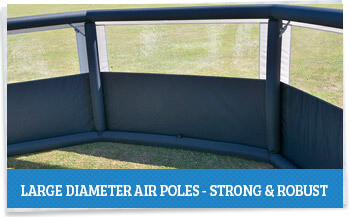 Both models have one long and very large diameter AIRBeam that runs the full perimeter of the Windbreak, with an array of vertical AIRPoles providing added strength and support. The AIR Break Pro AIRBeam rest entirely upon the ground surface, providing the Windbreak with a very stable base, while its unique shape helps to diffuse wind.
"Manual inflation of an AIR Break Pro 3 takes approximately 80 strokes to complete – that's less than one minute!"
One of the key benefits of owning a Kampa AIR Break Pro is its small pack size relative to its inflated dimensions. Placing a rule along the base of the durable AIR Break Pro 5 carry bag, I measured L 80cm x W 25cm; that's pretty impressive for a Windbreak that measures L 840cm x H 140cm when inflated.
While it is certainly true that AIR Break Pro can be used independently of an awning, supported by the guylines and pegs provided, when positioned in front of a Kampa AIR Awning the AIR Break Pro transforms into a functional and practical enclosure. Create a safe space for younger children or a luxury pen for your pets, the additional space is yours to use as you will. The Kampa AIR Break Pro is also a great way to extend the awnings usable space with a cosy corral for socialising with fiends and family. Each panel includes an individual crystal clear horizontal window for an unobstructed view.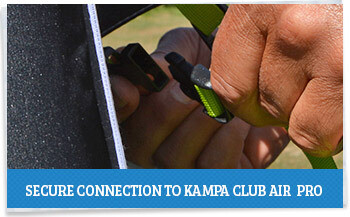 To facilitate use of the AIR Break Pro, Kampa have fitted female buckle connections to the Club AIR Pro awning range, allowing the Kampa AIR Break Pro to connect directly to the awning. Kampa plan to roll this type of connection out to other Awning ranges in due course however, if your awning doesn't have this style of buckle, typically found on backpacks, it's still possible to connect the AIR Break to your awning. Simply connect the strap found at the end of the AIR Break Pro Windbreak, around the tie-down webbing used to secure the awning.
Please note UK stock of this product is finite, once scheduled orders have been sold no more stock will be available until the end of the year. If you would like to learn more about the Kampa AIR Break Pro or would like to see them displayed before deciding to purchase, please visit Homestead Caravans dedicated indoor Kampa Showroom. Open 7 days a week. For more information call 01255-830-229.
Summary of Benefits
Available in three and five panel versions
'Feel the Difference' double coated Weathershield™ Pro polyester
Quick and easy to inflate with Single Point Inflation
Small pack size relative to its inflated dimensions
Adjustable angle curve to suit a wide range of awnings
Very strong and stable, provides high level of wind resistance
Create a privacy enclosure for pets, young children or socialising. Sits on the floor so children and pets can't escape!
Extends the use of the Kampa Awning – sit in the sun in your own cosy space
Designed to match Kampa AIR Awning ranges
Connects to the AIR Awning
Crystal Clear horizontal window panels
Supplied with Carry/Storage Bag | Pegs | Guylines
AIR Break Pro 3 Specifications
Product Code: WB0004
Official pack size: 83 x 28cm
Length: 620cm
Height: 140cm
Weight: 8.9kg
Colour: Charcoal/Grey
AIR Break Pro 3 MRP: £343.74
Our Price: £274.99 (at time of publication)
AIR Break Pro 5 Specifications
Product Code: WB0005
Official pack size: 83 x 31cm
Length: 840cm
Height: 140cm
Weight: 10.8kg
Colour: Charcoal/Grey
AIR Break Pro 5 MRP: £424.99.00
Our Price: £339.99 (at time of publication)
Comments
Be the first to comment on this article