An Introduction to the Benefits of Satellite Television Courtesy of Maxview
Back
Recently I had cause to visit the Maxview website and stumbled across a great piece for anyone new to the world of Outdoor Satellite Systems. It's uncomplicated and provides readers with some of the basics without diving into the deep end.
So without further ado...
Keeping you in the picture for over 50 years
At Maxview we have recently celebrated our 50th year of manufacturing equipment and accessories to make receiving TV on the move as simple as it can be. We recognised many years ago that using inferior and inadequate products can at best be frustrating and, more often than not, a complete failure. That's why we only produce and distribute products that we have designed, tested and approved, to make your viewing (and listening) experience both pleasant and hassle free.
Why choose Satellite for Your Caravan?
Since 2012 all terrestrial TV (using an aerial) has been digital. Prior to the switch from analogue to digital, terrestrial TV reception was variable from site to site. Since the switch reception has improved in some areas, but it is worse in others, the biggest difference being that programmes can no longer be viewed through a snow storm of interference. The signal is either available, or it is not. For some people this is perfectly acceptable and an aerial attached to their vehicle, either temporary or permanently, supplies all they need.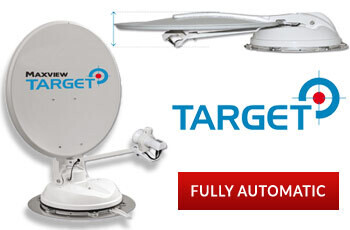 For others, such inconsistencies are unacceptable and so satellite TV reception is their preference. Using satellite TV equipment to watch your favourite programmes, both in the UK and throughout Europe can very often be simpler than setting up an aerial. With a clear view of the South easterly sky, a perfect digital signal is available all f the time and, with correct equipment, all mainstream UK TV channels, including all BBC and ITV channels, can be received anywhere in the UK and many parts of Europe from Astra 2 satellite.
The quality of the equipment used, particularly the size of dish, determines what channels can be seen in which parts of Europe. For the UK, any of Maxview satellite systems will receive all of the channels available from your satellite receiver. However when travelling in Europe, the smaller dish variants will begin to lose the Astra 2 signal as reception fades the further afield you travel. Larger dishes will continue to receive the complete Astra 2signal as far as Northern Spain for example.
It's worth remembering that other satellites, such as Astra 1 and Hotbird broadcast a limited range of English speaking channels, including BBC World, CNN and Euronews, as well as various music, information and film channels. These are freely available across Europe providing a satellite receiver capable of receiving from these satellites is employed.
Choosing your Satellite TV reception equipment
With so many different satellite systems available, choosing the ideal one can appear complicated and confusing, but by answering a few simple questions, it's very easy to establish which would be the kit for you. Questions such as, where are you going? What channels do you want to watch? - Or listen to; digital radio is also available through satellite of course, but the most important question – How much do you want to spend?
Although extensive, each system in our range is designed to fulfil a specific need, while all are quality built to ensure the user receives a perfect digital H/D signal with every use. The Maxview range encompasses two operation types (fully automatic and manual tuning systems).
Whichever type of touring vehicle you use, we have a system suitable for your specific requirements. In addition for added peace of mind you will be covered by our product guarantees, so there really isn't any need to look elsewhere.
Satellite system characteristics at a glance.
Fixed roof mounted systems
Convenience, no unpacking/packing system each time you park on site.
Systems can be adjusted inside vehicle when required.
Greater choice of satellite dish size.
Safe, secure and out of reach for added peace of mind.
Professional installation, for neat unobtrusive cabling.
Can be professional moved from one vehicle to another.
Portable systems
Ideal if you have limited space on your vehicle roof.
Lower set up cost, ideal for smaller budgets.
No permanent installation required.
Multi-purpose, use on land or inland waterways.
Some set up and possible assembly required (dependent on model).
Consider stowage of system when not in use.
Fixed Roof operation options
Fully Automatic: The ultimate in entertainment on the move, simply press a button and away you go, Easy to use, Choice of folding system or dome.
Manual Tuning: Manual operation from inside vehicle using handle to search for required satellite, compass supplied to aid alignment, Ideal for lower set up cost.
Portable system operations
Fully Automatic: The ultimate in entertainment on the move, Simply press a button inside on the control box and away you go, Easy to use.
Manual Tuning: Manual operation from outside using accessories supplied to locate and lock onto signal, easy to use, compass supplied to aid alignment.
Maxview at Homestead Caravans
At Homestead Caravans we have the Maxview Seeker Wireless 85cm fixed roof mounted satellite system fitted to our special display model caravan and would be more than pleased to demonstrate this superb fully automatic system to you. The Maxview Target, Vudome Auto and Crank up fixed roof mounted systems are also available to order, with next day delivery available. The Maxview Precision 54cm and 65cm portable satellite systems and Maxview 54cm Portable satellite Kit with receiver and easy Find LNB are all availablke from stock.

The very latest model VuQube 2 is a unique portable of roof mount fully automatic satellite system, which is smaller, lighter and easier to use than ever before. VuQube receives transmissions from Astra 1, Astra 2, Astra 3 and Hotbird and features Press and Go, with the convenience of having all your TV channels ready to watch instantly, at the touch of a button. Our 15,000 square foot caravan accessory shop also features a wide range of Maxview accessories such as, Satellite Flyleads, Cables, Connectors and Adaptors.