Essential Caravan Towing Equipment Guide
Back
So you have paid a deposit on a quality used touring caravan and are feeling pretty good about things thus so far! You have discovered that you are in need of help in deciding some basic and essential towing equipment and have decided to pop along to your favourite caravan shop, owned by none other than Homestead Caravans & Outdoor Leisure.
At approximately 15,000 square feet in size with a dedicated Kampa Awning Showroom, the Homestead caravan accessory store has to be one of the most impressive dedicated caravan shops in the UK. Homestead carry a wide range of Caravan Towing Equipment from all the leading brand names including Maypole, Milenco and AL-KO.

Visiting smaller caravan shops can be a frustrating experience where product ranges are limited. As a consequence, staff often have less experience because they have been exposed to a much smaller range of product. The good news is, when you arrive at Homestead you can be pretty confident they will have the towing equipment you need.
In order to safely and legally drive or tow a caravan in the UK and Europe, there are a few essential products you will need to purchase first.
As you naturally feel a little unsure about the types of towing equipment you might need, you approach a store assistant for help with some reasoned questions that look something like the following:
What towing equipment is required to comply with UK Law?
What additional towing equipment do I need to comply with EU Law?
What other non-essential towing equipment can you recommend?
Towing Equipment Required to Comply with UK Law
Number Plates
As obvious as it may sound it's worth stating that, you must display the same number plate on your caravan as on your towing car.
Towing Mirrors
By law towing mirrors must be fitted to the tow car in the event the caravan is wider than the rear of the vehicle. To comply with the law, you must be able to see clearly down both sides of the caravan and see 4 metres either side of the caravan, at a distance of 20 metres behind the rear of the caravan.
Failing to use towing mirrors or using inappropriate wing mirror extensions can earn you 3 points on your license and leave you with a hefty fine of up to £1000.
TIP: For reasons of safety, it is illegal to travel with wing mirror extensions fitted to your car when the caravan is not being towed.
Thankfully towing mirrors are inexpensive and widely available, so there is no genuine reason to tow without using them. Homestead Caravans stocks a wide range of popular towing mirrors from leading brands such as Maypole and Milenco.
Browse Homestead Caravans range of Maypole & Milenco Towing Mirrors
Some of the best towing mirrors money can buy are produced by Milenco. We recommend all Milenco wing mirrors but our firm favourite is the award winning Milenco Aero 2, available with convex or concave glass. Maypole is another producer of some fantastic competitively priced wing mirrors such as the Maypole Deluxe Dual Towing Mirror, which is suitable for most large, deep curved vehicle mirrors, such as those found on the popular Vauxhall Insignia.
Breakaway Cable
A breakaway cable is a low cost essential bit of kit that could prove invaluable in the event of an accident, where the caravan becomes detached from the tow car. In the event the caravan becomes detached from the tow car the breakaway cable activates the caravan breaking system before releasing.
TIP: Caravans with a MTPLM, or Maximum Technically Permitted Laden Mass over 750kg and below 3500kg, must be fitted with a breakaway cable.
What additional Towing Equipment do I need to comply with EU Law?
Before embarking on a driving excursion in Europe, we advise that you familiarise yourself with the laws of the countries you intend on transiting. Irrespective of whether you will be travelling with or without the caravan, there are a number of products you're going to have to take with you.
The good news is that despite the fact no one likes being told where to spend their hard earned cash, these mandatory products are very worthwhile and some of them may in fact save lives should they be required.
TIP: It is forbidden to travel in Europe with a radar detector.
Driving in France
If you are heading to France you will need to take a self-test breathalyser with you, although failing to do so currently (at the time of writing) no longer leads to the implementation of a fine.
Italy & Spain
If you plan on travelling in Italy or Spain with a protruding rear load you will need to purchase a reflective Aluminium Rear Warning Signal and fix it so that it is clearly visible.
Other Common European Driving Requirements
GB Sticker
Warning Triangle
Reflective jacket/waistcoat
First aid kit
Fire extinguisher
Headlamp adjustment(beam benders)
TIP: The Highway Code says, "NEVER attempt to place a warning triangle on a motorway", despite the law in other European countries stating otherwise.
What other non-essential towing equipment can you Recommended?
We thought we would take this opportunity to make some recommendations. While these products are not legal requirements, the following items do come highly recommended because of enhancements to safety and security.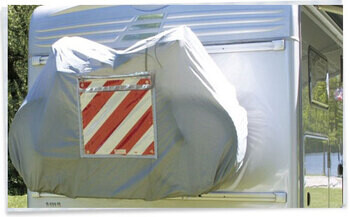 Rear Warning Sign
As mentioned above when driving in Spain and Italy any overhanging loads must be indicated using an aluminium reflective square panel measuring 50cm x 50cm with reflective red and white diagonal stripes. Although it is not a legal requirement in the UK, we recommend that if you are going to be towing a caravan or travelling in a motorhome with a protruding rear load, that you attach a rear warning sign. In the UK there is no requirement to install a Warning Signal made of aluminium and cheaper plastic reflective rear warning marker boards are readily available for around £6-£7.
TIP: The stripes of a Rear Warning Sign should point to indicate the side that vehicles following are to overtake.
Jockey Wheel and Clamp
It would be most unusual to take ownership of a quality caravan only to find out that the jockey wheel is unserviceable or in need of repair. However, it is worth insertion only if to remind you of how important it is to regularly check that the jockey wheel is adequately fastened prior to travelling and that all parts remain in good working order.
Caravan Stabilisers
Although caravan stabilisers are not a legal requirement there has long been an unwritten law that most caravanner's have enthusiastically adopted.
Used in conjunction with safe loading practises a stabiliser is an important additional measure to prevent serious accidents from occurring in the event the caravan should snake. Snaking can be a very frightening and unnerving experience, especially for those with limited towing experience. Snaking is when the caravan begins to sway from left to right and the axle of the caravan no longer aligns with the towing car. At some point the caravan has attempted to realign but has over corrected, which may start a cycle of snaking.
There can be a number of causes, many of which can be remedied by taking simple steps:
Make sure car and caravan are evenly matched
Distribute weight around the car and caravan evenly to increase stability
Drive safely, taking into account changing road and weather conditions.
Not taking into account some of the latest ATC technology from Swift and other stability systems utilised by other caravan manufacturers, there are essentially 2 types of stabiliser available; leaf spring, or blade stabilisers and towball mounted stabilisers.
Leaf / blade stabilisers have been in use for decades and rely on downward torque provided by simple friction disks that allow for controlled sideways movement. Blade stabilisers like the Stronghold are competitively priced and easy to fit but in recent years have taken a back seat to popular towball stabilisers that provide greater convenience, style and usability.
Towball stabilisersare now fitted by many caravan manufacturers including The Swift Group. This type of stabiliser works by applying direct pressure to the towball using special friction pads that rely on a dry towball to operate. AL-KO and Winterhoff are the major brands on the market and available to suit different caravan weight ranges.
Nose weight Gauge
One of the most important aspects of caravan safety is safe loading of the caravan and car. If the nose weight of the caravan is too heavy it can lift the front of the tow vehicle, which can effect steering. However, if the noseweight of the caravan is too light, it could lift the rear of the tow car negatively impacting steering and stability.
For absolute accuracy, we highly recommend the Milenco Precision Calibrated Noseweight Gauge. It's a little bit pricey compared to other brands but it offers a much higher degree of accuracy, even after years of use. According to Milenco's own tests, the Precision Calibrated Noseweight Gauge will still remain accurate after 1000 uses!
Caravan Security Devices
Can you imagine pulling over at motorway services to stop for a bite to eat and returning to find your caravan, along with a great many personal effects gone with the wind. While security devices do not make it onto our list of legal requirements, your caravan insurance policy is very likely not going to be worth the paper it is printed on, if you do not have an insurance approved security device protecting your caravanning assets.
While a well made high performing security device may set you back a pretty penny, over the life of the product it's going to save you money through lower insurance costs, and help prevent your caravan from becoming one of thousands of caravans stolen each year.
There are two primary branches of security device to initially consider, these are Wheel Clamps and Hitch Locks. But there are also a myriad of useful and effective security products that can be used as a deterrent against motorhome and caravan theft. In many circumstances a healthy dose of common sense is all that's required to outwit the most determined criminals.
Wheel Clamps
An ideal wheel clamp or wheel lock will prevent access to the wheel studs that hold the wheel onto the hub, and if necessary the tyre inflation/deflation valve. It should be installed in the least amount of time with the least amount of effort and while not a priority for heavier wheel clamps that are ideal for winter storage, a wheel clamp worthy of use on-the-go needs to be reasonably lightweight and compact to be taken seriously.
For alloy wheels, the Fullstop Nemesis is one of fastest and easiest wheel clamps available right now, taking just 8 seconds to fit. Unlike traditional wheel locks the Nemesis locking system passes through the wheel rather than wrapping around the wheel. Traditional wheel clamps are easier to circumvent. If you try to rotate a wheel that has the Nemesis fitted a steel bar will make contact with the caravan suspension preventing further rotation of the wheel.
Browse Homestead Caravans range of Caravan & Motorhome Wheel Clamps
Hitch-locks are available in a range of sizes and shapes and offer varying degrees of security. If unsure, it's a good idea to contact your insurance company to find out which products they recommend to help you comply with your policy. However, insurance approved hitch locks are usually advertised as such and there is a wealth of information online that can help put your mind at ease.
By comparison to a wheel clamp, most hitch locks are usually smaller and lighter and because you don't have to bend low down, a little easier to install. This makes hitch locks ideal for regular use such as when on-route. Some hitch locks can be fitted when the tow vehicle and caravan are coupled together, which makes removal harder and more time consuming.
TIP: Never travel with a hitch lock fitted in case of an emergency. If the car and caravan are locked together via the coupling during a road traffic accident that causes the caravan to roll onto its side, it may cause the tow car to roll too and make it difficult to separate the two vehicles.
The high prevalence and cost associated with tow ball stabilisers has lead to the development of a range of special hitch locks that not only protect the caravan, but also prevent the unauthorised removal and theft of the stabiliser itself. The Stronghold AL-KO Hitch-lock is one such hitch lock that is Sold Secure Tested and Approved to GOLD standard and VbV/SCM tested and approved to MP03 in the Netherlands. The Stronghold AL-KO Hitch-lock is an effective and highly visible deterrent that is both lightweight and compact, and can be fitted in under 10 seconds.
Browse Homestead Caravans full range of Hitch Locks
For the ultimate in lightweight and compact high security caravan protection, take a look at our Fullstop Nemesis Ultra Wheel Lock & Saracen Gullwing Hitch-lock Package. Suitable for AL-KO AKS2004 and AKS3004 tow ball stabilisers, while the Fullstop Nemesis Ultra Wheel Lock is suitable for standard and Bailey Alloy Wheels.
Accident & Breakdown Equipment
No one wants to think about what might happen in the event of a breakdown or worse still, an accident involving another vehicle! However, the fact is the more planning and preparation you make, the better the outcome is likely to be.
There are a few relatively inexpensive products that can really save your bacon in the event you experience problems with your tyres. While a tyre gauge is not essential(these tend to be available at service stations) the accessibility of having one in your possession may be comfort enough. The Ring Digital Tyre Gauge with it's handy travel case gives a quick and easy instant tyre pressure read out.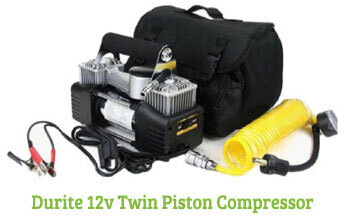 An Air Compressor is essential in the event of a flat tyre on either the tow vehicle or the caravan. The Durite 12v Portable Twin Piston Air Compressor can inflate an average car tyre in only 3 minutes, getting you going and on your way to your destination, or just far enough to get you to the nearest service station.
While not an essential item, if you have to change a wheel a Torque Wrench will give you the ability to precisely tighten the wheel bolts to the required tension. Of course before executing a wheel change you'll need a reliable caravan jack to get the wheel off the tarmac. There are a host of low cost Scissor Jacks available but none quite so convenient or as safe as the AL-KO Side Lift Jack. For caravanner's who might prefer using a Hydraulic Jack, make sure you take a look at the Kojack range of Hydraulic Jacks for single and twin axle caravans.
TIP: It is critical that the caravan should be connected to the towing vehicle while changing a tyre or lifting the caravan for any reason.
Heaven forbid your towing vehicle battery should runs flat at a motorway service station or country lay bye on the way to your favourite holiday destination. Thankfully this scenario can be easily avoided altogether, simply by purchasing basic Booster Cables and an effective Car Battery Charger. The Durite 12V Jump Start is one such charger, it's a very neat and compact charger with built-in battery booster function, which can start a car in seconds! It will fit in your jacket pocket and has many other useful applications whilst on your caravan holiday, such as running your laptop computer or charging your iPad.
We have prepared a special product category in our online shop called 'Travel Essentials'. We highly recommend you browse the products available, they include the following Product Groups:
Accident & Emergency
Battery Maintenance
Breakdown & Recovery
European Travel
Travel Comfort
Winter Travel
Be safe and happy caravanning to you all.
Comments
Be the first to comment on this article