Milenco Wraith Caravan Wheel Lock Review
Back
There's a brand NEW Caravan Wheel Lock in town and it's got the criminals looking for a new tool bag, it's called the Milenco Wraith Caravan Wheel Lock and it's the newest in a dynamic range of Motorhome and Caravan Security devices by Milenco Limited.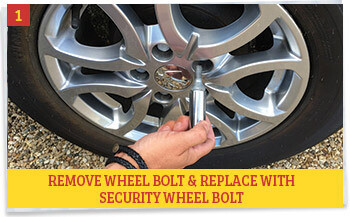 Founded in 1993 Milenco is an engineering company that designs and engineers high quality, world class, market leading products for the recreational vehicle industry, through product innovation and continuous improvement. A large proportion of Motorhome and Caravan owners will already own at least one Milenco product.
In our experience Milenco Security Devices are designed so well and to such a high standard they have a tendency to dominate the market, once they are established. This has been proven time and time again where Milenco have consistently won product tests and awards for most of their products worldwide. Virtually every Milenco product tested by Caravan magazines have been awarded a 'Best Buy' commendation. In fact the Milenco Wheel-clamp has been undefeated in every demanding attack test performed by Practical Caravan since 1999.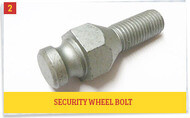 The Wraith Caravan Wheel Lock is manufactured at Milenco's purpose built, state-of-the-art production facility in Milton Keynes. The design of innovative high quality Security products is where Milenco really excels above all else. In testing, the Wraith Wheel Lock received 'Sold Secure Gold' approval, impressively this is two and a half times tougher than Thatcham Category 3, which is accepted by most, if not all insurance companies. Gold rating is the highest of 3 possible Sold Secure approval ratings.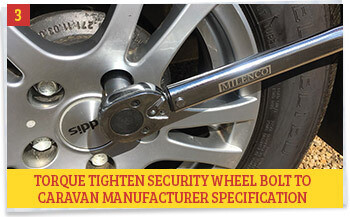 Wraith has been extensively tested by both Milenco, Sold Secure and Tass, formerly known as SCM and has passed and exceeded every test performed. This is a very high Security product, tested to professional Caravan Security standards. The Sold Secure Gold and SCM, TASS, SKG-IKOB MP03 standards are the highest and only professional standards in the world for Caravan Security.
It's important to buy a Caravan Wheel Lock that has received appropriate approval such as Thatcham or Sold Secure, for a number of reasons. Firstly, it avoids being duped by manufacturers making false claims. Having an industry standard that the public and private sector can easily understand and rely upon, allows insurance companies to set Security standards across a wide range of policies, not just Caravans and Motorhomes. In some instances insurance companies may pass on discounts for higher rated Security products. Your insurance policy may be invalid if you don't follow policy guidelines?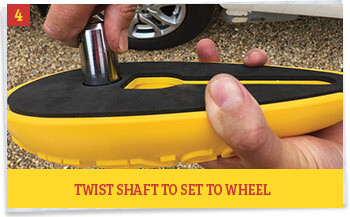 We feel that in the future insurance companies will demand higher Security standards from policy holders and for this reason the Wraith stands out as a 'Best Buy' future proof Security product.
Milenco Wraith High Quality Features
Wraith is suitable for steel and alloy Caravan wheels and has a distinctive tear drop shape, with a high Security barrel set-in an extremely tough plastic fascia. Although it's plastic, it has the feel and appearance of a powder coated metallic finish that makes an extremely robust shell.
Being plastic it's not going to corrode and will look good for far longer. It also helps to keep the weight and cost down but in no way cheapens the level of Security; remember, it's two and a half times tougher than Thatcham Category 3. The Wraith Caravan Wheel Lock is so well made it comes with a 5 Year Warranty.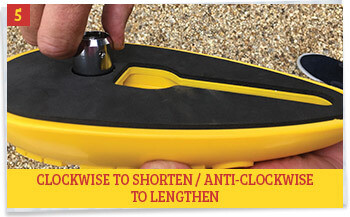 For visibility sake the Wraith is typically 'Milenco' Yellow, with WRAITH embossed in large red lettering and two Milenco logos forming part of the plastic mould. It's very visual and designed to put off a would-be thief from a good distance. The plastic shell is approximately 5mm thick and extremely dense and solid, the smooth finish, curved edges and unique shape makes it difficult for a thief to grip and lever.
Wraith is exceptionally user friendly, despite its heavyweight credentials the Wraith Wheel Lock is extremely lightweight and portable at only 2.65kg (Wraith plus Security bar). Wraith is easy to handle and equally easy to operate and sits in the palms of your hands at a mere 27cm long (approximately).
The recessed ultra high Security barrel is impossible to pick or attack without powerful 230V driven tools or herculean brute force strength. Even if you had the tools or the strength it going to take a good deal of time and likely to create a cacophony of sound. The rest of the wheel clamp body is manufactured using the highest quality steel and is extremely robust and durable; able to resist sawing and freezing. A foam back is used on the Wheel Lock to protect your Alloy wheels.
Wraith Installation
Milenco Wraith Caravan Wheel Lock fits by replacing one of the Caravan wheel bolts with the Wraith's specially engineered, Low Mass Security Wheel Bolt Receiver. The Wraith Wheel Clamp has a foam covered high grade steel bar, that locates behind the clamp and passes through the wheel, which prevents wheel rotation.
Unlike the AL-KO Secure Wheel Lock there is no requirement to align the wheel to a receiver behind the wheel, in order to fit the lock successfully.
Thankfully locating the bar is child's play, so you won't have to spend minutes on your knees trying to locate the bar into the rear of the clamp. Once the Wheel Bolt Receiver is in place, fitting the Wraith really does take seconds to do. Simply position the bar through the wheel and lock the Wraith to the Security bolt receiver.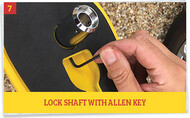 For more detailed instructions on how to set-up and use the Milenco Wraith download the PDF instructions at the bottom of the page.
The Wraith Caravan Wheel Lock comes complete with 3 keys and is supplied in a nice hard carry case to keep it safe and dry. We advise you make note of your key number as there are no master keys if you lose them.
Milenco Wraith Caravan Wheel Lock current price: £114.99
Wraith Wheel Lock Instruction Set Up
Click the 'Download pdf' button to download instructions for how to set up the Wraith Caravan Wheel Lock.
Download PDF
Wraith Wheel Lock Instructions For Use
Click the 'Download pdf' button to download instructions for how to use the Wraith Caravan Wheel Lock.
Download PDF
Comments
Excellent review, very thorough description of this wheel lock.