5 Top Selling 'Insurance Approved' Caravan Wheel Clamps
Back
A Wheel Clamp is an essential Caravan Accessory in the fight against crime. According to recent online reports, Caravan crime rates are on the increase. Unfortunately there's no magic bullet but there are steps Caravan owners can take to greatly improve Caravan Security. Using a good quality Wheel Clamp is a good place to start.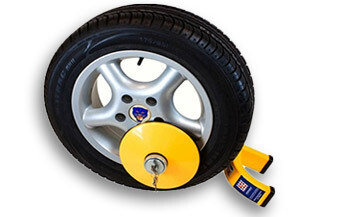 Compared to hitch locks Wheel Clamps tend to be bulkier, and require a bit more effort to install. The most obvious time to use a Wheel Clamp is when the Caravan is placed into storage, whether that be at home or at a storage facility. It is also good practice to use a Wheel Clamp while on the campsite. Believe it or not, it's not uncommon for Caravans to be stolen from right under the nose of the park and park visitors. It certainly does pay to introduce yourself to your neighbours while on-site.
Not all Wheel Clamps are made equal, they come in a wide range of styles, colours and sizes and offer varying degrees of Security. If you're new to Caravanning you may decide to seek advice before splashing out. Homestead Caravans friendly team of accessory advisors has decades of experience and is here to help you. The 15,000 square foot Caravan Accessory Showroom is home to a comprehensive range of Motorhome and Caravan Wheel Clamps from leading brands including, Milenco, AL-KO and Fullstop.
Roadside Security
In most cases we recommend Caravanners rely on the Security provided by a hitch lock while on the road and during roadside stops. This is because hitchlocks are comparatively lighter, compact and easier to fit. If you have a car full of kids needing an emergency motorway stop, you may not have time to fit a Wheel Clamp. A good hitchlock can also be fitted while the Caravan and car are connected for enhanced roadside Security.
READ MORE: 5 Best Selling Insurance Approved Caravan Hitch Locks for AL-KO & Winterhoff Coupling Stabilisers
Choosing the Best Wheel Clamp for Your Caravan
Wheel Clamps come in a wide range of styles, colours and sizes. A well designed Wheel Clamp should deter all but the most determined criminal. It should be highly visible and be constructed using strong materials and include a high quality Lock that cannot be picked, drilled or levered off. The longer a Wheel Clamp can sustain an attack the more likely a criminal will give up. Some Wheel Clamps leave the wheel nuts exposed, which means the clamp can be removed by taking the wheel off. In such cases, we advise you consider using Locking wheel nuts alongside the clamp. When the Caravan is placed into storage, it makes a great deal of sense to use both Wheel Clamp and hitch lock to maximise Security.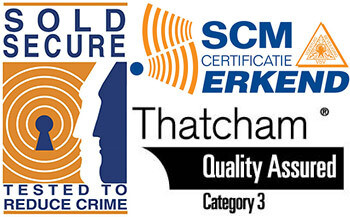 The price of a Wheel Clamp is a pretty good indicator of its quality and ability to withstand an attack; as with most things, you generally get what you pay for.
To help consumers make informed decisions a number of independent testing standards have been established, which are recognised by the majority of Caravan insurers. For this reasons we frequently recommend our customers check with their insurance policy to see if any mandatory Security requirements exist. The good news is some insurance companies offer discounts to customers who use recognised Approved Security Devices.
Sold Secure is an independent organisation, carrying out testing on a wide range of Security Devices, including Caravan Wheel Clamps and hitch locks. You may also see Thatcham approved products and those accredited by European bodies such as TUV and SCM. The SOLD SECURE logo will be seen on many Security Devices sold in the UK with GOLD, SILVER & BRONZE ratings. The AL-KO Compact Secure Wheel Clamp comes with a DIAMOND rating, the only product on the market with this level of Security.
The following Wheel Clamp / Lock recommendations provide a high level of Caravan Security and are independently tested and approved to industry recognised standards.
AL-KO Secure Compact Wheel Lock Kit
The AL-KO Secure Compact Kit is a one of a kind Caravan wheel Lock that is suitable for most Caravans on an AL-KO Chassis from 2005 onwards. The Lock is unique in that it passes through the alloy wheel Locking onto the axle by way of a receiver mounted to the AL-KO chassis. The AL-KO Secure is available according to the alloy wheel fitted to the Caravan.
If you are unsure whether a Lock receiver is fitted to your Caravan, simply look between the spokes of the rear inside wheel for confirmation. You should see a yellow plastic bung screwed into the receiver. This will need removing before fitting the Lock.
The AL-KO Secure is the only Wheel Lock on the market that has been awarded Sold Secure to Diamond Standard. It also features a registered key management system, which provides owners with an extra layer of Security, in the event an unauthorised user attempts to acquire keys. The 9-pin anti-pick radial Lock system is drill resistant and offers excellent protection against attack.
What really stands out about this product is its compact dimensions and lightweight credentials, making it an obvious choice for use at service stations and car parks while on-route.
Years of research & development into methods and practices employed by thieves ensures the AL-KO Secure Wheel Lock protects your Caravan. At home, on site or in storage there is no better way product to protect your Caravan.
Homestead Caravans stock a range AL-KO Secure Compact Kits suitable for the Swift Caravans. Click here for details.
Features:
Brand: AL-KO
Sold Secure to Diamond Standard.
2 Year mechanical warranty.
Attack time:
Various models available to suit 14" & 15" alloy wheels.
Designed to fit AL-KO axle mounted receivers.
Wheel fitment: Alloy wheel rim specific, it is vital that you choose the insert no that matches the wheel of your Caravan.
Weight: 3.55kg.
Colour: Red.
Keys supplied: 2.
Included: Zipped carry / storage bag
FULLSTOP Nemesis Ultra Caravan Wheel Clamp
The Nemesis Ultra Wheel Clamp is Ultra-Secure & Ultra lightweight, weighing in at just over 3kg and able to fit in a shoebox, installation is a simple matter of locate Lock and go. Insurance approved with Thatcham Approval 'category 3' SCM & TNO tested and certified.
The unique feature of the Nemesis Ultra is that the clamp Locks to a universal wheel bolt with the toughened steel bar passing through the wheel. This patented design prevents wheel rotation and removal and will still work when the tyre is deflated. The Nemesis Wheel Clamp incorporates a British made anti-pick Low & Fletcher Lock and is resistant to cutting, drilling, gas freezing.
Fitted in just 8 seconds this lightweight and compact Caravan Wheel Clamp is ideal for use in both storage and for on-site Security. No need for any fiddly alignment. It's even a viable alternative or addition to a hitchLock while on the road, especially if you do not intend on Locking the Caravan to the car.
Features:
FULLSTOP by Purpleline
Thatcham Approval 'category 3' SCM & TNO tested and certified.
5 Year mechanical warranty.
To suit most 13", 14" & 15" alloy wheels.
Wheel fitment: Through the wheel.
Weight: 3kg.
Colour: Orange.
Keys supplied: 2.
Included: Zipped carry / storage bag
STRONGHOLD Scimitar Alloy Wheel Clamp
The Scimitar Alloy Wheel Clamp universal fitting Scimitar alloy Wheel Clamp Designed for Caravans, trailer tents and trailers with alloy wheels sizes from R13 to R15, with tyre sizes of 165mm to 205mm.
The Scimitar Wheel Clamp has a lightweight and compact design that incorporates a robust case hardened steel construction. It also has a unique securing system that includes the use of supplied wheel bolts and keys for extra Security. The patented Lock system has literally millions of key combinations and comes with a 5 year mechanical warranty. Tested to Sold Secure Gold Standards providing a high level of Security.
Scimitar Wheel Clamp fits through the wheel and not onto the tyre for increased Security. Weighing only 6kg and easy to fit in under 30 seconds, this Caravan Wheel Clamp is perfect for securing your Caravan both in storage and away on-site.
Features:
Sold Secure to Gold Standards.
3 Year mechanical warranty.
Wheel fitment: Through the wheel.
Fits alloy wheel sizes from R13 to R15 with tyre sizes of 165mm to 205mm.
IMPORTANT: 50 mm alloy wheel spoke gap required for fitting.
Weight: 6kg.
Colour: Yellow.
Keys supplied: 3.
Sturdy durable plastic carry/storage case included.
MILENCO Caravan Original Wheel Clamp
The Milenco Caravan Wheel Clamp is available in two versions covering 13" Caravan wheels and 14" and 15" Caravan wheels. It has an award winning design and has won every Practical Caravan magazine attack test over the past decade. Approved to Sold Secure Gold standard and SCM MP03, the Worlds highest Caravan Security standard.
Despite its modest weight the Milenco Caravan Wheel Clamp is very strong, with solid steel construction that is resistant to sawing and freezing conditions. The high Security Locking mechanism is pick-proof and recessed for ultimate protection against direct forced attack.
The Milenco Caravan Wheel Clamp is ideal for protecting your Caravan while in storage in conjunction with a good quality hitch lock. Supplied with a water resistant storage case for protection and transportation.
Features:
Sold Secure to Gold standards & SCM MP03, the Worlds highest Caravan Security standard.
5 year warranty including Lock.
2 models available.
To fit steel and alloys wheels.
C13 fits 13" wheels & Twin axle 14" wheels. C14 fits 14" wheels & Twin axle 15" wheels.
Wheel fitment: 3 point triangular design.
Weight: 9.4kg.
Colour: Yellow.
Keys supplied: 2.
Sturdy durable plastic carry/storage case included.
Fullstop Excalibur Receiver Wheel Lock
The Fullstop Excalibur Receiver Wheel Lock has a unique and highly visual orange finish designed to keep Caravan thieves away. Suitable for most caravan alloy wheels from late 2005, the Fullstop Excalibur is lightweight at only 3.9kg and made from composite materials, as used on all Fullstop Wheel Clamps. It prevents wheel rotation and removal and is ideal for long term storage.
The Excalibur Wheel Lock is fast and easy to fit without the need to accurately align or jack up the wheel.
The Excalibur is designed to screw directly into the receiver section if available on your caravan. It will also fit alloy wheels without the fitted receiver using the locking receiver arm supplied and incorporates a British made Lowe & Fletcher nine pin, anti-pick drill locking barrel. Supplied with a 5 Year Warranty for absolute peace of mind.
Features:
Independently tested to exceed GOLD SOLD SECURE standards 2011.
Fits most new caravans with factory fitted alloy wheels.
Warranty: 5 Year
Weight: 3.9kg
Colour: Orange
Keys supplied: 3
Includes a compact, slim line handy carry case for easy storage.
Please note: This lock will not fit steel wheels.
Comments
Good Afternoon Thank you for the email, but Unfortunately we no longer sell this product, and I'm unable to confirm if what the gentleman is correct in what he's saying regarding the power tool attack. Please contact purpleline direct. We now sell the Milenco Wraith wheelclamp which we feel is a better product. Kind Regards Steve Steve
Nemesis in the video the chap says it will with stand a power tool attack ( cordless angle grinder ? ) 120 seconds. Which is 2 minutes? Is that correct
Hello Sonny Thank you for your comment regarding a wheel lock similar to the Nemesis Wheel Clamp. I can confirm that we do sell the Milenco Wraith Wheel Clamp which works almost exactly the same a s the Nemesis. The Milenco Wraith doesn't fit every steel wheel but does fit some. I feel if the Nemesis fits the the Wraith will also fit. If you would like more info please email me on steve@homesteadcaravans.co.uk I hope this is helpful Kind Regards Steve
Good day Looking at wheel locks on your site. Do you have a type similar to the Nemesis (which we already use on one of our caravans) suitable for steel wheels. We are trying to avoid having a large wheel clamp. Regards Sonny SMith