Thetford Toilet Additives and Maintenance Products
Back
With a replacement seal or two and a change of pump it's not uncommon for a Thetford Toilet to still be in service after 10 years, but that kind of long life doesn't just happen without a little TLC...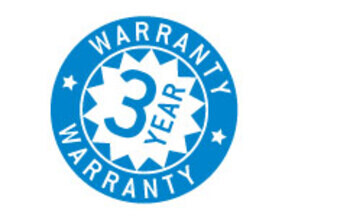 Since the 1960's Thetford has been one of the most recognised brand names in the Camping, Caravan and Motorhome industry, their Cassette and Porta Potti Toilets are the most widely used in Europe and are fitted as standard to the majority of caravans and motorhomes. Testament to the quality of these products all Portable Toilets and Cassettes receive a 3 year warranty and this is an excellent clue as to the potential longevity of Thetford product.
Thanks to Thetford's extensive range of care products maintaining a Thetford Toilet is pretty straightforward and requires minimum effort. FYI; if you own any other brand of Portable Toilet, Thetford cleaners and maintenance products are absolutely compatible and beneficial.
READ MORE: 2018 Thetford Porta Potti Range Review - Homestead Caravans
Thetford - Choose the Wining Team
Undoubtedly the world's leading manufacturer of toilet additives, offering a a comprehensive range of products developed in-house in their own high-tech laboratories. Products are specifically made to enhance toilet performance and life, providing high levels of sanitation, convenience and safety. Thetford is continuously innovating and making improvements to existing formulas, all of which are designed to exceed customer's expectations.
Thetford's Environmental Policy has lead to the development of greener solutions, giving users access to more environmentally friendly choices. Whichever product you decide is best for you, all Thetford plastic containers/bottles are fully recyclable.
Toilet Additives - Waste-Holding Tank Products
Aqua Kem products are designed to be deposited in the waste-holding tank to break down solids into a liquid including Thetford Toilet Roll. Aqua Kem also prevents gases from building up and deodorises the tank, leaving your holiday environment always smelling clean and fresh.
Aqua Kem Blue Concentrated
Aqua Kem Blue Concentrated is a powerful, highly effective toilet fluid for Thetford Cassette and Portable Toilet waste-holding tanks. Don't be fooled by the small 0.78 litre bottle size, which incidentally is extremely convenient to carry, this product is equivalent to a 2 Litre bottle of Aqua Kem Blue! In addition to its compact size and reduced weight it is more efficient at turning solids into a liquid, for easier tank emptying. Now available in 'Lavender' scented variation, Aqua Kem Blue Lavender Concentrate.
Aqua Kem Blue
With a 50 year history Aqua Kem Blue is by far the most widely used and established waste-holding tank additives available; in fact, it is the number 1 toilet additive for mobile toilets in the world! Available in a choice of 1 and 2 litre bottle size bottles, Aqua Kem Blue is the most powerful, high performance suitable for all toilet brands. Like Thetford concentrate Aqua Kem Blue is also available in popular Lavender scent, Aqua Kem Blue Lavender.
Benefits:
1 dose lasts up to 5 days
2L = 13 doses
Outstanding odour control
Liquefies waste for easier tank emptying
Reduces gas build-up
Available in 1L and 2L bottles
Also available with the small of Lavender
Aqua Kem Blue Sachets
Aqua Kem liquid power locked into dry form soluble sachets, for safe and totally clean handling. Aqua Kem Blue Sachets are supplied in a resealable pack of 12 that are easy to store and deliver the perfect dosage every-time. If you don't like handling the fluid and want to completely rule out messy spills, Aqua Kem Sachets are a great alternative that offer all the benefits of traditional Aqua Kem fluid.
Benefits:
1 dose lasts up to 5 days
The correct dose every time
Outstanding odour control
Liquefies waste for easier tank emptying
Reduces gas build-up
Available in resealable bags of 12 sachets
1.5 Litre Aqua Kem Green
1.5 Litre Aqua Kem Green is the best performing environmentally conscious toilet fluid that truly works. Once in contact with solids inside the waste-holding tank a biological reaction occurs, promoting the growth of natural bacteria that breakdown and liquefy wastes. Supplied in a conveniently sized 1.5 litre recyclable bottle Aqua Kem Green has a strong formula that breaks down waste including Thetford Toilet Paper and keeps the waste-holding tank smelling fresh.
It's Earth friendly biological properties makes this ideal for mobile holiday use plus, it' is septic tank safe.
Benefits:
1 dose lasts up to 4 days
1.5L = 10 doses
Environmentally conscious
Liquefies waste for easier tank emptying
Outstanding odour control by stimulated biological activity
Septic tank safe
Available in 1.5 Lire or 375ml bottles
Aqua Kem Green Satchets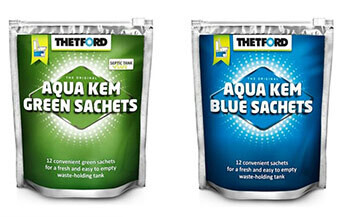 Aqua Kem Green Satchets - 12 Satchets the water soluble sachets provide maximum ease of use, as they always come in the right dose. Powerful, easy and green.
Benefits:
1 dose lasts up to 4 days
The correct dose every time
Environmentally conscious
Liquefies waste for easier tank emptying
Reduces gas-build up
Septic tank safe (Test ISO 11734)
Available in resealable bags of 12 sachets
1 Litre Cassette Tank Cleaner
Thetford Cassette Tank Cleaner is a powerful fluid for periodical cleaning and maintenance of the waste-holding tank of Cassette Toilets and Portable Toilets too. It is specially formulated to provide a deep clean, freshen and protect the plastic surface of your toilet helping to prolong the life span of the plastic. It freshen up your toilets waste-holding tank and helps to prolong its life by removing deposits including, stubborn calcium deposits that collect on moving parts and on the tank walls.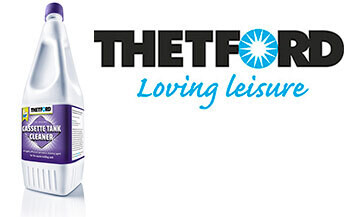 Supplied in a recyclable 1 litre bottle it is super easy to apply and requires no hard scrubbing. Simply pour the solution along with some water into the waste tank and rinse to give your caravan, motorhome or tent etc. a welcoming and homely fresh smell.
The perfect time to use Tank Cleaner is after heavy use or at the end of the season just prior to putting the toilet away for a long period. A good way to do this is to add some Cassette Tank Cleaner to the toilets tank before you drive home, by the time you get home most of the hard work should be taken care of. Come the start of a new season you'll be glad you did and your caravan or motorhome will be left smelling fresh.
Thetford recommend using Tank Clean 2 to 3 times a year for maximum benefit but it really depends on how much time you spend on holiday (bet you thought I was going to say "on the loo").
Benefits:
1L = 3 doses
Keeps your waste-holding tank looking like new
Prolongs tank life
No scrubbing required!
removing deposits was never so easy
Leaves behind a pleasant, fresh scent
For best results use a least 2-3 times a year
Available in 1 Litre bottle
Flush-Water Tank Products
A mixture of water and flush water additives are added to the flush water tank and are pumped out of the tank around the bowl. In most cases this is a manual process using either a traditional bellows or piston pump. Minimum effort is required as the liquid is highly effective and efficient in respect to the amount of water required per flush.
Thetford Aqua Rinse Plus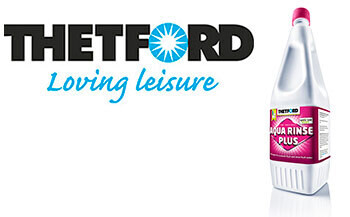 Thetford Aqua Rinse Plus is a clever solution that performs many tasks as it makes its way around the bowl. Primarily it is designed to keep the bowl free of limescale and help waste move efficiently from the bowl into the waste tank but it also keeps the bowl freshly scented and helps lubricate the seals on the way down. Aqua Rinse also ensures the fresh water remains clean and forms a protective layer to block the build up of waste and bacteria, for a smoother flush. Safe to with septic tanks and on plastic and ceramic toilet bowls. Supplied in a 1.5 litre recyclable easy pour bottle with handle.
Benefits:
1.5L = 15 doses
Helps to prevent limescale build-up in the bowl
Ensures a more effective and smoother flush
Keeps flush waster fresh
Pleasant Lavender scent
Safe to use on plastic and ceramic toilet bowls
Septic tank safe (Test ISO 11734)
Available in 1.5 Litre and 400ml bottles
Toilet Bowl Products
500ml Aqua Rinse Spray
Aqua Rinse Spray a toilet bowl spray for cassette toilets connected to a central water tank. To be clear this type of toilet does not posses its own flush water tank. Thetford Aqua Rinse spray gives you the convenience of a spray combined with the pink power of Aqua Rinse Plus in a 500ml spray bottle.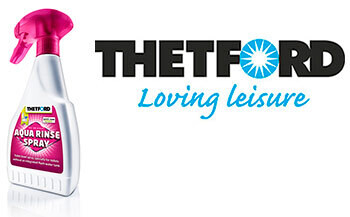 Specially designed to coat the toilet bowl with a protective layer to prevent staining and the build up of waste and bacteria for a smoother flush. It also helps maintain healthy rubber seals by lubricating them and saves water as fewer flushes are required. With built in freshness for round the clock freshness.


Benefits:
Coats the toilet bowl with a protective layer providing a smoother flush
Saves water as fewer flushes are required
Smells fresh long after spraying
Prevents staining
Septic tank safe ( Test ISO 11734)
Available in 500ml spray bottle
750ml Toilet Bowl Cleaner
A powerful Toilet Bowl Cleaner that blasts away scale build-up and bacteria inside the toilet bowl, for an ultra-clean and hygienic toilet finish. Supplied in a 750ml recyclable squeeze bottle with angled nozzle for easy application. Specially formulated to be kind to plastics, ceramics and toilet seals Thetford Toilet Bowl Cleaner 750ml is hard on dirt. If you're toilet bowl starting to get a tan and is in need of some serious cleaning, the thick, concentrated formula of Thetford's Toilet Bowl Cleaner is sure to kick the goods out of your toilet bowl – POW!
Benefits:
Blasts away scale build-up & bacteria
Hard on dirt and deposits
Protects plastics, ceramics and toilet seals
Thick, concentrated formula
Provides a clean, fresh smelling toilet bowl
Ultimate toilet bowl cleanliness
Available in 750ml bottle
Aqua Soft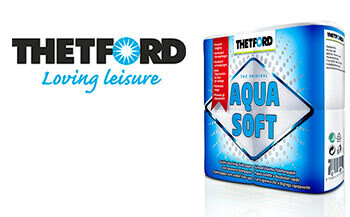 Thetford Aqua Soft Toilet Paper has been specially developed for use in all mobile toilets. A super-soft toilet paper that disintegrates quickly once it reaches the waste water holding tank and not a moment before! Prevents clogging and makes waste-holding tank easier to empty. Supplied in a pack of 4.
Benefits:
Super soft and easily soluble toilet paper
Disintegrates quickly - Say good-bye to clogging
Facilitates emptying the waste-holding tank
Helps to prevent waste-holding tank malfunctions or damage
Specially developed for chemical toilets
Nordic Swan certified
Available in 4-Roll package
Other essential fluids for your caravan or motorhome Bathroom and interior
500ml Thetford Bathroom Cleaner
500ml Thetford Bathroom Cleaner is a specially developed spray foam for easy, safe and thorough cleaning of all plastic surfaces inside and outside the caravan and motorhome bathroom or anywhere else for that matter. The spray action delivers a powerful active foam that loosens dirt and deposits effectively.
TIP: Wipe the surface down with a soft, dry cloth to give it a nice glossy finish.
Benefits:
Powerful active foam loosens dirt and deposits
The ideal cleaning agent for daily use
Leaves behind a fresh smell
Ensures total hygiene and a brilliant shine
Available in a 500ml spray bottle
200ml Seal Lubricant
Thetford Seal Lubricant is guaranteed to unstick slide valves and keep things moving. Its uses are far and wide and can be used for the periodical care, protection and maintenance of seals, locks, hinges, awning rails, bicycles and more besides - too bad it doesn't work on lazy bowls!
Thetford Seal Lubricant is unlike household silicone sprays, it has been specially developed for safe use with Thetford Cassettes and Porta Potti Chemical Toilets. Supplied in a 200ml spray can, puts an end to squeaking, creaking and leaking and keeps grandpa's knees from seizing (I made that last bit up).
Benefits:
Protects toilet seals from drying out
Ensures the smooth operation of Thetford toilet valve blades
Spray on just about anything to prevent squeaking, creaking or leaking
Safe to use on plastics and rubber
Covers in one, light coat
Available in 200ml spray can
1.5 Litre Tank Freshener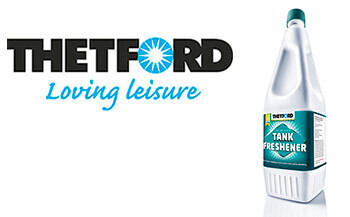 1.5L Tank Freshener is a strong effective odour control fluid for the waste-holding tank and waste piping system. It is designed to eliminate unpleasant smells in caravans, motorhomes, folding campers and boats etc. and can be used as often as required.
Thetford Tank Freshener cleaning agent kills bacteria and deodorisers, breaking down stubborn grime and grease that has deposited inside tanks and pipework overtime. Specially formulated to protect plastic surfaces, eliminate foul smells and remove deposits and grease contamination in tubing. Use on shower trays, washbasins and sinks etc. to ensure trouble free tank discharge.
Benefits:
Reduces deposits and cuts down grease content
Stimulates trouble-free tank discharge
For a fresh smelling waste-water tank, shower, washbasin and sink
Available in 1.5 litre bottle
Tips for Storage
Cleaning
Before storing your caravan or motorhome, always clean the waste-holding tank with Cassette Tank Cleaner. By cleaning the tank regularly, the moving parts will keep functioning properly, resulting in longer product life. Pour 300ml Cassette Tank Cleaner in a rinsed out tank and fill it up with at least 5 litres of lukewarm water. Shake the tank several times back and forth then set it down and leave for at least 16 hours. After emptying, your waste-holding tank will be as good as new. Allow the tank to dry by leaving the blade open.
Driving with Cassette Tank Cleaner in the waste-holding tank will improve the cleaning performance. Using Thetford Cassette Tank Cleaner before you store your camper or caravan for longer periods gives you a fresh start at the beginning of a new camping/adventure season.
During storage
We recommend that you leave the toilet blade open. By leaving the blade open, you prevent the blade seal from drying out. Next to that, we would advise you to unscrew the cap of the pour out spout to keep the waste-holding tank ventilated.
Maintenance
To prevent waste-holding tank leakage, always keep the rubber seals smooth and lubricated by regularly using Thetford Seal Lubricant. Spray the seals and valves liberally with Thetford Silicon Spray. Please note: unlike household silicon sprays, this spray is specially developed for Thetford toilets and plastic parts, and therefore absolutely safe to use.
Does your toilet have its own flush-water tank? Fully rinse this out so that no more deposits are left behind. Then empty it completely before parking your camper or caravan into storage. Depending on the type of toilet you own, you can easily let it run empty. For further questions and tips, please consult your manual or give us a call on 01255-830-229.