Discover Energy Independence with a Truma SolarSet Roof Mounted Solar Panel Kit
Back
In 2014 Solar panel take up in the UK doubled with 650,000 installations. While solar panels for Caravans & Motorhomes have some way to go to reach these dizzy heights, it seems the leisure industry is doing its bit to promote solar energy.
Solar energy is a tried and tested power source that is already used around the world for numerous applications and works by transforming energy from the sun into a reusable form of electricity, a process known as Photovoltaic or (PV). Your Solar panel acts as a collecting area, helping you catch the sun's rays. The larger the panel the more energy you can collect. The energy collected is then stored in a battery for your future use.
Truma SolarSets Kits
Whether you venture out in your caravan for weekend breaks or use on your annual holiday, or on a regular basis or for longer touring adventures around the UK or Europe. The Truma SolarSets Solar Kits provide a lightweight, high quality, low intrusive installation and power to sustain your trips away.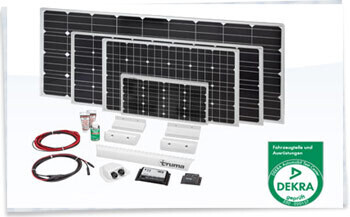 The Truma SolarSet Roof Mounted Solar Panel Kit have the advantage of being 'fit & forget' and allows you to enjoy maximum power convenience on the road. Once it is mounted and installed you do not have the inconvenience of storing the solar panel or worry about its security when leaving the caravan. This environmentally-friendly, clean and green, quiet and free production of energy will constantly generate power without causing battery stress, even when you are not there. This enables the battery to be kept in the best possible condition and greatly increasing its lifetime.
Using the Truma SolarSet Solar Panel Kits is an ideal way to ensure that your battery is maintained to the highest standard. During winter periods of little or no use or during periods in storage or on your drive, the SolarSets act as a 12v solar battery charger making sure your battery does not run flat and also allows for any alarms or security systems to be left active. To take account of the low light levels in winter you may need a 20W panel or more.
The SolarSet Solar Panel Kits offer needs based charging thanks to the adjustable charging distribution on Sets 65W, 100W and 150W and long service life due to the temperature controlled charging other features include the optimum module cooling due to airflow-optimised spoiler and reverse polarity plug-in connection. All kits are supplied with a charge controller to control the flow of energy and prevent battery damage.
Truma is an extremely well renowned Brand throughout Europe who supplies an extensive range of premium quality products to the caravan and motorhome market.
The Truma SolarSets offer maximum efficiency and safety. The perfectly matched components generate the maximum output for you. Every SolarSet is supplied complete with all the components you need for installing a mobile solar power system. Together they form the perfect supplement for your power supply.
To ensure the Truma SolarSets remain safely on the vehicle, even in the worst weather conditions. Truma have designed the roof fastening system in compliance with the strictest DEKRA testing standards to which it is also certified.
The Truma SolarSets have an installation friendly design which means the system can be mounted quickly and easily to give a neat and smart looking installation.
SolarSet Technology
Truma SolarSets use the highly efficient Mono-crystalline solar cells. This type of cell is made from thin wafers of silicone cut from artificially grown crystals. These cells are created from single crystals grown in isolation, making them more expensive than (Polycrystalline cells) but having a far higher efficiency rating. Allowing you get more efficiency in less area than other forms of solar cells.
The SolarSets are available in a choice of four power classes SolarSet150Wp, SolarSet100Wp, SolarSet 65Wp and SolarSet 23Wp.
These Solar Panels Wp ratings show the power the panel will produce under prescribed standard test conditions (STC) these very specific conditions means you can compare the power outputs of the solar panels quickly and easily and use this as a guide to find out what model you will need to match your caravanning lifestyle.
Truma SolarSet Installation at Homestead Caravans
Homestead Caravans are Truma Partners and are able to offer a professional fitting service of the Truma SolarSet Roof Mounted Solar Panel Kits in our state-of-the-art caravan workshop. Call 01255-830-229 for more details or to book an installation.
Comments
Be the first to comment on this article