New E-move EM303A - The 1st Affordable Electrical-Engage Caravan Mover with Nationwide Fitting
Back
Homestead caravans are proud to be one of the first dealerships to take delivery of the E-move EM303A Single Axle Fully Automatic caravan motor mover - the first fully affordable electric-engage Caravan Mover.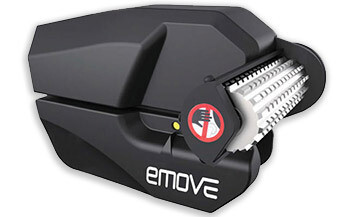 The E-move EM303A Single Axle Fully Automatic Caravan Mover allows you to effortlessly engage and disengage the drive rollers, to and from the tyres, by remote control. No more crouching down, twisting backs and dirty knees when you engage the rollers, unlike the similarly priced lever-engagement models of caravan motor movers.
What this means for you
As The Caravan Club advert says, "As easy as changing a TV channel!" Caravan movers have always been a life-saver for caravanners. It means they can be totally independent when moving their caravan and not need the help of friends and neighbours in order to move their van off their drive or pitch their caravan on site. One problem has remained with original caravan movers and that is the archaic method/effort involved with engaging the rollers onto the tyres. This is particularly hard if you are trying to engage both rollers at the same time with a cross-actuation bar. The effort required is up to 160 newton meters (which is more than the effort involved when changing a wheel and tightening the wheel nuts to manufacturer's specification). In fact, when you engage the rollers, the effort is continuous through an arch of 180 degrees… however unfortunately, any error will cause the result in a spring back which could hit you in the face. Yes, it's hard to believe this is still the case but there are still companies selling you sprung-loaded cam-engage movers today.
So the choice is between a wheel brace or a handset. With the E move 303A your handset holds the key. Simply press a button and all that effort of engaging the rollers is taken care of and you are ready to remotely move your caravan. So do you want the effort of changing channel or changing a wheel?
What you get
The E-move EM303A is a compact and powerful automatic caravan-maneouvring system with high-quality gearbox and durable aluminium rollers for excellent grip in all conditions. The E-move caravan mover features precise direct gear drives so no power is lost between the motor and the aluminium drive roller. Through this modern technique full use of the motor power is used. The E-move EM303A caravan motor mover has been fully tried, tested and approved in Europe and is manufactured with great care. The E-move is TUV and ABE approved to the highest German standards. All E-move products are developed by Leisurewize in collaboration with their partners, and offer a high quality, beautifully engineered caravan mover with many patented features all combined with a competitive price!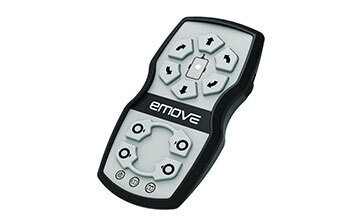 The E-move EM303A Fully Automatic Caravan Mover provides the complete solution. Your handset holds the key to moving your caravan, eliminating the need for any effort. You simply press the button to engage the motors, manoeuvrer your caravan with directional arrows, and then disengage again by pressing the disengage button on your handset. It really is that simple. You can even smoothly adjust the direction of the caravan without stopping. This clever handset also tells you when your leisure battery is low; it even tells you when you have overloaded the caravan.
The E-move EM303A comes with many special features as standard; Direct gear driven, advanced electronics, TUV approved, Error messages are shown by LED's on the control box and remote control handset, Solid lightweight Aluminium drive rollers provide optimum grip on the tyres with mud, water and dirt being easily removed through the grooves.
One of the great advantages of having a fully automatic electrical-engage caravan mover is the fact that a cross actuation bar is not required, saving weight and time in fitting, you also save on the weight of a wheel brace in order to engage the rollers. Save up to 30% compared to similar movers.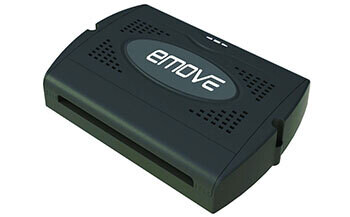 Control with your Smart Phone with the optional Bluetooth Receiver which enables you to manoeuvre your caravan simply with the E-move App on your smart phone. The E-move App is fully equipped to optimally manoeuvre your caravan and is suitable for the new E-move EM303A fully-automatic caravan mover. This is also an ideal back up should you lose your handset, as you can still control your caravan through your smart phone. The E-move EM303A fully-automatic caravan mover has been designed to be a very straightforward DIY fit which comes supplied with complete fitting kit and clear, concise instructions. There is no requirement to drill holes in the chassis for fitting purposes.
Should you not wish to take advantage of our Nationwide Fitting Service (see below) The E-move EM303A has been designed to be a very straightforward DIY fit with no drilling of holes in the chassis to fit and is supplied with complete fitting kit and clear and concise fitting instructions.
When you buy an E-move caravan mover you can expect the best motor mover coupled with the best service all covered by our full five-year warranty.
Nationwide Fitting Service
For your convenience, a Professional Nationwide Fitting Service is available for customers located at distance from our premises and can be purchased on our website here. For more information please call 01255-830-229.
Alternatively, you can visit Homestead Caravans and have your mover fitted by our team of inhouse caravan mover experts. Please call our office on the number above or send an email to make an appointment at a time to suit.
Disclaimer: Nationwide Mover Fitting Service is provided by an independent company, outside of the control of Homestead Caravans Centre Ltd. Therefore, we are unable to accept liability for damages, accidental or otherwise, substandard or incorrect installation, and any undue expenses incurred, such as travel or absence from work.
Comments
Be the first to comment on this article