Swift Group's Continuing Innovation & NEW Upgrade Pack Substantially Enhance Swift Challenger & Sterling Eccles Ranges
Back
For 2017 the Swift Challenger and Sterling Eccles come with enhanced SMART Plus construction, the exciting Swift Command control system and a new Lux upgrade pack option to provide an outstanding offering.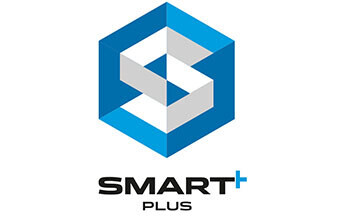 Swift upgraded the SMART construction system to SMART Plus in 2016 by adding a new sandwich floor construction with a GRP outer skin. SMART Plus has been further enhanced for 2017 with new balanced panel side walls having both GRP outer and inner skins to create a full GRP bodyshell. GRP is more impact resistant than aluminium, ensuring long lasting good looks to secure your investment for the future.
Swift Command, launched last season in Swift Group's flagship ranges, brought modern technology with an 'App' interface to the leisure vehicle market. This exciting innovation is now available across Swift Group's entire Caravan and Motorhome ranges.
The Swift Command control system includes an intelligent power supply unit and a smart LCD control panel that allows viewing of enhanced control panel functions. There is also an exciting Swift Command 'App' that can be downloaded to Smartphones and Tablets which enables the user to remotely control and/or monitor certain vehicle systems either inside the vehicle using a Bluetooth interface (BLE), or away from the vehicle (providing that there is a signal or wi-fi available). Added to the system for the new season is the option to subscribe to a pro-active Thatcham Level 6 tracker.
All 2017 models also come with access to Connect Direct, Swift's online customer service portal. Swift is the only manufacturer to have a dedicated customer service team and the Connect Direct system is additional to existing contact points.
The key benefits of Connect Direct are: access to information 24/7; ability to report faults directly to Swift; product upgrades and notifications; live chat direct with Swift Groups experienced retail team; upload service history records and service history reminders.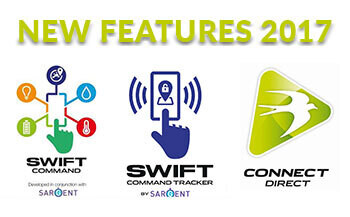 Adding to the Alde heating option introduced last season, customers will now also be able to specify a very competitively priced Lux pack option which will provide an illuminated kitchen splashback, external BBQ point, external 230V socket, external service door and key fob operated alarm system. This allows customers to tailor the heating and specification level to suit their budget and requirements.
There is also further choice within the ranges with three new models bringing the line up to nine. The new single axle Challenger 560/Eccles 560, a completely new layout introduced last season by Swift Group on other ranges, has a fixed rear island bed and mid-transverse washroom. Adding to the twin-axle line-up is the new Challenger 635/Eccles 635 which again has a mid-transverse washroom but with a transverse fixed island bed. The new Challenger 645/Eccles 645 offers a transverse island double bed and end washroom.
All twin axle models feature the tall slimline Dometic fridge freezer.
Standard exterior enhancements include a stylish carbon fibre effect gas locker door, chrome effect grab handles and convenient one key exterior locks. New LED number plate, high level marker and brake light complement Swift Group's exclusive LED rear light clusters to provide better visibility in poor weather.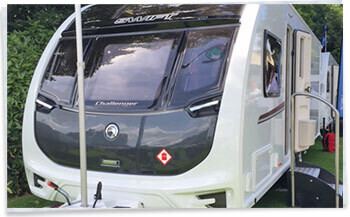 Inside Challenger models have smart new 'Santa Monica' soft furnishings with warm grey seating cushions that have a beige contrast to the top of the backrest and front of the base seat cushion. There are bronzed curtains with a red abstract pattern, matching cushions and red curtain tie backs that complete the scheme and tone perfectly with the 'Aralie sen' woodgrain.
New pleated cassette blinds to the windows and Dometic Mini-Heki multi-directional clear roof lights in the kitchen and bedrooms give a more upmarket feel in both ranges.
Sterling Eccles models keep their distinctive interior style with modern Hessian effect furniture with matt white locker doors and carry forward the 'Guetta' soft furnishings scheme that was new last season.
Both ranges continue to feature the new Swift AirWave bedding launched last season for improved seating and sleeping comfort. It gives a sleeker silhouette to the seat cushions whilst also providing just the right combination of support and cushioning. The unique Swift AirWave construction gives the feel and comfort of a mattress topper when the cushions are turned over and used to make up the front bed. Fixed beds retain the Duvalay Duvalite mattress, exclusive as standard equipment to the Swift Group.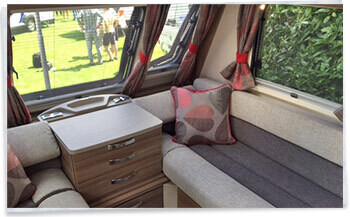 'SwiftShield' fabric is an option on both ranges. It has a soft suede type feel and has been cleverly treated during manufacturing to resist stains. It is very easy to clean and just requires a soft damp cloth which will remove most stains.
The ranges continue with Truma Combi heating as standard with an upgrade option of Alde wet heating system which features as standard in more premium ranges.
Swift Group Commercial Director, Nick Page commented, "With the enhanced SMART Plus construction and Swift Command system, the Swift Challenger and Sterling Eccles ranges have the build, technology and look of more premium ranges. Add the Alde heating and new Lux pack options and customers can also have a premium specification at a highly competitive price."
Original article provided with the kind permission of 'The Swift Group'.
2017 Swift Challenger & Sterling Eccles Ranges
Swift Challenger & Sterling Eccles 480
Single axle
2 berth – front parallel seating, end washroom
Swift Challenger & Sterling Eccles 510
Single axle
4 berth – front parallel seating, open plan fixed bed layout
Swift Challenger & Sterling Eccles 530
Single axle
4 berth – front parallel seating, two large fixed rear single beds, end washroom, centre kitchen
Swift Challenger & Sterling Eccles 560
Single axle
4 berth – front parallel seating, mid transverse washroom, rear island bed
Swift Challenger & Sterling Eccles 565
Single axle
4 berth – front parallel seating, two fixed rear single beds, end washroom, centre kitchen
Swift Challenger & Sterling Eccles 580
Single axle
4 berth – front parallel seating, centre kitchen, transverse island double bed and end washroom
Swift Challenger & Sterling Eccles 590
Single axle
6 berth – front parallel seating, rear double bunk and rear dinette with additional bunk
Swift Challenger & Sterling Eccles 635
Twin axle
4 berth – front parallel seating, mid transverse washroom, rear transverse island bed
Swift Challenger & Sterling Eccles 645
Twin axle
4 berth – front parallel seating, centre kitchen, transverse island double bed and end washroom
Comments
Be the first to comment on this article