The Homestead Caravans '10BELOW' Accessory Winter Sale is Now On
Back
As if you needed an excuse to visit Homestead Caravans absurdly good website, here's a news story even the dustiest of wallets will find impossible to ignore!
With the caravan summer season all but a fading memory and winters cold hands firmly upon us, the word on the high street is Christmas... Christmas!! My goodness, where on earth does all the time go? Christmas always reminds me to cherish the time I have with my young son, before he grows immune to its ethereal magic.
With a cold winter in mind and aided by an over-active imagination and copious amounts of coffee, the company Managing Director recently had a dream where, 1,000's of Homestead Caravans customers were unhappily huddled together, shivering in the dark over the dim light produced by a solitary optical mouse. Believing he wouldn't sell a single caravan accessory over Christmas, our beloved MD awoke from his dream in horror, just as he heard a concert of voices threaten to cancel Christmas due to severe hyper inflation, caused by endless rounds of central bank money printing, otherwise known as QE into infinity!
He lay in bed in a cold sweat until he could summon up the courage for a much needed tinkle, where upon he exploded out of the lavatory and exclaimed (more a whisper really, it was 2.30 in the morning after all)!
"Enough is enough, let's find a way to make the lives of our customers a little warmer this Christmas!"
At Homestead Caravans we're as British as anyone and we sure feel the cold too! So we put the kettle on along with our thinking caps and set a challenge to some of the most brilliant minds available to the company. Naturally we left the workshop boys out, as they had a tendency to make things more technical than needs be! A round table of company directors and senior managers was convened, with exception to the company chairman who was later found asleep in Cabin Café... who would of thought it!
The plan devised was brilliant and yet simple enough that Homestead's team of gardeners could still recite it after lunch... más o menos!
So from everyone at Homestead Caravans including the workshop, we are very pleased to announce the start of our exclusive online '10BELOW' Winter Sale with 10% Off Everything including, caravan and motorhome accessories and camping gear too... TA DA!!!
Well yes I can see your point, you're feeling a tad deflated right now? Well I admit, I did do a tremendous job of building it up, I suppose a loss of altitude was... well, inevitable!
Now I know I stated, "10% Off Everything" but that's not technically true(blast, it seems the workshop might have had some input after all). Yes, unfortunately there's a very small number of accessory exclusions, barely worth mentioning really, an inflatable caravan awning here, an inflatable motorhome awning there, but that's it... Scouts Honour!
Anyway, before I dig myself a really big hole and the company Chairman demands a private meeting outside normal business hours(if you know what I mean), let's say it loud... let's say it proud;
Keep Warm in the Homestead Caravans '10BELOW' Accessory Winter Sale with 10% Off Everything (almost everything)
Editor notes:
We hope you enjoyed the fictional piece above, although all joking aside our sale is very much based on fact, the details of which are provided below, somewhat more sincerely.
The '10BELOW' Winter Sale really has begun, with 10% Off Everything with a small handful of exclusions; yes that part was true! The sale is exclusive to online purchases and includes literally 1,000's of caravan, motorhome and camping and outdoor accessories found on the website.
The important stuff you need to know:
The Winter Sale includes 10% discount off accessories available on our website.
The Winter Sale is planned to run until the end of 2015 however, Homestead Caravans Centre reserves the right to end the sale at any time.
Discount is applied at the checkout, the prices displayed on product listings do not have discount applied.
Sale discount applies to online orders only.
Sale exclusions apply however, at the time of writing no exclusions exist. Only a few are expected.
Sale applies to products available from stock only.
We cannot accept any liability for stock inaccuracies, in the event a product is found to be out of stock when the website indicates that it is.
Products found in-store may also be subject to a separate price promotion. The price in-store maybe less than, equal to, or more than the advertised online sale price.
To qualify for 10% simply add the discount code: '10BELOW' (excluding the brackets) in the 'Gift Vouchers & Promotion Codes' box found on the 'Checkout' page. Click the Show(underscored) link to display the box(see image below for reference).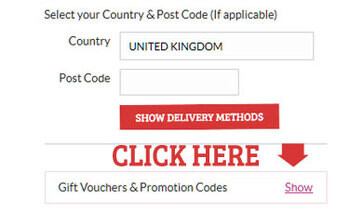 Homestead Caravans - Putting the Smile on Santa's Face
Comments
Be the first to comment on this article