10-Day In-Store Accessory Sale - 29 Sep to 8 Oct
Back
Visit the Homestead Caravans 'IN-STORE 10-Day Accessory Sale', between the 29th of September to the 8th of October (dates inclusive) and save up to 20% OFF your favourite leisure supplies including, camping, caravan and motorhome equipment.
The Homestead Caravans In-Store 10-Day Accessory Sale is an annual event held at the end of the season. The event is popular with customers looking to make additional savings off already heavily discounted prices. It's a great opportunity to find a Christmas gift for Mum and Dad and save some cash at the same time. It's also a prime time to buy essential and non-essential winter products such as, Covers, Cleaning Solutions and Moisture Traps.
The 10-Day Caravan Accessory Sale is exclusive to purchases made through our Accessory Shop based in East Essex, just a few miles from the coast.
In-store 10-Day Sale Dates: 29th September to 8th of October inclusive.
At peak season the Homestead Caravans 15,000 square foot caravan accessory showroom is an Aladdin's Cave of over 6000 individual product lines, even at the end of a busy season there's plenty of bargains to be had. No other End of Season Sale can compete for breadth and depth of stock. You can check the website for availability but don't forget, not all Homestead products are found on the website (not just yet anyway). For further information or product availability please email onlineshop@homesteadcaravans.co.uk or call 01255-830-229.
Come and Grab a Bargain
Homestead Caravans invites you to take full advantage of some fantastic prices and beat the price increases.
10% Discount off all TV's & Leisure Batteries
15% Off all remaining stock of Camping, Motorhome, Caravan and Outdoor Leisure Accessories (with a few exceptions).
20% Discount off Kampa, Westfield Outdoors & Outdoor Revolution Awnings on remaining stock continuing during the sale period
With many more in-store offers and clearance lines with between 20% to 35% OFF usual prices
Buy One Get One Free Drink Voucher at Cabin Café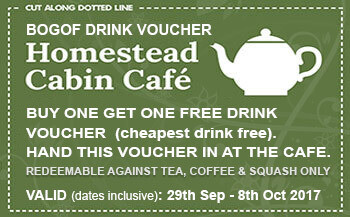 Leave your flask at home during the 10-Day Sale and claim a FREE cuppa instead, courtesy of our very own Cabin Café. Simply cut out the Buy One Buy One Free voucher displayed and hand it in to a staff member at Cabin Café to receive a free tea, coffee, squash or fizzy drink. One voucher per claim and the cheapest drink free.
The Cabin Café and restaurant is situated within Homestead Caravans retail showground and offers seating for 62 patrons indoors with additional seasonal seating outside. Cabin café offers hot and cold drinks and an appetising menu including healthy options and a children's menu, with a selection of breakfasts from lighter bites to the ALL DAY Cabin Big Breakfast.
Learn more about Cabin Café including opening times
Small Print / Exclusions
In-Store 10-Day Sale
Exclusions from the sale includes Caravan Movers, Calor Gas and Camping Gaz cylinders and refills. Other exclusions may apply. Products shown for illustration purposes.
Buy One Get One Free Drink Voucher
Voucher must be used during In-Store 10-Day Sale(29/09/2017 - 08/10/2017). One voucher per claim. Cheapest drink FREE.
Comments
Be the first to comment on this article