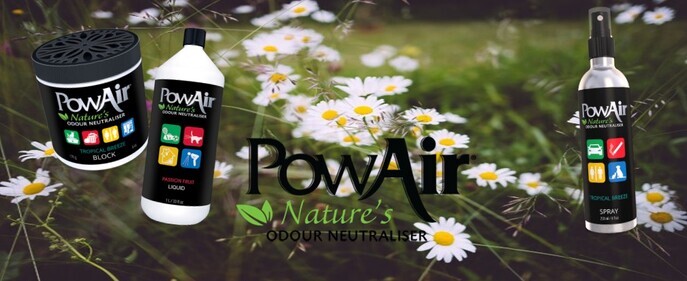 PowAir Natures Odour Neutraliser
30/04/2022 IN New Product Launch
PowAir Natures Odour Neatraliser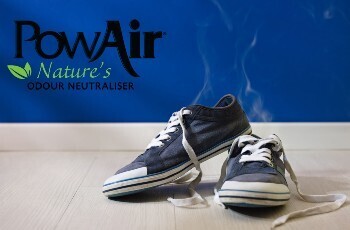 PowAir's all-natural range of odour removal products are perfectly suited to dealing with unwanted leisure vehicles or car smells such as smoke, pet smells, cooking smells, food rubbish, sweat, body odour, bedding, shoes & socks etc, PowAir will leave your vehicle smelling clean & fresh.
If something smells bad? It's time for PowAir!

PowAir is a powerful and effective odour neutraliser. It is made using a natural formula and is safe to use around people and animals. PowAir has all the power you need to elimate virtually any type of odour. If you have an odour problem, use PowAir and it will be elimated safely, naturally and permanently.
Made from Natural Essential oils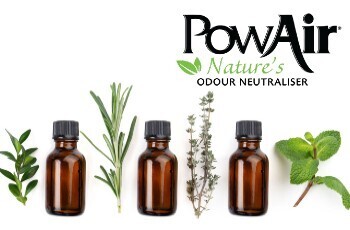 PowAir is a series of complex formulas, using natural essential oil technology, desighned to simplify odour management. Formulated by specialist chemists, PowAir is a unique blend of natural essential oils that combine to give their powerful odour neutralisation capabilities. PowAir attacks, neutralises and destroys a wide spectrum of organic and non0organic odours.
Available as solids, liquids and gels to be dispersed through the air - in small or large volumes. You can tackle any odour problem with PowAir.
How it works.....
How does PowAir work to eliminate your nasty odour problems? It all happens naturally at a molecular level. When you are using our blocks, gels or sprays, PowAir evaporates and disperses into the air. The rate of evapration and dispersion is controlled by ambient conditions, such as air flow, temperature and humidity - in addition to the amount used. Scientifically speaking, there are three methods of odour neutralisation that occur; Adsorption, Absorbtion, and chemical reaction.

The PowAir range is available in a range of three fragrances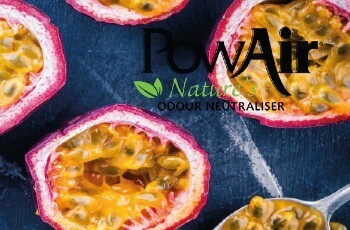 Tropical Breeze - Got that holiday feeling? Tropical Breeze is a fresh, clean and bright fragrance. Bring the sun home all year with Tropical Breeze Products.
Apple Crumble - Nor quit how grandma use to make4 it, but not far off.... Sweet, tangy and fragrant, Apple Crumble is always a favorite of the PowAir products!
Passion Fruit - Fresh, Fruity and feisty. The PowAir passion Fruit product range brings a bold fragrance to your home, enough to brighten up anyone's day!
A Fresh Start for your Car, Caravan, Camper Van, Motorhome and Home.
PowAir Spray 250ml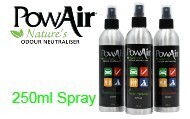 Eliminate those nasty odours safely & permanently, a proven, industrial strength, essential oil based odour neutralising spray. A choise of tropical Breeze, Apple Crumble & Passion Fruit refeshing aromatic scents.
Our Price: £5.95
PowAir Block 170g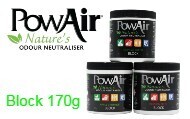 Car & leaisure venicles are suitable for Blocks especially when they have been in storage & subject to dampness & mustiness as well as everyday holiday use. Estimate unit lifetime; 1000 hours+ of continuous odour. Available in the choice of three fragrances.
Our Price: £7.95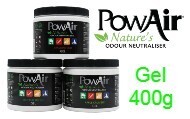 This odour eliminator is a safe, natural solution to ongoing unpleasant odours, rather than covering up smells. Available in Tropical Breeze scent to leave the air smelling clean & fresh. Remove the lid & leave it around the infected area to naturally evaporate & disperse through the air.

Our Price: £6.99
PowAir Mist 170g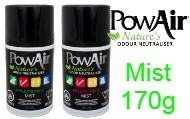 It has a spray nozzle for use as a hand held spray, releases a fine mist of odour neutraliser into the air instantly removing bad smells that it comes into contact with and leaving a pleasant Apple Crumble fragrance in the air.
This product can be used with the optional Powair mist dispenser also makes the mist perfect in applications fighting continuous odours where appropriate, timed dosage can be set to remove the unwanted odour.
Our Price: £8.99

PowAir Mist Dispenser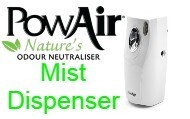 Portable, Controllable, Affordable
The PowAir Mist Dispenser is a great way to control odours in small places where odour is continuous. Use in conjuction with PowAir Mist for timed and measured odour control. Ideal for any rooms where bad odours are prevalent.
Features
On/Off switch
Low battery indicator
Requires 2 x AA size batteries (Not Included)
Three working modes; Day, Night, or 24hours
Three spray interval options; Every 7.5mins, 15mins, or 30mins.
Our Price: £24.50

PowAir Liquid 464g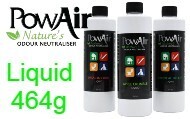 Use the power of the natural essential oils to target and eliminate odour problems anywhere anytime. Ideal for airborne odours, or odours trapped in surfaces & materials such as floors, carpets, curtains, furniture and clothing. Available in the three pleasant fragrances.
Use PowAir Liquid with the PowAir Misting Dome, or to refill PowAir Sprayers.
Our Price: £9.99

PowAir Misting Dome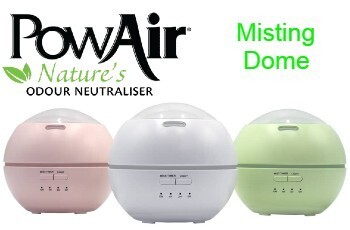 Odour Neutralising Diffuser
The PowAir Misting Dome is an odour neutralising diffuser unit with built-in LED lighting. Choose from White, Pink, or Green. The Misting Dome pumps a steady mist of PowAir Liquid into your home which will remove any unwanted odours from the area.
To be used in conjuction with PowAir Liquid.
Features:

7 Colours LED changing light.
Whisper-quite; On 35db when working.
Refresh your air for a peaceful nights sleep.
Pollution-free material; High quality corrosion-resistant PP material.
Requires 240v Mains supply.
Our Price: £25.00

PowAir Penetrator 500ml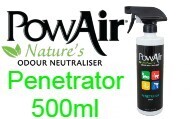 Penetrator Spray - Urine & Odour: A dual action neutraliser that is unrivalled!
This is a powerful surface spray that combines natural microbial enzmes and essential oils to safely eliminate organic odours trapped in materials such as cloth, textiles, upholstry, carpet, wood and even concrete.
Penetrator permanently eliminates organic odours, including urine, sweat, body odour, vomit, faeces, blood, grease, mildew and smoke when trapped in porous materials. This is a Phenomenal product.
Our Price: £8.50

PowAir Sports Spray 464ml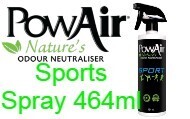 Smelly Sports Gear?
Eliminate any nasty odours from sports equipment, our all-natural formula binds with bad smells at the molecular level, removing any odours and leaving your sports equipment smelling fresh, spray directly onto the affected equipment and allow to dry. PowAir Sport is biodegradable and safe to use on any sports equipment, footwear, gym bags and more.
Our Price: £8.50 Prices are correct at time of going to press

PowAir is a powerful and effective odour neutraliser. It is made using a natural formula and is safe to use around people and animals.

Competitively Priced this range of products just suits all needs whether in the caravan, camper van, motorhome, camping or at home.
Comments