BRAND NEW Pet Supplies Collection Now In Store
Back
It's been a ruff few days at Homestead Caravans after the recent delivery of pet supplies. They said, the Accessory Shop purchasing team had gone barking mad and that pet supplies would never sell! But the last laugh belonged to lead buyer Steve, as no sooner had stock been put out on display, when it was snapped up by eager dog owners looking for something new to chew on!
Many of the new lines are from the prestigious Crufts official range of dog accessories. Unsurprisingly the entire range is very well made, with attractive designs carefully created to stimulate and enhance the quality of your pets life.
You'd be forgiven for believing that this exclusive Crufts range comes at a hefty price tag, after all Crufts is the premier dog show however, Crufts products are extremely well priced. In fact you really won't believe just how affordable this range is, so the next time you're out walking the dog pop in and see for yourself – dogs allowed in-store!
The truth is the Accessory Shop is really only responding to an increase in customer demand for pet accessories, which has really taken off since the store's access policy for dogs was relaxed to include all dogs (pooper scoopers at the ready). Homestead Lake Touring park also allows dogs to stay on-site and this has increased the footfall in search of something fun and squeaky 4-fold.
In case you don't already know; Homestead Lake Park is our very park own touring park with 50 hard-standing, fully serviced pitches servicing caravans, motorhomes, tents and trailer tents.
Crufts Featured Products
How about Crufts 'Walk LED Torch with Doggy Bag Holder', this is a fantastic practical gadget that's perfect for late evening walks, when a little light is required to help pick up those nasties. It's the ideal dog walking torch that incorporates an integrated storage and dispenser for doggy bags inside the handle. Supplied with 2 rolls of doggy bags, each roll has 20 lightly scented bags.
At the time of writing the Crufts 'Walk LED Torch with Doggy Bag Holder' is just £3.99 – great value!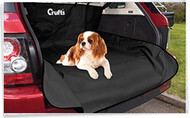 The Crufts Dog Car Boot Liner offers universal fitting to most car boots clipping to the back headrests. Manufactured from 600D Oxford Nylon it is soft for your pet but durable and water resistant enough to offers excellent protection to the car boot, protecting the carpet from scratches, muddy paws and moisture. It also incorporates the tasteful Crufts logo, which is a nice touch.
At only £9.99 it's going to save the cost of any potential damage and degradation to your vehicle carpets. Supplied in a retail box with carry handle that can be used time and time again.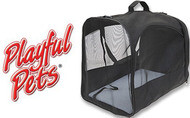 The Playful Pets Pet Carrier is a low cost and pet friendly method of transporting your pet in the car or by foot. It's a lightweight option with a netted zipped door way at one end and a zipped solid door at the other, with netted side walls for continuous eye-to-eye contact, leaving your pet relaxed and at ease while travelling. Incorporating a carry handle for transportation.
At approximately L 50 x W 32 x H 40cm the Pet Fold Flat Travel Pet Carrier is suitable for smaller dogs and cats. It conveniently folds flat when not in use requiring minimum space for storage. At just £9.99, yes £9.99 it's a low cost practical, easy to store alternative to traditional pet carriers.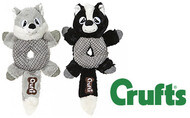 There's a few pet toys to choose from in the Crufts Collection including, Crufts Squeaking Animal Dougnut Pet Toy. These pets toys are almost too cute to use but your dog is sure to love them all the same; they are soft and playful and designed to keep your dog entertained and stimulated at home or on walks.
Animal Dougnut Pet Toys are available in black or grey but generally speaking colours are randomly selected unless a colour is specifically requested (subject to availability). This is true of any product in the range where more than one colour or design is available.
At the time of writing the Crufts Squeaky Animal Dougnut Pet Toy is only £4.99.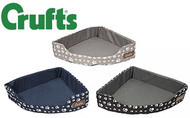 The Crufts Corner Pet Bed is as practical as it is comfortable, with adorable paw printed design in 3 assorted colours: grey, navy, and black. Features a cushioned filling for extra comfort your dog and/or cat will appreciate.
Tucks neatly into the corner of the room making use of otherwise difficult to use space and at just £11.99 you'd be barking mad not to.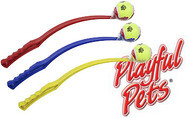 Throw a howler with these Deluxe Quality Dog Tennis Ball Launcher and Pickers; they are all the rage right now. Throw fur-ther than ever before without getting your hands messy, with a practical and simple design in 3 assorted colours (dispatched randomly).
A Paw print tennis ball is included FREE and just in case you loose the ball supplied your dog will be happy to hear it fits most standard tennis ball sizes. At just £1.99 only a really PAW dog would say no.