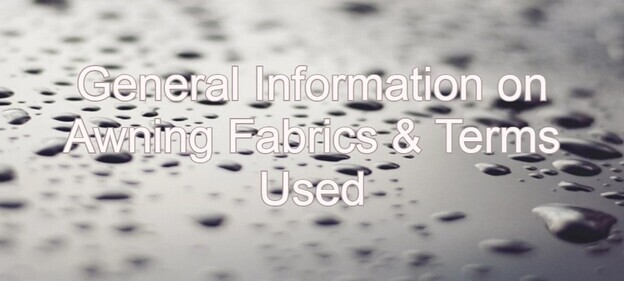 General Information on Awning Fabrics & Terms Used
13/05/2022 IN Latest Industry News
General Information on Lightweight and Inflatable Awning Fabrics & Terms Used
With a range of different awning materials and awning brand fabrics available, whether it's Kampa-Dometic's Weathershield, Weathershield Four Season, Outdoor Revolution's 120HDE Hex, 240HDE Hex, Sunncamp's Ace-Tech 75D, this glossary of technical terms should help you choose the correct awning for your requirements.
Polyester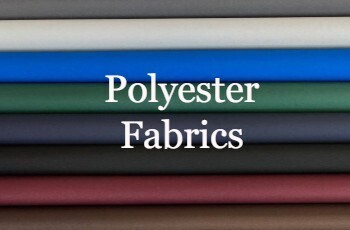 Synthetic polyester is extremely strong, durable with very effective resistance to water and wind and is easily dried. Synthetic polyester is a man made material which can be woven as a 100% fibre or with other substrates outlined below. Because of its weather resistant properties it is used extensively in the manufacture of caravan & motorhome awnings and tents. If fact it is so water resistant on Disperse Dyes which are water insoluble can be used to colour this material.
Weathershield All-Season Fabric:
Is an ultra-rugged and UV resistant All-Season polyester/cotton material, perfect for frequent use touring throughout the year and for use on seasonal pitch. This breathable fabric is constructed to handle extremes of weather and being breathable gives a reduction on condensation.
Denier (abbreviated D)
Refers to the thickness of the yarns used, the higher the denier the thicker and more dense the fabric and the heavier it becomes. This should not be confused with the materials strength however, which is almost entirely related to the way the fibres are woven and the materials final coating.
Oxford Polyester
A common term used to explain the weave of the fabric itself. Oxford polyester has a basket weave structure and is woven in groups of threads which are interlaced so they form a simple criss cross pattern. Each group of weft threads crosses and equal number of warp threads by going over one group, then under the next and so on. The resulting fabric has a soft but very durable finish which dries extremely quickly and resists small particles of dirt from entering between the weave.
Ripstop Fabrics
This material is interwoven with thicker nylon or polyester fibres in a crosshatch pattern which makes them more resistant to tearing and ripping. The intervals are typically 5 to 8 millimeters. Ripstop fabrics are very durable with any damage contained in a small area that can be easily repaired. As well as being a very popular material in the leisure industry, it is also used in Yacht sails and spinnakers, hot air ballons and parachutes to name just a few ises of this fabric
Hydrostatic Head (Abbreviated HH)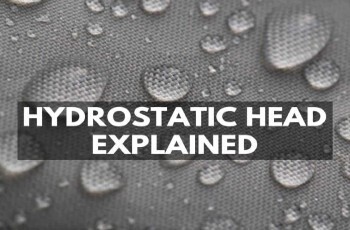 This is a way of measuring how waterproof a piece of fabric is. Test one is simulated rainfall during which a fabric will be placed in a room where it rains. The fabric is rated according to the amount of time and pressure of the rainfall. Test two is the Static Column Water Test. A column of water is placed on top of a fabric and the level at which the water begins to seep through is recorded. These results are measured in mm. The higher the figure the more waterproof it is.
A Hydrostatic Head of say 3000mm means that the column of water was 3 metres (3000mm) tall before the material leaked. In practice, where you have wind and gravity pushing rain you will need a measurement of around 1000mm to resist light showers, with heavy rain and driving wind putting more pressure on the fabric you will need a measurement nearer 2000mm. Ideally 3000mm is a good choice for most seasons in the UK. (Do not compare HH measurements for awnings and tents with clothing, as clothing will rub on itself, your backpack and rough surfaces so it will require a hicher rating to resist that pressure).
Taped Seams
Seams of awnings and tents need to be attached together usually by stitching. In addition, seams may have taping for extra waterproofing.
Polurethane Coating (abbreviated PU)
Modern awnings and tents are usually made from coated polyester, Polyurethane is most common coating to achieve a waterproof fabric with a fair amount of durability in wet conditions, more expensive awnings and tents have the addition of polyether in the PU formulations to give durable water repellency, increasing fabric strength and protecting against UV deterioration, when given normal holiday use (Not seasonal pitch use).
Flame Retardant
A substance that is applied to the material in order to make suppress, reduce, or delay the combustion of the material to a significant degree.
Condensation in Awnings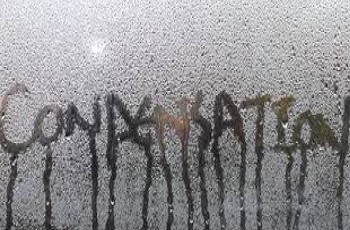 Being a water resistant man made synthetic fabric, polyester does have one drawback......Without adequate ventilation polyester awnings can suffer from condensation issues. Warm air trapped in the awning overnight can very easily condensate overnight, due to our British seasons with it's ever changing weather patterns. A combination of high humidity, low temperatures and rain, people sleeping in the awning or wet or damp gear stored inside the awning are all contributors to condensation and especially during the spring and autumn mornings when the dew point is so close to the air temperature. No awning design can completely eradicate condensation but it can be minimized through ventilation.
Internal awning and tent condensation is very often mistaken for leaking, however because high volume and mass processing techniques used it is extremely unlikely that awning materials will allow penetration. The only solution is plenty of ventilation. On misty, damp mornings condensation is almost inevitable.
Comments