Visit Homestead & Kampa at the NEC Motorhome & Caravan Show 2017
Back
Come and say hello to Stephen Wyss, Homestead Caravans Shop Manager at the 2017 Motorhome & Caravan Show, where he will be in attendance with Kampa on their new and enlarged 'Showcase' Caravan Awning stand.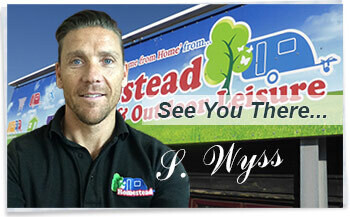 The show runs from the 17-22 October with the Kampa stand situated in Hall 12, Stand 10. Don't be surprised to find out that Hall 12 is actually in the accessory hall and not the Awning hall.
The 2017 Motorhome & Caravan Show presents a rarely equalled opportunity to browse the latest makes and models of Caravans and Motorhomes before they become widely available at local dealer networks. If you're not ready to make a purchase in October, you may want to come along and do some homework for future planned purchase. NEC halls are cavernous and full of products, it's the perfect location to compare like-for-like products, with industry experts in attendance to answer your questions.
Nowhere is this more true than when visiting the Kampa 'Showcase' Awning stand. Not only can you rely on our representative to answer your questions, a team of Kampa experts will also be on-hand to answer any questions you may have.
For 2017 Motorhome & Caravan Show tickets please visit: www.thenec.co.uk
With the Motorhome & Caravan Show taking place in October it's a great time for bargain hunters, with businesses keen to generate some extra business. This also applies to manufacturer including some of the biggest names in the industry. You can be confident that we will be offering 'the best Kampa deals in the country' at the October NEC show.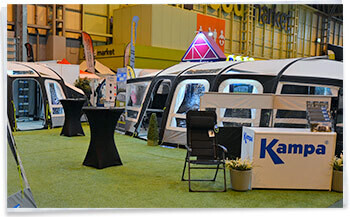 At this years Motorhome & Caravan Show Kampa will be staging a brand new display, some 500 square metres in size and their largest to date. The Kampa 'SHOWCASE' Awning Display will witness the launch of the 2018 Kampa Caravan Awning range (see bottom for a plan of the Showcase display), where visitor's can expect to see 17 Caravan Awnings on display including, new models and some notable updates to the existing range. This is a great opportunity to compare many of Europe's best selling Awnings in one location, including Kampa Inflatable Awnings and Lightweight Poled Awnings. The new Kampa display is so large there's even a Kampa Awning Accessory Store and a separate Kampa Furniture shop. Those in need of a drink will be pleased to know the stand also has a Barista that will be busy making coffee all day long.
Did you know Homestead Caravans has a dedicated indoor Kampa Awning Showroom displaying approximately 12 models, along with various optional Awning Accessories and several pieces of Kampa furniture?
Kampa Showcase Floor Plan
If you'd like to take a look at the Kampa Showcase floor plan please click the download button. The plan includes the names of specific Kampa Awnings and their position on the stand. As always everything is subject to change on the day.
Download PDF
Comments
Be the first to comment on this article