One and Only Motorhome Dealer in Essex and Suffolk
Back
Believe it or not Homestead Caravans is actually the only Motorhome Dealer in Essex and Suffolk representing the Swift brand (at time of publishing).
Of course that doesn't make us the only Dealer with Motorhomes For Sale in the whole of Essex and Suffolk, but it does mean if you're in the market for a brand new Swift Motorhome and live in quite a considerably sized catchment - we are the One and Only!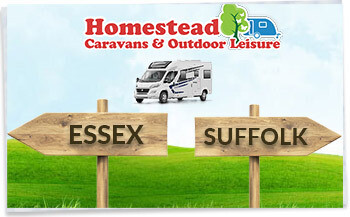 That doesn't mean to say we've put the prices up and stopped tucking in our shirts..., oh no! On the contrary, we've invested in new shirts and we've sharpened our pencils, and we decided to add two NEW ranges of Swift Motorhomes to our existing 4 ranges of Swift Caravans for 2019. After 55 years Homestead Caravans has finally become, Homestead Caravans and Motorhomes. That's not our official company title but you never know, we MIGHT be forced to consider a name change so, if you have any good ideas please don't keep them to yourself.
Being the only Motorhome Dealer in Essex and Suffolk for Swift fills us with a great sense of pride and responsibility. We like... no, we love being the only dealer in Essex and Suffolk and our aim is to satisfy our customers to such a high level, they never feel the need to go elsewhere.
Please feel free to tell as many of your friends and family as possible that Homestead Caravans... and Motorhomes is the Only Dealer of Swift Motorhomes covering Essex and Suffolk - we'd really like the news to go viral!
2019 Swift Motorhomes for Sale
In summary our NEW Motorhomes for Sale include 6 models from the Escape Range and 2 models from the Select range. Demonstrator models have already arrived at our Essex based dealership and are available for viewing without prior appointment.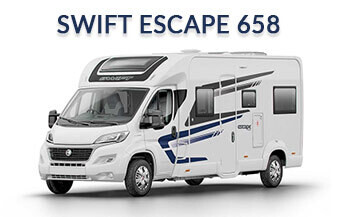 As the UK's leading entry level motorhome range, Swift Escape is sure to be very popular with first-time buyers looking to optimise their budget. These coachbuilt motorhomes are compact with some models sub 6 metres, making them ideal where storage space is limited and easier to handle, on the majority of UK roads. Escape is packed with oodles of features and high tech equipment and the bodyshell is built using Swift's SMART construction technology, with a completely timberless frame. Thanks to the resilience of SMART, the Escape range comes with a 10-Year Manufacturer Bodyshell Warranty.
If you love you're technology you'll appreciate every aspect of Swift Motorhomes but especially Swift Command Control, with remote access and control over on-board systems via a dedicated APP. For more information about Swift Command call 01255-830-229.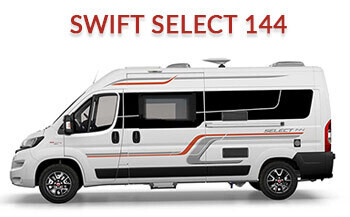 Swift Select is a van conversion based on a Fiat Ducato. There are 4 base vehicles to choose from with each model offering a greater level of customisation, making it one of the most versatile van conversions on the market. Choose from two expertly designed, tailor-made packs and a selection of individual options, that includes a metallic Iron Grey exterior with stylish complementary graphics.
This allows you to upgrade the base model to create the specification that's right for you, be it related to the driving of the motorhome or the living luxury.
To learn more about our One and Only Motorhome Dealership in Essex and Suffolk or to find out more about our Motorhomes, why not pop along and come and see for yourself – we'd love to meet you!
Download 2019 Swift Select Brochure
Click the 'Download pdf' button to download the 2019 Swift Select Brochure.
Download PDF
Download 2019 Swift Escape Brochure
Click the 'Download pdf' button to download the 2019 Swift Escape Brochure.
Download PDF
Comments
Be the first to comment on this article