12v Televisions for Caravans - Avtex Working Demo Stand Now On Show
Back
If you've got your eye on a new 12v caravan television but haven't been able to make up you're mind, which model is right for you, why not head down to Homestead Caravans, Caravan Accessory Superstore for some advice?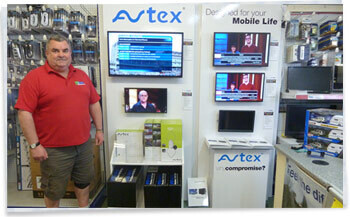 Having just taken delivery of a fully operational Avtex TV display stand, there's never been a better time to make Homestead Caravans your dealer of choice, for all your caravan entertainment needs?
Homestead Caravans has been a premier retailer of Avtex TV's since the beginning, over 25 years ago. Avtex offers the outdoor leisure community a wealth of experience and technical expertise in the specialised market of audio visual entertainment. Avtex products incorporate sleek design, high quality components, rigorous testing, state of the art technology and cutting edge features, all of which are recognised hallmarks of Avtex products.
Drop into our 15,000 square feet caravan accessory showroom and let us show you, the many benefits offered by this unparalleled range of caravan, motorhome and marine 12v/24v/230v widescreen televisions.
Avtex Televisions – Built with You in Mind
Avtex TV's feature Outstanding Build Quality, taking a television away in a caravan, motorhome or boat subjects it to constant movement, vibration and changes in temperature and humidity. Avtex televisions can withstand this and keep performing for years to come.
All Avtex televisions carry a comprehensive 3 year warranty and it is this uncompromising commitment to their high level of after sales service.
Watch TV like never before, in beautifully crisp sharp high definition (subscription free). Watch programmes that are simply not available on a standard TV in up to 5 times more detail, with breathtaking picture quality, clarity and sharpness!
The superb range of feature packed Avtex HD Digital TV & HD Satellite TV/DVD Combi models L187DRS, L217DRS, L247DRS and the very latest L327TRS combine both DVB-T2 and DVB-S2 2nd generation tuners in one unit so you can enjoy programmes transmitted in HD through your satellite dish or standard aerial without the need for extra equipment.
The ever popular Avtex L187DR and Avtex L168DR offer Full HD Digital TV/DVD Combinations give you access to HD programmes all through your regular aerial.
A Feature Packed Presentation
All Avtex televisions are feature packed but also offer two unique key features:
One Button Tuning (AQT) as you move from location to location, or country to country, you will need to re-tune your television to receive the local transmitter, a normally tiresome exercise. Avtex televisions feature AQT, a revolutionary one button tuning system that tunes, stores and orders all available television and radio stations at the touch of a button.
Avtex televisions with their internal 12v circuitry are designed from conception for the outdoor leisure industry. Designed to operate from 12/24v DC and have an on-screen low voltage alert to inform you when the battery is running low.
Our Caravan Accessory Shop also stocks a useful range of accessories to compliment your Avtex TV, from hard high quality Carry Cases, Wall mounted TV Brackets and USB Memory Sticks.
Comments
Be the first to comment on this article