Introducing Swift Escape Motorhomes & Swift Select Van Conversions
Back
After much customer demand the once dedicated touring caravan dealership is about to undergo a metamorphosis, with the introduction of Swifts 'Escape' Motorhomes and Swift 'Select' Panel Van Conversions.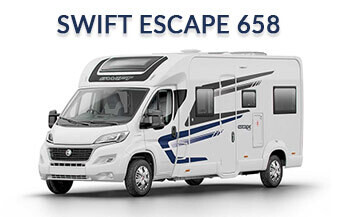 A familiar name with over 55 years in business Homestead Caravans is still located on its original premises, just a few miles from the East Essex Sunshine Coast. A firm family favourite the company is renowned for its friendly relaxed approach to sales and the high level of expertise offered to customers across all aspects of caravanning.
We already stock 6 Swift Caravan ranges and we believe the latest acquisition of Swift Select Class B conversions and Class C Swift Escape Motorhomes will compliment our existing range of leisure vehicles and continue to strengthen our relationship with the Swift Group. Homestead Caravans is honoured to be the sole appointed dealer for Swift Caravans and Swift Motorhomes in Essex; something we don't take for granted, so we're always looking for new ways to grow our business and offer the widest range of vehicle options.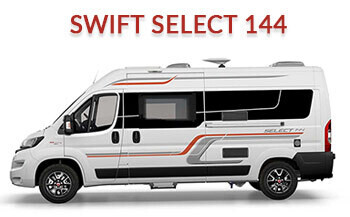 Many of our customers have purchased several caravans from our company over the years however, for many caravanner's buying a motorhome is a logical next step. Of course we understand why but it's always a sad day to loose a familiar face because they decided to purchase a motorhome. The really good news is, with the introduction of motorhomes into our sales fleet, we get to hold on to our customers for much, much longer!
We have chosen 8 models across the Swift Select and Swift Escape ranges designed to give a wide range of model options and equipment. As things progress we'll be offering a range of quality pre-owned motorhomes, which will further enhance our offering of motor caravans and campervans with a wider range of prices.
In addition we'll continue to develop our Accessory Showroom and Workshop to incorporate more of a tailored service for motorhome owners.
Swift Select Van Conversions
The Select van conversion range offers a greater level of customisation, you have the power to choose from two expertly designed, tailor-made packs and a selection of individual options, that includes a metallic Iron Grey exterior with stylish complementary graphics.
For our first year we have decided to stock 2 models from the Swift Select range, the 2-berth Select 122 and the longer 184 4-berth variation. Please call 01255-830-229 for full details.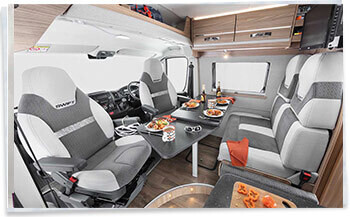 This allows you to upgrade the base model to create the specification that's right for you, be it related to the driving of the motorhome or the living luxury.
Whether you need a vehicle for everyday use, sport, relaxing holidays or business, the Swift Select van conversion range is incredibly versatile.
Whether you want an enhanced driving experience or superior levels of luxury, the choice is yours. There are two upgrade packs; the Drivers pack and the Lux pack, these are full of stylish and practical enhancements, allowing you to create a truly customised experience.
In addition you can select individual options to upgrade the engine to the Fiat Euro 6 130bhp, 2.3 litre engine with or without the Comfort-Matic automatic gearbox, add an awning and upgrade the soft furnishings.
Swift Escape Motorhomes
The Swift Escape continues to be one of the UK's best selling single motorhome ranges and it's not hard to see why. With new cab-coordinated graphics its streamlined low profile exterior, stylish interior and great value specification, it continues to set the benchmark in the entry-level coach-built sector.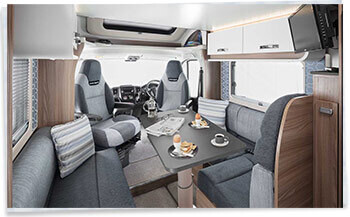 With class leading SMART construction, an expanded choice of 10 layouts, with the new 612 and attractive pricing, it's easy to see why this desirable motorhome range is so widely chosen by those looking for their first new motorhome.
For our first year we have decided to stock 6 Swift Escape models from the range including the Award wining Escape 604, 612, 622, 664, 674 and 694. Please call 01255-830-229 for full details.
The opening sunroof, which comes as part of the great value Comfort Pack, allows plenty of natural light into the interior where 'Nova' soft furnishings in shades of warm grey and sky blue are paired with 'Aralie Sen' woodgrain.
Matt white high level lockers feature chrome positive locker catches for safe and secure storage. Adding to the quality feel are pleated cassette blinds to the windows.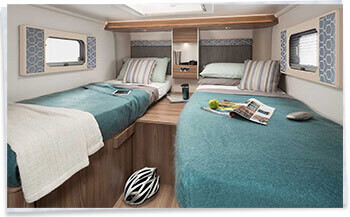 Flexible seating and sleeping arrangements feature Swift's exclusive AirWave cushioning with a unique construction that expertly blends comfort and support. Fixed beds, including drop down beds, are topped with the ultra-comfortable Duvalay Duvalite mattress, again exclusive as standard equipment to Swift.
Most models feature an L-shaped kitchen area with handy worktop extension and tall slimline Dometic fridge opposite, making a great working space. New enhancements include practical 'Fero' dark grey worktops and a new telescopic dining table with sliding tabletop function. Plentiful hot water is provided by the Truma Combi heating system.
The enhanced Swift Command control system now makes it even easier to remotely manage and control onboard functions like heating with an improved user interface; and the option to subscribe to a pre-installed Thatcham Category 6 approved pro-active tracker, to better protect your precious possessions.
The optional special value Comfort Pack features a host of valuable additions including reversing sensors and Winter Pack. You can also specify a drop down bed and an extra travel seat on selected models.
Comments
Good for you! There is such a gap in the market. Wishing you success.