2020 Kampa Dometic Awning Showroom Now Open
02/01/2020 IN Announcements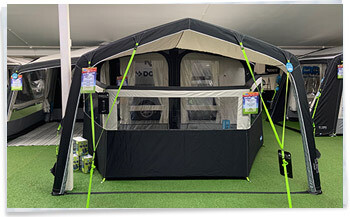 Despite the takeover and subsequent rebranding the company continues to operate from its Essex based premises, just a few miles from the Homestead Caravan and Motorhome Dealership. We are very pleased to say things remain very much the same, which is good news for our dedicated Kampa Awning Showroom. True to their word the boys from Kampa have recently returned to redress our showroom with the latest generation of inflatable caravan awnings and the results are impressive.
Opened in 2016 the Kampa Awning Showroom is situated inside our 15,000 sq. ft. leisure accessory showroom and is home to some of Europe's most popular AIR awnings. The showroom has proven extremely successful in helping customers make informed decisions about which awning to buy. The ability to make live comparisons and discuss in detail with trained staff the various advantages of each model has been a great attribute.
Homestead Caravans is an Approved "Kampa Awning Expert" with Premium Dealer status. Our awning sales team have received specialist Kampa training and is uniquely positioned to provide customers with high levels of advice and support.
Kampa Product Updates for 2020
For 2020 there's some notable changes to the Club AIR and AIR Grande ranges, which now have a modular design with zip-on extensions to either or both sides, create a huge living space that's perfect for entertaining and family living. The Club AIR is instantly recognisable thanks to its roof apex and integral canopy. The Grande AIR is the deepest caravan awning in the Kampa Dometic offering, with a generous 3 metre depth and Dual-Pitch™ roof, creating a dynamic and practical space for any requirement.
Introduced in 2018 the Sunshine AIR Pro Sun Canopy has proven to be a very popular edition to the range, so for 2020 Kampa Dometic have decided to introduce a 5 metre wide version to compliment 3 and 4 metre offerings. The Sunshine AIR Pro utilises Kampa's exclusive single-point inflation AIRFrame technology, which is incredibly stable and quick to erect, making traditional caravan awning sun canopies look extremely dated and flimsy!
2020 Kampa AIR Awning Display
At the time of writng this news article the Homestead Caravans Kampa Dometic Awning Showroom included the following caravan and motorhome awnings. If you would like to see a specific model and plan on travelling to the showroom, to avoid disappointment we recommend you call first on 01255 830 229 - thank you!
Caravan Roll Out Awning
Kampa Revo Zip
Caravan AIR Awnings
Ace AIR Pro 400
Grande AIR Pro 390
Rally AIR Pro 330 (fitted with AIR Pro Tall Annexe)
Rally AIR Pro 200
Club AIR Pro 330 (fitted with Sun Canopy & Side Extension)
Club AIR Pro 390
All Season Rally AIR 260
Ace AIR Pro 300
Motorhome Drive-away Awnings
Motor Rally Pro 330
Action AIR VW Drive-away
Travel Pod Motion AIR VW Drive-away (while stocks last)
Kampa Awning Accessories
Air Break Pro 3 & 5
Sunshine AIR Pro Sun Canopy 300
AIR Pro Tall Annexe
Club AIR Pro Sun Canopy
Club AIR Side Extension
2020 Kampa Dometic Awning Brochure
Click the Download PDF button to download the 2020 Kampa Dometic Caravan and Motorhome Awning brochure.