2018 Swift Eccles
We are excited to announce the addition of the 2018 Swift Eccles Caravan Range to complete our comprehensive family of Swift Caravans. Eccles combines modern style and outstanding value in 5 unique layouts, with RRP prices starting from £20,735, topping out at £23,135 for a twin axle variant.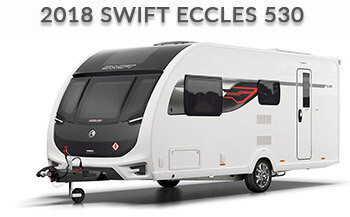 Eccles is available in 4 or 6 berth layouts but unlike all other Swift Ranges there's no 2 berth option, making it a true family tourer. Unsurprisingly, the Eccles Range maintains weights that most family cars are able to tow. See the image gallery at the bottom of the page for layout options.
Deliveries of Eccles Caravans to our Essex Caravan Dealership are expected to take place from November onwards (may be a little later). We recommend visitors, especially if travelling a long distance call: 01255-830-229 for the latest availability of new Swift Eccles Caravans for Sale.
Swift SMART Intelligent Construction System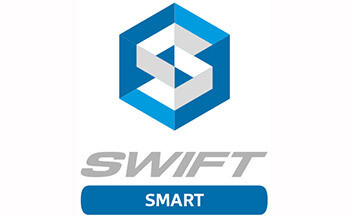 As the UK's leading leisure vehicle manufacturer, the Swift Group undertakes one of the most extensive research and testing programmes in the industry. SMART is the basis of an intelligent construction system that is used across the entire Touring Caravan Range including Eccles.
SMART is based on proven technology which provides a Strong timberless body frame,with Modern desirable looks and a leading Aerodynamic shape that is highly Resilient to moisture. Balanced panel side walls with GRP outer and inner skins, a hail resistant GRP roof and GRP outer skin to the sandwich floor; creates a full GRP outer bodyshell making it even more resilient.
READ MORE: It Pays to Think Swift SMART when Buying a New Caravan
SMART Plus has become the cornerstone of all Swift Caravan ranges and has raised standards in touring caravan construction. We recommend anyone considering buying a new caravan take a serious look at the advantages SMART technology offers over rival caravan brands, before parting with your hard earned money.
Swift Eccles Style & Features
Every Eccles Caravan has a distinctive modern look that incorporates a sweeping front profile, housing a stylish wide carbon fibre effect gas locker door, with chrome effect grab handles and striking side graphics.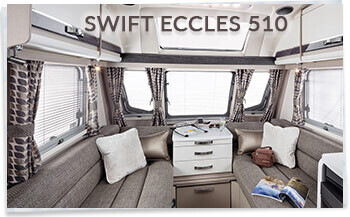 Upon entering an Eccles it's clear it has the look and feel of a well-designed modern home, the living space is light and airy with modern fixtures and fittings, with a large panoramic sunroof and mini-Heki multi-directional clear rooflights.
Clean matt white locker doors with chrome coloured handles are inlaid with gloss 'Smoked Oak' and paired with soft hessian effect furniture. 'Guetta' soft furnishings comprise of a woven earthy brown seat fabric, bronze soft sheen cushions and complementary leaf pattern curtains. Cassette pleated blinds with useful flynets help to complete the modern decor.
Dining, sleeping or relaxing, the versatile furniture can be arranged to suit you. Swift's exclusive AirWave cushioning will keep you comfortable and well supported, and fixed beds come with an ultra-comfortable Duvalay Duvalite mattress, again exclusive as standard equipment to the Swift Group.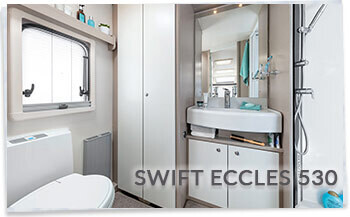 You're well catered for in the contemporary kitchen with plenty of clever, flexible storage, a granite effect sink and Dometic fridge, with removable freezer compartment. Washrooms feature a swivel spout vanity tap and separate shower cubicle.
With great looks and so much style could Eccles be just the tourer you've been looking for? Give us a call on 01255-830-229, to discuss how we can help you become the proud owner of a brand new Swift Eccles Caravan.
Adding more choice is the 'Lux' pack which includes a stylish illuminated kitchen splashback, external BBQ point, external 230V socket, external service door and key fob operated alarm system.
New Eccles Features for 2018
New stylish graphics scheme
New surface mounted impact resistant skirt system
New 'Edge' alloy wheels
more durable shower tray (model specific)
New Micro-Heki rooflight in all washrooms
New fridge control and monitoring
New Dometic Freshjet aircon control (dealer fit option)
Enhanced remote heating controls with New heater status bar
New 'Places of Interest' feature including 'Campsites' from
New illuminated pelmets above side windows
Download the 2018 Swift Eccles brochure using the 'Download PDF Brochure' button at the top of the page for a full list of features.
2018 Swift Eccles Models
Swift Eccles 530 / 4 Berth / RRP £20,735.00
Swift Eccles 560 / 4 Berth / RRP £21,835.00
Swift Eccles 580 / 4 Berth / RRP £21,445.00
Swift Eccles 590 / 6 Berth / RRP £21,835.00
Swift Eccles 635 / 4 Berth / RRP £23,135.00
Swift Command
Boosting specification levels further is the enhanced Swift Command control system to remotely manage many of the onboard functions using a touchscreen menu. Easily and conveniently track system levels like power, temperature, humidity and monitor the location of your Caravans. Custom notification settings keep you informed of functions such as battery levels, frost alerts and alarm status.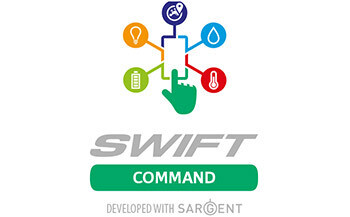 Incorporated into the Swift Command control system is a Thatcham Category 6 approved, pro-active tracker system that is monitored by Sargent. Tracking includes European coverage and direct police liaison. This system is ready for use, all you need to do is purchase a low-cost tracking subscription for real-time tracking from any location.
Stay connected to your Caravan from your mobile device using the clever Swift Command App, which links you to the onboard Swift Command control system. Access the clever onboard interface when nearby using Bluetooth or via your internet connection when remotely located.
READ MORE: New Swift Command Intelligent Control System
Swift Connect Direct
Connect Direct is an online system which personalises each customer's experience of owning their caravan. Once you have logged on and created your profile, you will be able to access a whole host of information, specific to your caravan. In addition you will be able to have a direct line into the retail team, with the launch of a live chat facility.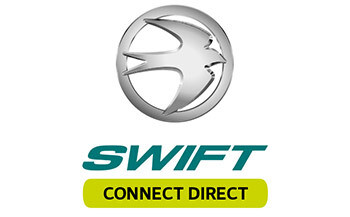 Should a problem occur, you will be able to report a fault to us directly, enabling us to react quickly and work together with your dealer to take the problem away from you the owner and resolve the issue as quickly as possible.
Product upgrades and notifications will be sent via Connect Direct keeping you up to date over the coming years. This online system provides a direct route for you into the Swift Group, and enables us to provide you with proactive Customer Service support, enhancing your experience.
READ MORE: Swift Connect Direct - the only caravan maker with an in-house customer service team
Buying your Next Caravan at Homestead Caravans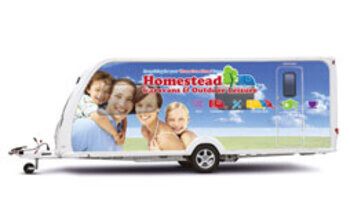 When you visit Homestead Caravans you can expect to find friendly and knowledgeable sales staff who, are dedicated to helping you find your dream Swift Caravan, in a relaxed and pressure free sales environment. We offer extensive dealership facilities including one of the largest Caravan Accessory Shops in the country. We even operate own Touring Park located on our premises that boasts a stunning 2-acre fishing lake.
We offer low rates of finance provided by Black Horse on most caravans (subject to status). Ask about our range of flexible finance plans from Black Horse including, Personal Contract Purchase (PCP) and Hire Purchase plans. Call 01255-830-229 for further information.
Optional equipment can be factory fitted by Swift or carried out in our state-of-the-art Caravan Workshop by our team of highly skilled and experienced technicians.
Browse our new 2018 Caravans for sale
3 Nights FREE at Homestead Lake Park Touring Park
All New and Used Caravans come with 3, free nights stay at Homestead Caravans very own Homestead Lake Touring Park, so you can give your new caravan a dry run without ever leaving the showground. All things considered.. Homestead Caravans really is the "Perfect Caravan Dealership' in Essex or the UK for that matter, to buy your next Touring Caravan.
2018 Swift Eccles Gallery
Click on an image to enlarge