2018 Swift Conqueror
Renowned for its impressive styling, the 2018 Swift Conqueror has been innovatively redesigned using the SMART construction platform and is now wider for a more spacious interior. Amazingly, is it also lighter, and takes this high end tourer's reputation for comfort, practicality and style to a new level.
Call our Essex Caravan Sales team on 01255-830-229 for the latest availability of 2018 Swift Conqueror Caravans for sale.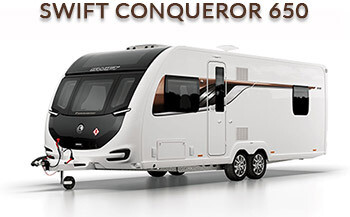 New Swift Conqueror Caravans incorporates an aerodynamic exterior design that combines a sweeping front aspect with new stylish graphics, chrome effect grab handles, sleek sunroof, and full height GRP rear panel that together creates a strikingly sleek silhouette.
Conqueror is kitted out with everything needed for five star touring, with an expanded list of luxury, safety and practical features designed to delight. Twin axle models even come with an internal 30 litre fresh water tank.
The range includes seven models with various layouts, across both single and twin axle layouts, making the Conqueror one of the best all season tourers money can buy, with RRP prices starting from £23,735.
Swift SMART Intelligent Construction System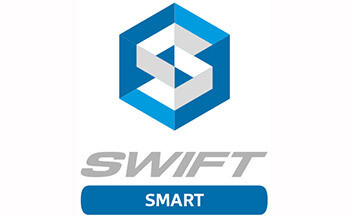 As the UK's leading leisure vehicle manufacturer, the Swift Group undertakes one of the most extensive research and testing programmes in the industry. SMART is the basis of an intelligent construction system that is used across the entire Touring Caravan Range including Conqueror.
SMART is based on proven technology which provides a Strong timberless body frame,with Modern desirable looks and a leading Aerodynamic shape that is highly Resilient to moisture. Balanced panel side walls with GRP outer and inner skins, a hail resistant GRP roof and GRP outer skin to the sandwich floor; creates a full GRP outer bodyshell making it even more resilient.
READ MORE: It Pays to Think Swift SMART when Buying a New Caravan
SMART Plus has become the cornerstone of all Swift Caravan ranges and has raised standards in touring caravan construction. We recommend anyone considering buying a new caravan take a serious look at the advantages SMART technology offers over rival caravan brands, before parting with your hard earned money.
Swift Conqueror Features
The Conqueror houses everything you need for five star touring with an expanded list of luxury, safety and practical features designed to delight. Twin axle models even come with an internal 30 litre fresh water tank.
Included within the standard features are 'Edge' alloy wheels, Swift's exclusive rear light clusters, cast foam bedding, innovative self-repairing Fenix NTM® worktops, illuminated kitchen splashback, Dometic oven, spacious tall slimline Dometic fridge in most models, and much more.
The attention to detail of the stunning interior is impressive with the panoramic sunroof bathing the lounge area with light. Soft furnishings have been selected in the 'Graceland' scheme; soft, suede-like seat and backrest cushions in a muted mink tone are lifted with aubergine geometric design curtains and scatter cushions, along with metallic silver accent cushions.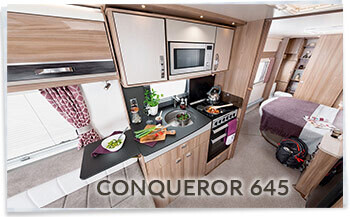 New curved gloss upper locker doors in ashen brown 'Aralie Sen' have 'Smoked Oak' inlays, and luxury full width curtains are perfect for privacy, day or night, whilst Alde heating ensures your Conqueror is a caravan for all seasons.
For luxury at bedtime, all fixed beds are fitted with the exclusive and more durable, Duvalay Duvalite mattress, with memory fibre technology.
Give us a call on 01255-830-229, to discuss how we can help you become the proud owner of a brand new Swift Conqueror Caravan.
New 2018 Conqueror Features
New stylish graphics scheme
New rear view camera for improved all round vision
New design chrome effect two part grab handles to front and rear
New 'Edge' alloy wheels
New wide panoramic front sunroof and surround
New curved upper locker doors in high gloss 'Aralie Sen' woodgrain with gloss Smoked Oak effect inlay
New side corner opening lockers for extra storage
New decorative 'Ocean Drive' wall covering (480 only)
New more durable shower tray (model specific)
New Micro-Heki roof light in washroom
New fridge control and monitoring
New Dometic Freshjet aircon control (dealer fit option)
New 'Places of Interest' feature including 'Campsites' from the Camping & Caravanning Club
New 30 litre internal fresh water tank with additional external
New additional background lighting to front A pillars
New illuminated fixed bedhead board
New wider and lighter bodyshell with streamlined robust GRP front panel with New large panoramic sunroof and windows, LED front marker lights and wide gas locker door with single lever three point locking
New rear view camera for improved all round vision
New 'Edge' alloy wheels with spare steel wheel 'Graceland' soft furnishings scheme and New curved upper locker doors in high gloss 'Aralie Sen' woodgrain with gloss Smoked Oak effect inlay with New side corner opening lockers for extra storage
New 30 litre onboard fresh water tank with additional external pump for filling or direct feed to taps in all twin axle models
New additional background lighting to front pillars and illuminated fixed bedhead board
Download the full 2018 Swift Conqueror brochure for a full list of specifications using the 'Download PDF Brochure' button at the top of the page.
2018 Swift Conqueror Models
Swift Conqueror 480 / 2 Berth / RRP £23,735.00
Swift Conqueror 560 / 4 Berth / RRP £26,935.00
Swift Conqueror 565 / 4 Berth / RRP £26,435.00
Swift Conqueror 580 / 4 Berth / RRP £27,485.00
Swift Conqueror 630 / 6 Berth / RRP £29,285.00
Swift Conqueror 645 / 4 Berth / RRP £29,285.00
Swift Conqueror 650 / 4 Berth / RRP £29,285.00
Swift Command
Boosting specification levels further is the enhanced Swift Command control system to remotely manage many of the onboard functions using a touchscreen menu. Easily and conveniently track system levels like power, temperature, humidity and monitor the location of your Caravans. Custom notification settings keep you informed of functions such as battery levels, frost alerts and alarm status.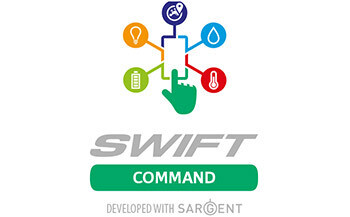 Incorporated into the Swift Command control system is a Thatcham Category 6 approved, pro-active tracker system that is monitored by Sargent. Tracking includes European coverage and direct police liaison. This system is ready for use, all you need to do is purchase a low-cost tracking subscription for real-time tracking from any location.
Stay connected to your Caravan from your mobile device using the clever Swift Command App, which links you to the onboard Swift Command control system. Access the clever onboard interface when nearby using Bluetooth or via your internet connection when remotely located.
READ MORE: New Swift Command Intelligent Control System
Swift Connect Direct
Connect Direct is an online system which personalises each customer's experience of owning their caravan. Once you have logged on and created your profile, you will be able to access a whole host of information, specific to your caravan. In addition you will be able to have a direct line into the retail team, with the launch of a live chat facility.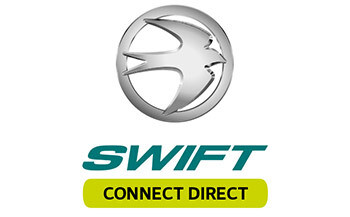 Should a problem occur, you will be able to report a fault to us directly, enabling us to react quickly and work together with your dealer to take the problem away from you the owner and resolve the issue as quickly as possible.
Product upgrades and notifications will be sent via Connect Direct keeping you up to date over the coming years. This online system provides a direct route for you into the Swift Group, and enables us to provide you with proactive Customer Service support, enhancing your experience.
READ MORE: Swift Connect Direct - the only caravan maker with an in-house customer service team
Buying your Next Caravan at Homestead Caravans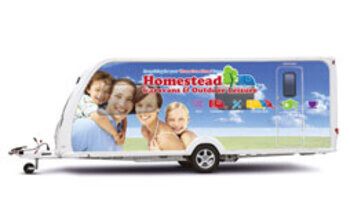 Visitor's to our Essex Swift Dealership can expect to find friendly and knowledgeable sales staff who, are only too happy to help, in a relaxed and pressure free sales environment. We offer extensive dealership facilities including one of the largest Caravan Accessory Shops in the country. We even operate own Touring Park located on our premises that boasts a stunning 2-acre fishing lake.
We offer low rates of finance provided by Black Horse on most caravans (subject to status). Ask about our range of flexible finance plans from Black Horse including, Personal Contract Purchase (PCP) and Hire Purchase plans. Call 01255-830-229 for further information.
Optional equipment for your new Swift Caravan can be factory fitted by Swift or carried out in our state-of-the-art Caravan Workshop by our team of highly skilled and experienced technicians.
Browse our new 2018 Caravans for sale
3 Nights FREE at Homestead Lake Park Touring Park
All New and Used Caravans come with 3, free nights stay at Homestead Caravans very own Homestead Lake Touring Park, so you can give your new caravan a dry run without ever leaving the showground. All things considered.. Homestead Caravans really is the "Perfect Caravan Dealership' in Essex or the UK for that matter, to buy your next Touring Caravan.
2018 Swift Conqueror Range Gallery
Click on an image to enlarge