See You at the 2018 Tendring Hundred Show?
Back
If you think the Tendring Hundred Show is for farmers only, nothing could be further from the truth. In fact, the less you know about farming the more entertaining and revealing the show is likely to be, one thing is for sure – kids love it!
About Our Tendring Hundred Show - Trade Stand C15
Situated in the village of Weeley, Homestead Caravans is well placed within easy reach of the Tendring Hundred show, close enough in fact for many Tendring Show visitors to make their way directly to our leisure showground before heading home. The show gives us a great opportunity to catch up with some familiar faces and discover some new. We'll be on hand to offer help and advice to anyone interested in learning about caravanning and outdoor leisure lifestyles. We'll also be busy promoting the varied services provided by our Swift Caravan Dealership and handing out leaflets and brochures for our Touring Park and Holiday Lodge Park, more about this below.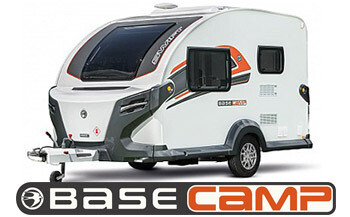 As of writing final arrangements for our full display have yet to be concluded but I can confirm that we will be demonstrating a selection of touring caravans from our 2018 collection including, Swift Challenger 560, Swift Eccles 635 and Swift Basecamp. The Swift Basecamp is a sporty, fun and stylish crossover caravan designed for the active adventurer. Although a little unconventional in it'a design and concept, the Basecamp is lightweight and compact enough to draw attention from, couples looking for a caravan that requires minimum storage space and easy to tow.
"Our Tendring Show caravans will be open for visitors to view inside."
We also plan to pair up a 2018 Kampa Caravan AIR Awnings with one of our demonstration caravans, as part of our Tendring Show display. The Homestead Caravans Accessory Showroom is unique in that it includes a one of a kind, dedicated Kampa Caravan Awning showroom. The showroom has an AstroTurf floor for an authentic look and holds 12 of the most popular Kampa AIR Awning models, as well as various Kampa Awning Accessories, furniture and utility tents.
Kampa is Europe's leading manufacturer of AIR Awnings producing most, if not all of the UK's best selling Inflatable Caravan and Motorhome Awnings.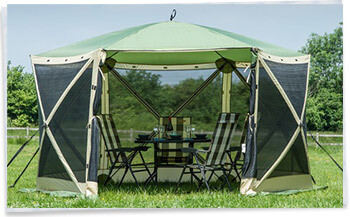 In addition we'll be bringing along 2, maybe 3 Quest Elite Screen House gazebos. When set-up a Screen House takes a polygonal shape and offers practical and versatile protection form the elements, with fast spring-up set-up and various panel arrangements. A Screen House is ideal for camping and home use and a great addition to outdoor gatherings, while enjoying some barbecued food and a glass of wine.
We will also be taking some outdoor furniture to the Tendring Show, from well established brands including Kampa and Lafuma. Both these companies produce a comprehensive range of chairs and Kampa also offer a good selection of tables. Our accessory shop includes a comprehensive display of outdoor furniture, available at very keen prices.
Homestead Lake Touring Park
If you already own a leisure vehicle and are looking for a serene location to unwind and perhaps enjoy a spot of fishing, did you know Homestead Caravans has its own touring park situated a stones throw away from our Caravan dealership?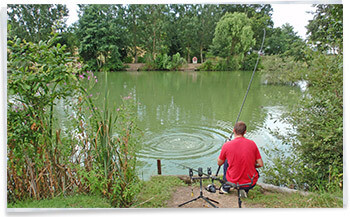 Homestead Lake Touring Park is a small and peaceful caravan site, situated in over 25 acres of idyllic countryside, adjacent to a well established fishing lake. The touring park has 50 hard standing, fully serviced pitches, suitable for touring caravans, folding caravans, trailer tents and motorhomes (including American Rvs). Not wanting to leave anyone out, there is also a limited number of pitches for camping tents.
When you buy a new or used caravan from us you'll receive some FREE time on the park where you will be able to familiarise yourself with your new purchase. Should you need any assistance there's always someone on hand to help out – it's convenient and a great confidence booster.
Homestead Lake Lodge Park
If you're interested in Holiday Lodge ownership and dream of finding a park location that guarantees peace and quiet, Homestead Lake Country Park could be for you. The park is set in 25 acres of idyllic countryside and offers excellent fishing with a stunning, purpose build, 2 acre fishing lake. The park has been carefully designed to provide owners with the ultimate escape, free of the typical holiday park noise and distractions.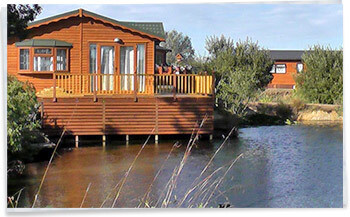 Like our Touring Park, lodges are located a short distance from our caravan dealership on the same leisure complex, although once on the park you'd never know it. We currently have a number of used lodges for sale and are currently offering availability of new plots and show homes ready to move into.
We'll have some brochures/leaflets to hand out at the Tendring Show for both parks but it's no substitute for visiting in person. Next time you visit Homestead Caravans take a look around – I'm confident you'll be glad you did.
Tendring Hundred Show Information
The Tendring Hundred Farmers' Club was founded in 1899 with the aim of making new technical knowledge available to local farmers in an effort to improve animal breeding and stock rearing. The original inspiration of the Tendring Hundred Show was to help educate the farming community. Over 100 years later education is still very much centric to the experience, sugar coated in oodles of fun and entertainment.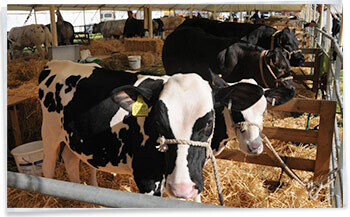 The Tendring Hundred is a family show that brings together rural and urban communities in the Essex region. While still maintaining its agricultural roots through large displays of farm machinery and a focus on rural pastimes, the Show offers challenging and informative displays, an open air shopping experience with around 250 trade stands and exhibitors.
The Show is always a fun family day out – full of interest, entertainment, education, and local country colour – don't miss it!
What's On – Attractions & Events
The Show combines top class entertainment; animals, from Guinea Pigs, Rabbits and Poultry, to Goats, Sheep, Cattle and Horses, together with over 250 trade stands and exhibits, including a beautiful Art & Lifestyle Marquee, and huge Food Pavilion championing local produce, all set in a beautiful parkland setting. Come and join the fun!
Open Air Shopping
We recommend you wear some comfortable walking shoes, there's a lot to see with so many trade stands and exhibits to view.
Shoppers Marquee
Don't miss the Shoppers Marquee, with crafts and unique gifts ranging from handmade soaps to wood turned toys, with over 30 exhibitors.
Lifestyle and Art Show Marquee
Following the continued success of Lifestyle & Art Show Marquee, it returns again in 2018, with even more exhibitors and original art on sale. Housing everything from bespoke furniture, fabrics and rugs to designer clothing, shoes and gifts. This year the marquee will be doubled in size to incorporate the Art Show, with over 250 original works of art and sculptures. It will certainly be worth a visit.
Food Pavilion
Filled with fresh local produce as well as more exotic foods, the Food Hall is a popular destination at the Show. Our Chef, Malcolm Long will provide cookery demonstrations throughout the day.
Education Tent
Check out all the exhibits from over 40 local primary and secondary schools, and see what our students have been up to this year! Student performances throughout the day. Back again this year, is the large Outdoor Zone to walk through.
The Farming and Countryside Area
This area will bring you in close contact with nature, and provide information about how humans influence, use, manage and protect our natural environment.
Essex Guild of Craftsmen Marquee
We are delighted to have over 29 members of the Essex Guild of Craftsmen exhibiting at this year's Show, in their own Craft Marquee. Within this large marquee you will find Glass Painting, Ceramics, Hand Painted Porcelain, Pottery, Woodturning, Millinery and Fine, so well worth a visit on the day.
Featured Animals
Cattle, Sheep, Goats, Heavy Horses, Ridden Horses, Donkeys, Chickens, Geese, Pigeons, Rabbits, Guinea Pigs, Fancy Rats, Ferrets, Hounds, Working Dogs and birds of prey, as well as more exotic animals on the Feathers and Fangs stand!
Plus, don't miss these other exciting activities:
Gate & West Donkeys
3 Sixty Trial Bike Display
Tendring Dog Agility
Ecology Dogs
The Sheep Show
Hasty's Adventure Farm inc. Petting Area
Ridden Heavy Horses
Farming on the Move Demonstration
Cavy (Guinea Pig) Show
Equestrian Classes
Goat Show
Pigeon Show
Poultry Show
Rabbit Show
Rat Show
Sheep and Cattle Classes
Vintage Car Show
Vintage Engine, Historical Vehicles & Tractor Display
The Slack Line School
Booking/Show Information
Show date: Saturday 14th July 2018
Homestead Caravans Trade Stand C15
Show Address: Lawford House Park, Nr Manningtree, Essex
Ticket info: https://www.tendringshow.co.uk/about/tickets-admission/
Comments
Be the first to comment on this article